A panel consisting AFL Architects' Marcel Ridyard, AluK's Nigel Headford, Cora Kwiatkowski, divisional director at Stride Treglown and Hannah Baker, senior architect at Twelve Architects discuss where BIM is now and what the future should hold at AluK's latest technology seminar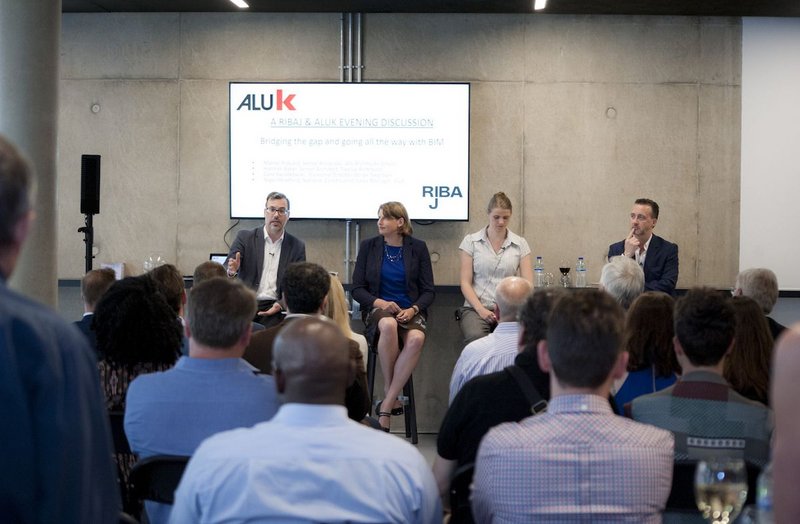 From left: AFL Architects' Marcel Ridyard, Cora Kwiatkowski, divisional director at Stride Treglown and Hannah Baker, senior architect at Twelve Architects, AluK's Nigel Headford
The vast topic of building information modelling (BIM) is one that has raised a lot of interest – and concern - in the construction sector, particularly since the government announced that all public projects must be carried out this year in collaborative 3D BIM.
And how is it all going? To find out, RIBAJ along with ALUK has launched a series of events devoted to helping those in the design and building industries try to get their heads around it. We wanted to plunge into the experiences colleagues in industry are having, the issues they are facing, what they are – and are hoping to – achieve with BIM, and their predictions for what might be next. Will it make things easier or harder?
Following a roundtable, which we chronicled in the May issue of RIBAJ, we brought together more experts from architecture and product supplies in order to discuss that piece and bring in other issues at an intriguing seminar.
The panel discussion was held in ALUK's HQ in Old Street, London, in front of an invited audience. Around 50 people attended the event on one of the first warm evenings of the year.
The diverse crowd was welcomed with drinks and nibbles. Discussions about what the evening might hold began even before the speakers took to the stage.
Sure enough, once the event started, topics ranged from: what BIM actually was, its relationship to project planning, missing links in the chain of construction using BIM were and what our relationship to the software environment might be in a few years' time.
Firstly, the team grappled with what BIM actually was, deciding that it had turned into more than a data management tool. Cora Kwiatkowski expanded, saying it had become a 'new way of working together'. But if Kwiatkowski thought it was a new tool, fellow architect Hannah Baker saw it as a new place, a 'collaborative location'. Moderator Marcel Ridyard's view was that we should see the bigger picture: BIM should be part of a project execution plan, he added, and whether you had the 3D model mattered less than having a place where everyone shares and benefits rather than random bits of paper and emails. Nigel Headford, as a supplier, responded that BIM meant that when projects go to tender, the information is already there and isn't just 'generic'.
The range of opinions certainly gave some hint as to the complexity of BIM - and the many ways it could go wrong, or for its functionality be misunderstood. Other uncertainty and misalignment seemed to arise from the gap between the promise and reality of BIM, particularly on the client side.
'Our role is to educate people, bring them along and show them what's possible,' said Kwiatkowski. But there were more serious problems when it actually came to creating the project. One, said Headford, was data and ownership further down the supply chain.
'This will remain the case until there's more accessibility for smaller subcontractors,' he added.
Ridyard agreed, saying: 'You go through a huge effort of learning BIM, putting the money in, and you find other people are not involved or up to standard. It can be a let-down.'
Yet, despite its gaps, confusions and uneven take-up, panellists were keen to note BIM's benefits. For instance, it had helped bring designers back to drafting, helping with collaboration all round and refining detail. Ridyard was keen to stress that it is easy to overestimate the life cycle cost of BIM, focusing on start-up costs and forgetting the productivity improvements over time.
'Even if you are designing in RHINO3D - that's still BIM. BIM is the collaboration.'
At this point, regular BIM-watchers may pipe up that many of these issues have been around for many years. The question is, would be different ten years down the line.
Not really, Baker said. She thought the outputs were likely to be similar, but there would be a new depth of information available in the data.
Kwiatkowski, on the other hand, said she saw an exciting future where more about a link up between the BIM model and 3D components produced specifically for the project.
Would we even be selling extrusions in ten years, product supplier, Headford further probed. Maybe we would be issuing rights to a design instead?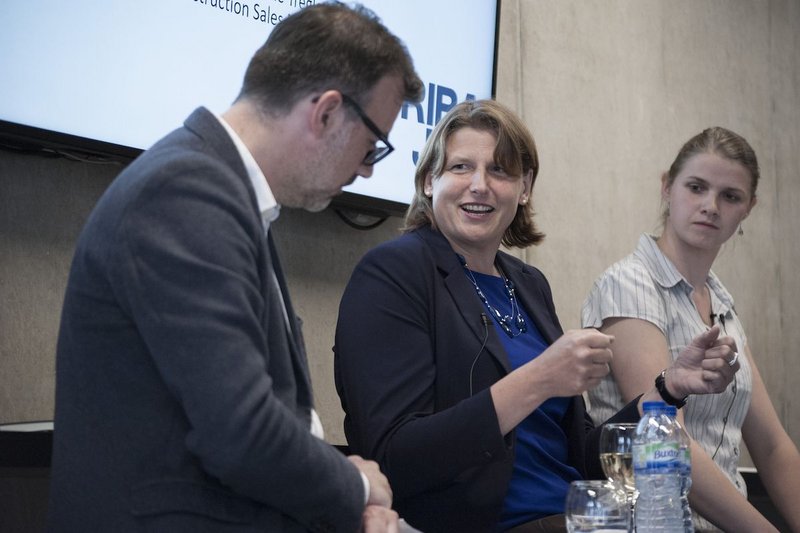 Further future developments discussed included making better use of geo-location and tagging. The idea was that it should be possible to do snagging within the finished building and 'pin' the required changes to the model.
Additional interest lay in how we might use the model to specify components that may cost more in the short term, but last longer - as well as signal when they will need replacing.
But it was decided that people would make the difference; that little would happen if there were people who did not buy into the culture said Kwiatkowski.
So, in summary, it seems that BIM's complexity is still off-putting. On the other hand, perhaps BIM isn't quite useful enough: it will only come into its own when components can be produced from models, or geo-location along with virtual or augmented reality helps snagging in the mixed virtual-real environment. But is more complexity the way to go? Nevertheless, the new way of doing things produces unexpected benefits, such as designers getting back to designing and clients being able to sell projects to backers and the public. Time will tell.
---