Henrik Schoenefeldt probes the secrets of David Boswell Reid's original ventilation systems in the House of Commons – and finds BIM is an essential tool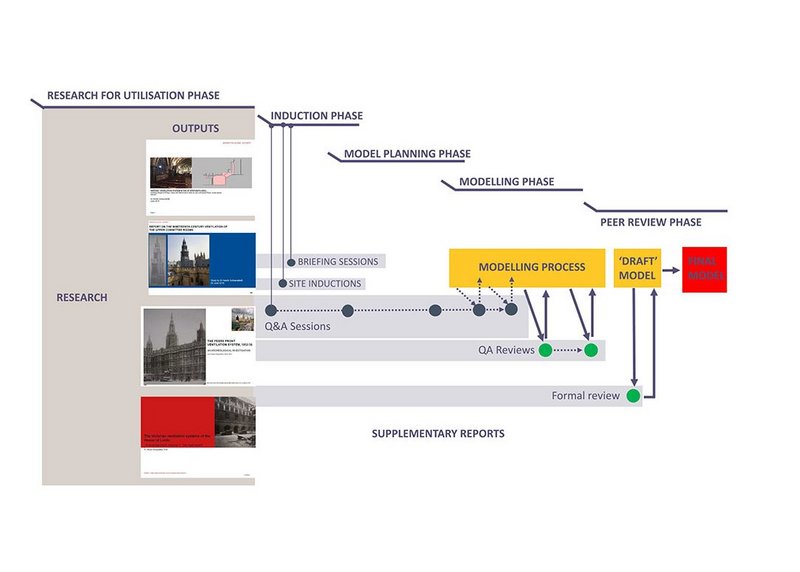 The process of collaboration adopted for the creation of the BIM model.

Credit: Henrik Schoenefeldt
As a professor for sustainability of architectural heritage, relationships between research and practice have been at the core of a project I conducted in the Palace of Westminster Restoration and Renewal Programme (R&R) over the last four years. Its purpose, driven by my academic research, was to gain a comprehensive understanding of the Palace's 19th century ventilation system. It is one of the earliest public buildings designed with a fully integrated system of climatic control and ventilation. The gothic towers conceal the utilitarian shafts for a historic system of stack ventilation connected to an internal network of flues and channels.
This research is the subject of my new book Rebuilding the Palace of Westminster – David Boswell Reid and Disruptive Environmental­ism. It retraces the history of the original system, developed and constructed over the period from 1835 to 1855, and examines how it performed historically and how and why it was modified over its 100-year operational life.
Exhaustive research using thousands of historic documents, including letters, drawings, sketches personal diaries and parliamentary papers, complemented by targeted site investigations, were used to record and map existing features in the building. Working with Plowman Craven surveyors, we built a virtual reconstruction of the historic system in BIM – completed during RIBA Stage 1. This specialist model was separate from an earlier architectural BIM model completed during RIBA Stage 0.
The earlier model, based on point cloud surveys, showed only internal and external surfaces of the historic fabric, but our ventilation model went beneath the surface and demonstrated a way of embedding knowledge of environmental heritage in the BIM environment. To show the historic system in its entirety, our model took account of both existing and lost features, including small elements,such as the many valves used to control the ventilation and climate, and larger architectural features, such as two gothic towers, lost in the 20th century. Our BIM model's digital information management system allowed us to store historic records alongside data from modern surveys, including point-clouds and radar impulse scans. Each element of the BIM model is marked as 'extant' or 'historic,' and linked to source information in the R&R programme.
A collaborative process enabled the surveyors to create a BIM model based on my research. As academic lead, I provided technical reports specifically for the BIM model and led activities that allowed me to work with the BIM team. In workshops for knowledge exchange and site visits I participated in specific reviews of the model and wider ones with lead designer BDP. The latter was important to ensure the model met engineers' and architects' requirements. Combined with the academic publications and technical reports, this BIM model provides the basis for a series of design studies to be undertaken during RIBA Stage 2, looking at M&E services and fire safety, among others. One study, the subject of my current collaboration with the programme, explores how the historic infrastructure might be reused and integrated into the design of a modern ventilation system. As such, the creation of the BIM model itself has to be understood as an integral part of a process by which academic research can be embedded within wider project objectives.
---
Henrik Schoenefeldt is at the University of Kent