How can the spookfish inform design? Don't be afraid of biomimicry
To paraphrase Antoine de Saint-Exupery, if you want to build a flotilla of ships, you don't sit around talking about carpentry. No, you need to set people's souls ablaze with visions of exploring distant shores.
Biomimicry is a rapidly developing discipline that draws on the lessons the natural world has taught us over the last 3.6 billion years.
Its proponents contend that many of the solutions we will need during the sustainability revolution are to be found in nature: super-efficient structures, high strength biodegradable composites, self-cleaning surfaces, zero waste systems, low energy ways of creating fresh water and many others.
Michael Pawlyn is leading biomimicry architect, and has recently published Biomimicry in Architecture, which plunges even further into this fascinating world.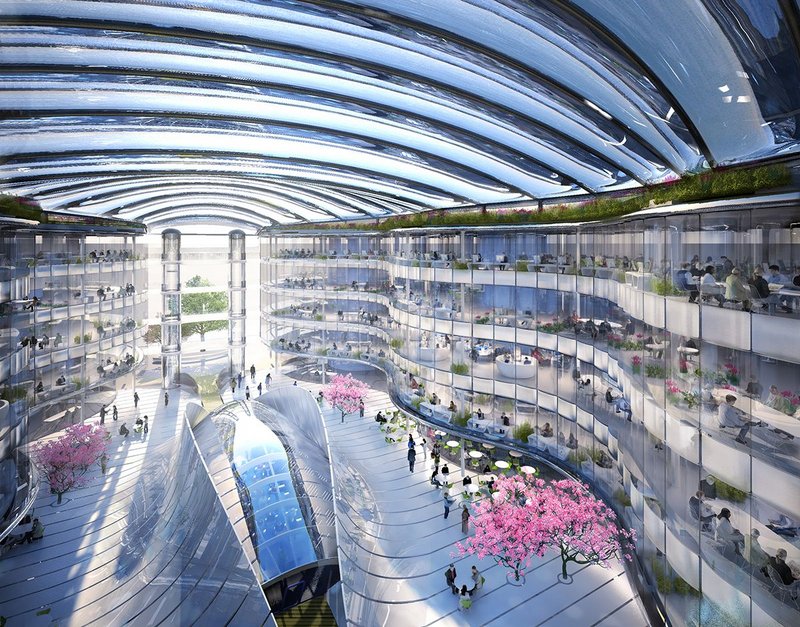 The principals of Spookfish's eye applied to office design to distribute light in Exploration Architecture's Biomimetic Office
For example, one of Pawlyn's latest projects, The Biomimetic Office, draws on the spookfish. This creature has an ingenious method for focussing very low levels of light, which architects can emulate for buildings. Initially believed to have four eyes, the Spookfish is in fact the first vertebrae to use mirrors, rather than lenses, to focus light in its eyes. Each eye is split into two connected parts: one pointing upwards towards daylight and one pointing downwards, with a mirror to focus the lower intensity light coming from bioluminescence. Pawlyn uses the fish's mirror method to distribute natural light throughout his building, reducing energy use and increasing occupants' wellbeing.
On the same project, structural inspiration is also taken from, of all things, bird skulls and cuttlefish. The complex natural form of a bird skull establishes its strength in very thin layers of bony material that is laid down and connected with tiny struts. Initially living cells, they developed a bony outer layer and then died to leave behind an incredibly lightweight network of shells and struts. It could be likened to a combination of dome and space frame technology. Another interesting example is the cuttlebone, which is also made up of thin layers of bone connected together with undulating walls. Both the bird skull and the cuttlebone achieve strength through complexity, using a minimum of materials to maximum effect; a technique real-life building can benefit from greatly.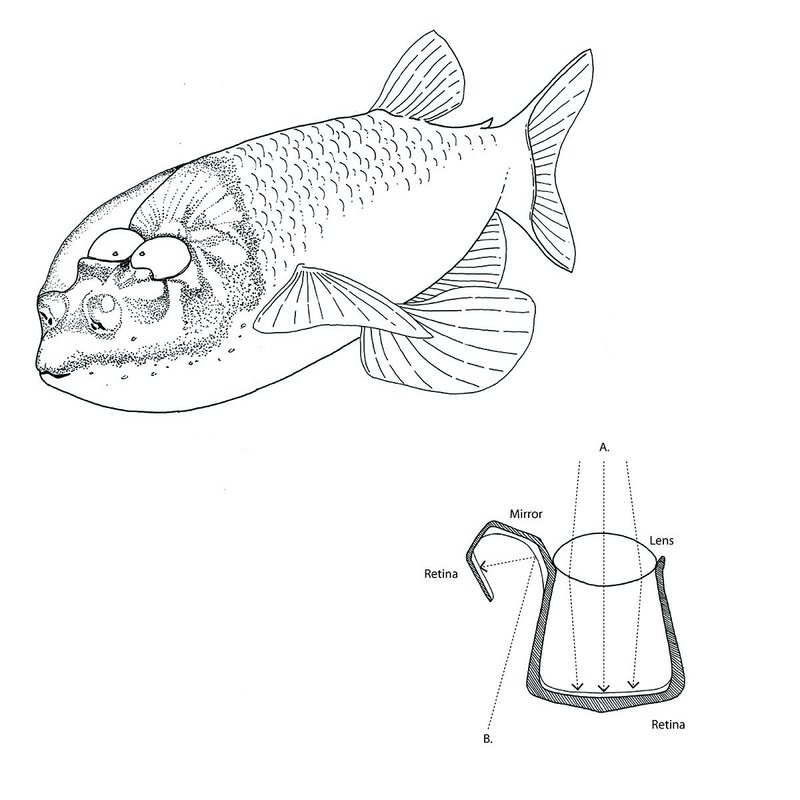 The Spookfish and its mirrored eye
When it comes to applying the practice it is easy to confuse biomimicry with biomorphic design. Biomorphic design is the art of copying or alluding to natural forms and shapes for symbolic effect, whereas biomimicry is a functional discipline. It involves studying the way functions are delivered in biology and then translating that into designs that suit human needs.
Typically, human-made systems and products use resources in linear ways, created through highly energy-intensive production, used inefficiently and ultimately ending up as waste. Biomimicry offers completely new ways of approaching design such that the whole system can be optimised and radical increases in resource-efficiency can be achieved.
If future generations are to enjoy a reasonable quality of life then we urgently need to redesign our buildings, our products and our systems to be completely closed loop and to operate with current solar income.
While no-one would suggest that these transformations will be easy, biomimicry offers a vast and largely untapped resource of solutions to such problems. There are countless examples of plants and animals that have evolved in response to resource-constrained environments and a lot can be gained by treating nature as mentor when addressing our own challenges. Biomimicry can be conveniently divided into three strands, deriving inspiration from natural forms, natural systems and natural processes.
Michael Pawlyn established Exploration Architecture in 2007 to focus on designing high performance buildings for the circular economy. 'Biomimicry in Architecture' is now in its second edition
---