Now that higher education comes at some cost, student accommodation is increasingly blurring the boundaries between learning, working and living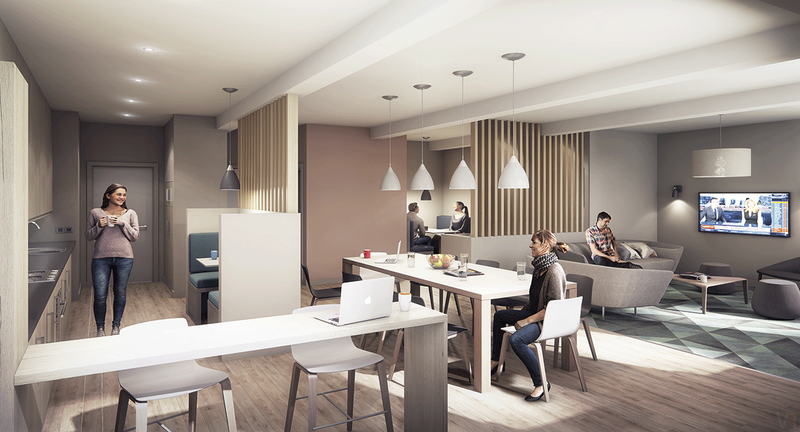 Aparto Caton Court, Lancaster, by Stride Treglown, and its 5+5 cluster living arrangement.
The way students live has long caused hackles to rise within communities. But it is not late night partying in a packed HMO that is invoking local wrath; it is new purpose bui lt student accommodation (PBSA) that is being slated. Too much, too big, too ugly and taking sites that could be developed with affordable homes: these are common accusations being levelled in local media.
The global marketisation of UK higher ­education has fuelled the growth of PBSA into a mainstream property asset class, with attractive yields for investors. At the same time, it has brought benefits for students, widening the choice and quality of accommodation. 'It is fundamentally a fully let sector and is undersupplied,' says James Pullan, head of student property at consultant Knight Frank. Around 30% of full time students live in PBSA, with the sector now boasting more than 600,000 bedspaces. The total number of bedspaces provided by the private sector last year overtook those provided by universities, with developers passing the 300,000 bedspace milestone, according to analysis by Knight Frank Research. Renters are more likely to be international than UK students. 'There's a perception they've more disposable income, they don't want to work with mom and pop landlords and they don't have seven best friends to share with,' says Pullan.
As a result, a sector that has long been dominated by the basic study bedroom now also has super-stylish living spaces and amenities such as a cinema, gym, private study rooms or even a soundproof room with karaoke machine. Above all, says Pullan, there's a growing focus on creating community, which has become important given concerns about student health and wellbeing (see box). 'The number one amenity is a sense of belonging to a scheme,' he says. 'The club house community is evolving as a concept... it has echoes of US fraternity and sorority housing.'
For many students, particularly those from the UK, study can be a significant investment and rental budgets constrained. Some PBSA schemes may have come in for criticism, but ultimately the private sector is driven by commercial realities, Pullan says: 'Developers are making incredibly efficient units to deliver affordable rents.' That is the bottom line, although heightened local interest in development, increasing competition in the PBSA and universities sectors and the growing understanding of students' living requirements are significantly influencing development.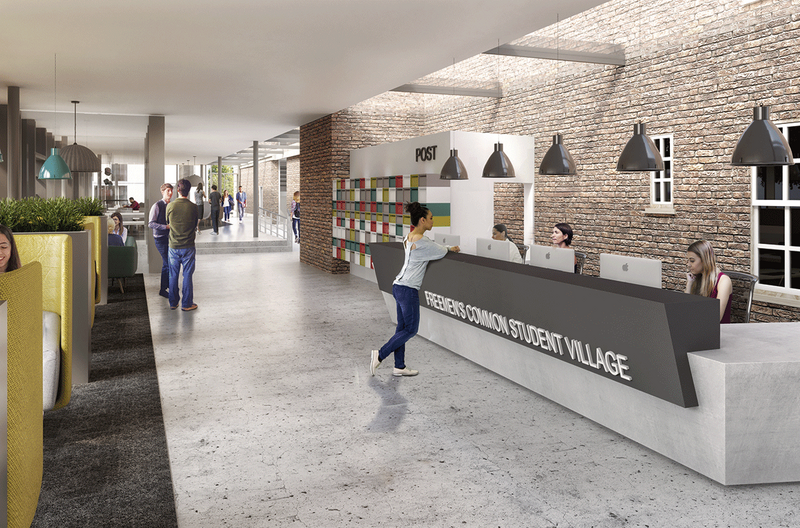 Leiceser University's student residences Freeman's Common by Sheppard Robson.
Clusters for community
'Our briefs are changing, with a real focus on creating supportive communities,' says Kieran Lilley, regional director and head of student living at Stride Treglown, which has come up with a number of design innovations in response. A post-graduate scheme for the University of Bath featured additional student lounges shared between two cluster flats, while the design for the 630 bed Aparto Caton Court in Lancaster, developed for Hines, features a design that the architect calls the 5+5.This combines the kitchen and living spaces of a pair of five bed clusters to give more generous and flexible accommodation. 'Combining two kitchen/living/dining spaces allows for the creation of distinctive spaces and improves the potential for socialising, helping to alleviate feelings of isolation,' Lilley explains. 'Historically, the cluster design was based on fire engineering principles, with the long corridor flanked by bedrooms leading to a kitchen at the end – you wouldn't otherwise have a 12.5m long corridor. But with better technology aiding fire safety, you can flip the layout so you enter the living area and have bedrooms off that.'
To evolve the model, the practice constantly researches how students live. 'We seek to undertake student engagement workshops on every project, and can gain live insights from our large pool of placement students' says Lilley. The architect is including similar cluster designs into a 1,700 bed scheme for Keele University.
The Lancaster scheme, which opened in September, still has its amenities: sky lounge, study spaces, cinema, gym and fitness suite. The buzz phrase for it, says Lilley, is, 'sleep in the bedroom, but live in the building'. And if that sounds like other forms of living on offer in cities, that's no accident. PBSA itself is now blurring boundaries between hotels, student accommodation and co-living or between living, working and learning, the latter described as 'blended living'. 'Historically, providers have said they'd rather build 100% student accommodation schemes because it's what they know,' says Lilley, but he points out that these variations can be important in helping break down 'town versus gown' divisions and improve graduate retention. 'Some PBSA schemes are being sent down a more mixed use route because councils say they want to foster, and build, communities,' he adds.
Sheppard Robson partner Rupert Goddard says thinking among university clients, who make up the bulk of its student living client base, is changing. 'The private sector sets the pace in interior design and in thinking like a hotel provider,' he says. 'It is hard for universities to react as quickly as private developers as they don't build so often, but some are up there with the best that the private sector is providing.' The University of Leicester's Freemen's Common is an example, he says. The design-build-finance-operate (DBFO) project, due for completion next year, sees Sheppard Robson creating a 1,400 bedspace scheme, while Associated Architects is designing flexible teaching and office space in a blended living approach.
The university wanted a range of sizes and configurations. 'That includes some quite large cluster groups of 10 or more, which will be at the more affordable end of the scale, through to single occupancy one bed units aimed more at mature or international students,' says Goddard.
University challenges
The University of Cambridge is exploring fresh approaches to living at Eddington, north west Cambridge, where it is creating a district of 1,500 private homes, 1,500 homes for university and college staff and accommodation for 2,000 post-graduates. Mole Architects has worked with Wilkinson Eyre on the first parcel of development, creating three linked buildings with 35 post-graduate apartments, a health centre and estates office, on a plot that also includes a supermarket, retail and CHP energy centre.
Apartment designs include one bedroom units and two bedroom single level and duplex units. 'The university was keen to set the standard for the wider masterplan in the first phase of development, establishing its approach to design quality, urban design and sustainability, which goes much further than the norm for this type of accommodation,' says Shubhanaga Simpson, associate with Mole Architects.
For the accommodation, the architect looked to the London Housing Design Guide in establishing such features as fixed storage and minimum space standards. 'It meant going further than the planning authority required,' adds Simpson. The scheme is designed to the now redacted Code for Sustainable Homes level 5, with minimum requirements for daylighting, energy and water use, toxicity and fabric energy efficiency standards, which were modelled for heat loss at junctions. Units have large, triple glazed windows, super-insulation and, at the request of the university, natural ventilation. The latter was challenging, given the noise generated by the nearby M11, supermarket and energy centre. The project team collaborated on a solution with architects in adjoining plots, using an ­innovative natural ventilation acoustic attenuator specially developed by a manufacturer.
Although this is a new settlement, integration of the different uses has brought with it the constraints of a tight urban site, says Simpson. 'We had to do a lot of co-ordination work with other plots and architects.' A common courtyard garden and public routes provide pleasant, social spaces. Simpson adds: 'The development has a campus feel, even though everyone has their own front door.'
High property prices and a determination to attract global talent lay behind the drive to provide living space. 'The university has found that the quality of accommodation is increasingly important to post-graduates, with more graduates going to overseas institutions such as the USA Ivy League universities,' says Simpson. 'The new accommodation at Eddington will help the University of Cambridge to continue to attract world-class talent for years to come.' Ultimately, it is students choosing their university and accommodation, who are exerting the biggest influence of all on this sector.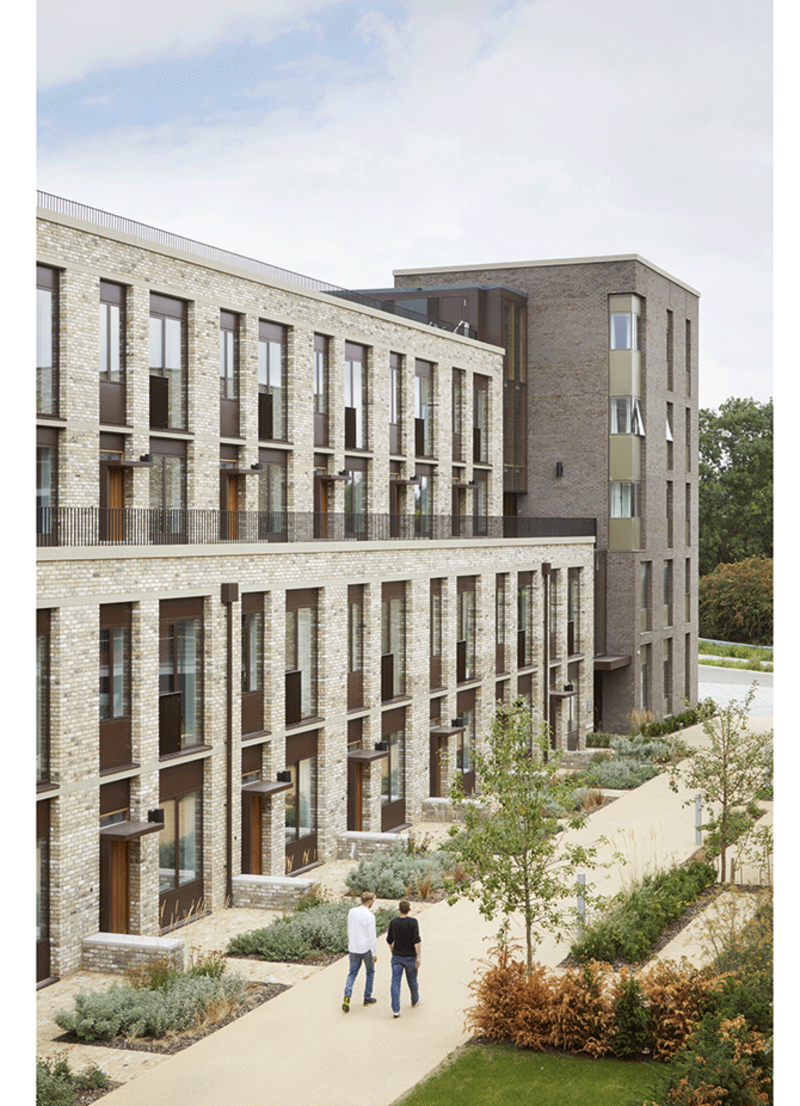 WilkinsonEyre/Mole Architects' first phase student accommodation at North West Cambridge.
Action for mental health and wellbeing
PBSA providers have come together to support the mental health and wellbeing of students occupying their buildings. The British Property Federation's (BPF) new publication, The Student Wellbeing in Purpose-Built Student Accommodation Guide, complements work already done by universities and other agencies, says Laurence Raeburn-Smith, policy officer with BPF: 'It's not about codifying therapeutic care, but about how PBSA operators can work with others, support the students in their care, and react effectively.' The guide covers policies in the event of an incident, staff training in wellbeing and mental health first aid and ways to support students.
The BPF guidance doesn't cover building design, but it does highlight such factors as the need for spaces for discreet conversations. Mental health is already being considered by larger scale operators in particular, says Sheppard Robson's Goddard. 'We're seeing clients focusing on the size of amenity spaces, levels of daylight, and designing for neurodiversity in the use of textures, colour, lighting and space. For a while we have been designing entrances so that students walk past the reception desk on their way in and out, providing the opportunity for informal conversations as they pick up their parcels, which allows the pastoral team to keep in touch with potentially vulnerable tenants.'