Luxury car brand BMW Brilliance opens its second Flowcrete-floored showroom in China to display new all-electric vehicle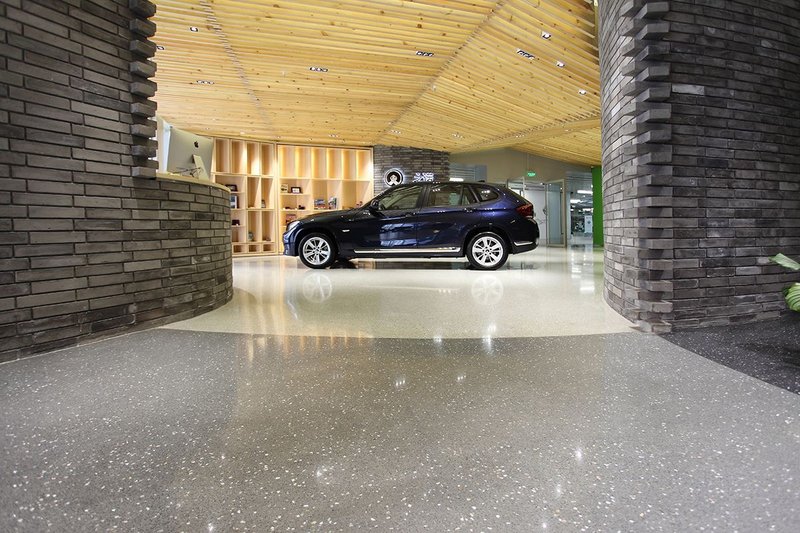 Flowcrete flooring at BMW Brilliance Shanghai
Joint German-Chinese motor brand BMW Brilliance has opened its second showroom in China and used Flowcrete's Mondéco Crystal flooring to showcase the company's premium all-electric Zinoro model.
After the success of BMW Brilliance's first Zinoro showroom in Beijing last year, the high-profile luxury car maker has unveiled a new branch in the heart of Shanghai's busy commercial district. The new lifestyle-concept showroom incorporates 300m2 of Flowcrete's seamless resin terrazzo system Mondéco Crystal. The flooring has been installed in several complimentary colours to provide a striking decorative finish.
Smooth expanses of almond coloured floor meet light blue and dark grey sections across the showroom, separated by thin, curving strips of copper-coloured banding.
The clear crystal and glass aggregates incorporated into the Mondéco Crystal finish create a shimmering lustre that enhances the interior design scheme's luxurious atmosphere.
BMW Brilliance chose to install Mondéco Crystal as its eye-catching aesthetics compliments the showroom's design, working with the other interior elements to elegantly convey the brand's deluxe image.
The pioneering electric car manufacturer's faith in the Mondéco range is a testament to the ability of Flowcrete's systems to create floors that combine high-end aesthetics with the functionality to support the daily operational activity of a busy commercial environment.
The durable, easy to clean nature of Mondéco was also a useful advantage for the new showroom, as it includes a play area to entertain customer's children. Any dropped food or spilled drinks can be quickly washed away to maintain a clean, inviting environment.
For more information and technical support visit www.flowcrete.co.uk/luxury or complete Flowcrete UK's RIBA-accredited CPD seminar Specifying Seamless Resin Terrazzo to learn more about the practicalities and possibilities of this type of flooring.
Contact:
01270 753 000
---