Bobrick's TrimLineSeries enables sleek, minimalist design inside and outside the cubicle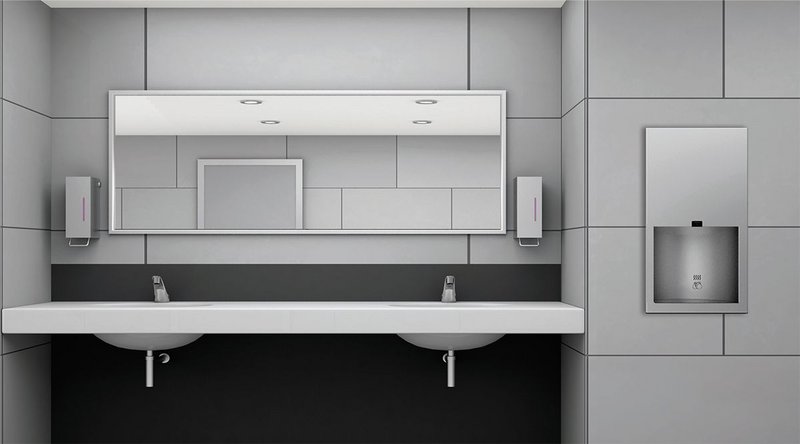 Washroom with Bobrick's TrimLineSeries hygiene products
Minimalist, angular design. Attractively clean, stainless steel finishes. Outstanding durability combined with sustainable, responsible function. Bobrick's TrimLineSeries line of design-integrated washroom accessories allows architects and specifiers to choose from a variety of products for inside and outside the cubicle to reinforce a prestigious, sophisticated aesthetic while satisfying operational and user experience objectives.
Outside the cubicle, the newest addition to the collection, the B-3725 recessed hand dryer features a spacious drying alcove that captures and evaporates water, preventing undesirable water puddles on the washroom floor, thereby reducing labour load and safety hazards. Featuring sleek satin-finish stainless steel design with square corners, a stylish cooling grid and 50 mm wall protrusion, the dryer delivers a 17-second dry time at a 70 dBA sound level in a highly efficient, low-profile footprint. The units also feature a sustainable 1000W power rating.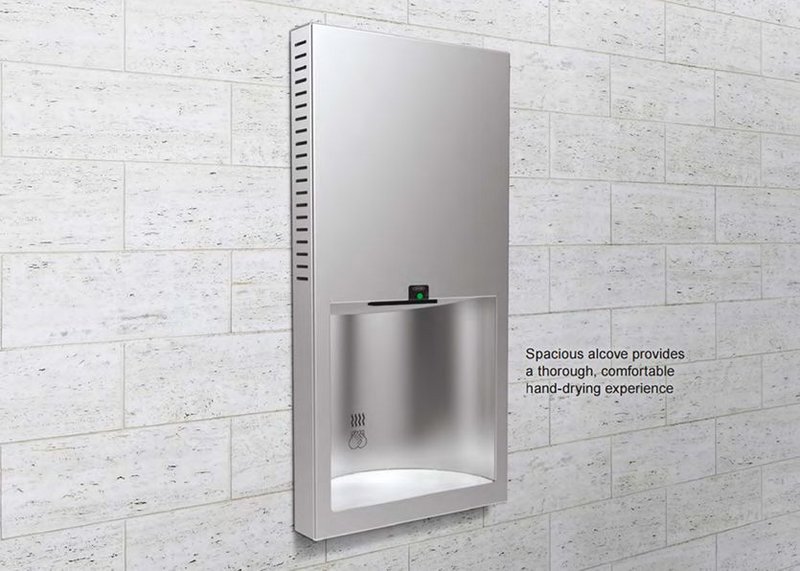 TrimLineSeries B-3725 recessed hand dryer
For an economical paper towel solution with a comparable aesthetic to the new hand dryer, the B-359033 recessed paper towel dispenser features a concealed, full-length stainless steel piano hinge for durability and a door-swing limiter to prevent damage to other washroom accessories and walls.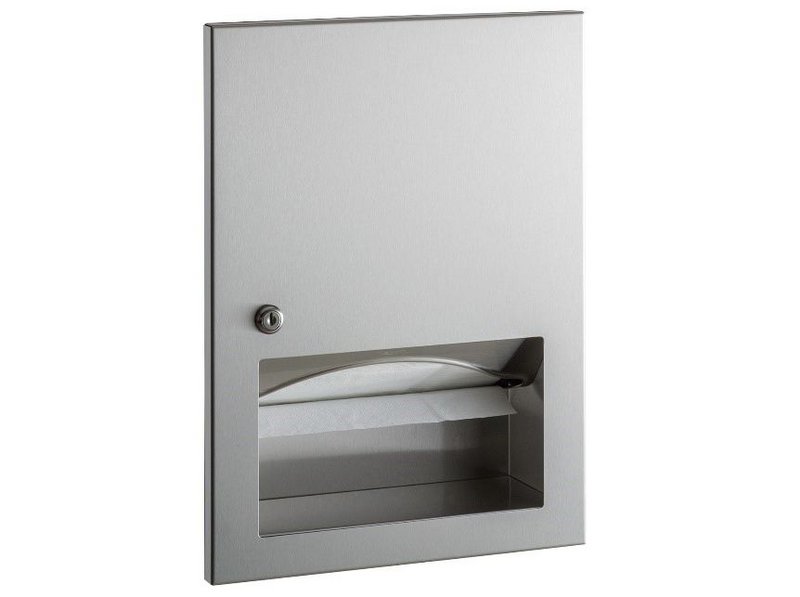 TrimLineSeries B-359033 recessed paper towel dispenser
TrimLineSeries also supports facility hygiene and maintenance goals with a newly completed collection of waste bins and chutes, including the both a surface-mounted (B-35639) and recessed (B-35633) waste bin, each featuring a self-closing disposal door mounted on a continuous stainless steel piano hinge to contain odours. Additional recessed, surface- and counter-mounted waste solutions are also available within the collection.
TrimLineSeries also provides a spectrum of space-efficient solutions for inside the cubicle, including waste disposal, seat cover dispensers and toilet tissue dispensers. The new B-3588 surface-mounted multi-roll toilet tissue dispenser accommodates two rolls of toilet tissue in an all-welded satin finish stainless steel unit and is theft-resistant and equipped with a tumbler lock key, just like Bobrick's entire line of washroom accessories. The B-3513 recessed and B-35139 surface-mounted sanitary waste bins collect sanitary waste, featuring a magnetic catch and a removable internal bin for easy maintenance and servicing.
Architects seeking a practical balance of minimalist-style aesthetics and exceptional value consistently turn to TrimLineSeries accessories for their washroom needs. At the new Sydney Harbour Live consortium, designed by firms Hassell and Populous, 101 units of the highly space-efficient B-38034 recessed paper towel dispenser/waste receptacle were specified to align with the multi-use venue's prestigious patron experience. At the state-of-the-art City West Police Complex in Docklands, Victoria, Australia, architect Woods Bagot specified 68 units of the B-38030 230V 3-in-1 recessed paper towel dispenser/automatic hand dryer/waste bin, providing users with the choice of conventional paper towels or a warm air stream for a fast, hygienic drying experience, providing multifunctional value that matched the new building's modern design.
No matter what washroom design challenges an architect or specifier may face—saving space, money, labour, consumables or all of these objectives—TrimLineSeries provides a broad range of aesthetically pleasing, utilitarian solutions.
For more information and technical support visit bobrick.co.uk
Contact:
020 8366 1771