Sculptor Alex Chinneck makes bricks melt, slip and flip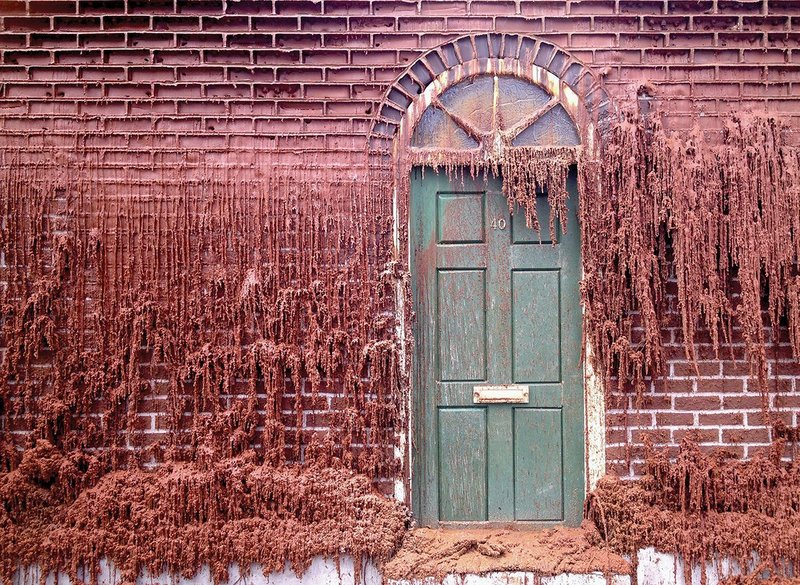 Wax bricks begin to feel the heat on the melting house.
Alex Chinneck is an artist who uses buildings as raw materials, creating fantastically playful illusions that both puzzle and amuse – buildings that melt, buildings that slip, buildings that float, buildings turned upside down.
What makes this work all the more successful is his use of ordinary, familiar materials to do something extraordinary, as in his current installation in Margate where the entire brick façade of a house slumps as if it is being pulled down.
'My work tends to take familiar materials and blend them with fantasy,' says Chinneck, who is taking part in the Brick Works! exhibition, organised by the Brick Development Association, which opens on June 16 at The Building Centre in London.
'Brick is a brilliant material for creative exploration. We've become so familiar with brick that it has slipped into our subconscious. As an artist, I like to bring it back to our consciousness.'
Based in East London, Chinneck studied painting but gradually became drawn to sculpture and began working first in a gallery context and then with technical collaborators such as structural engineers to realise his artistic ambitions on an architectural scale. It's not surprising to learn that Rachel Whiteread's cast concrete House was a great inspiration, as well as the artist Richard Wilson, who also manipulates architecture in his work.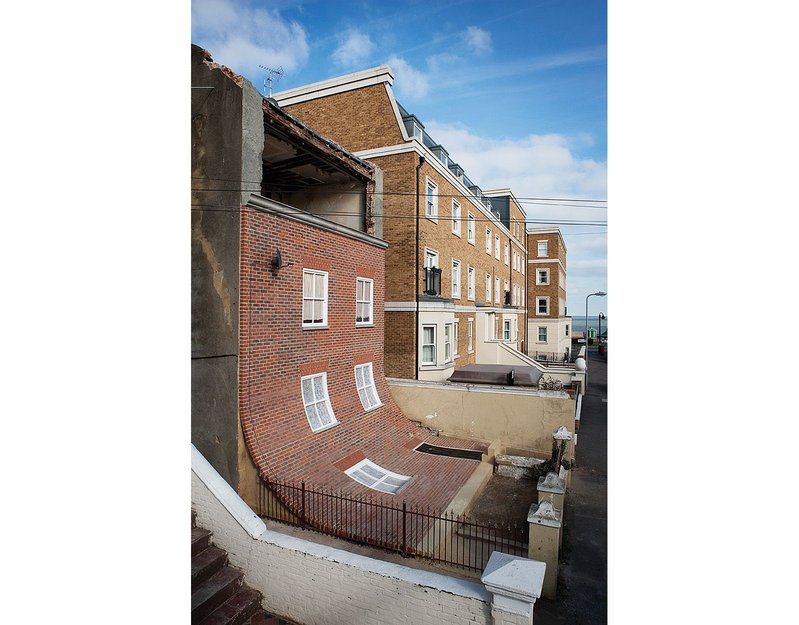 Slipping façade created for Margate's Merge festival.
The last couple of years have been something of a purple patch for Chinneck, with work including Take My Lightning but Don't Steal My Thunder, which appeared to levitate part of Covent Garden market, and a curving road, complete with upside down car, on London's South Bank. All use illusion and humour to subvert the key characteristics of the building components.
For his slipping house, officially titled From the Knees of my Nose to the Belly of my Toes and created for the Merge festival, Chinneck worked with a brick manufacturer to install a new façade on a derelict house. Initially appearing pristine in prefabricated panels of brick slips, it slides down into the front garden to reveal the ruined upper floor. Although Chinneck himself says he tries not to 'get hung up on social meaning', it could be read as a reference to the faded glory of the Kent seaside town.
In his 2014 Brick Awards-shortlisted project Miner on the Moon, a building façade in London's Blackfriars is turned upside down, TV aerial, for sale sign and all.
Chinneck enjoys the creativity afforded by the fleeting nature of his temporary pieces, especially when this becomes part of the narrative, as in his amazing melting brick house created last year. For this he used 7,500 wax bricks to build a conventional-looking two-storey house, complete with wax doors and windows.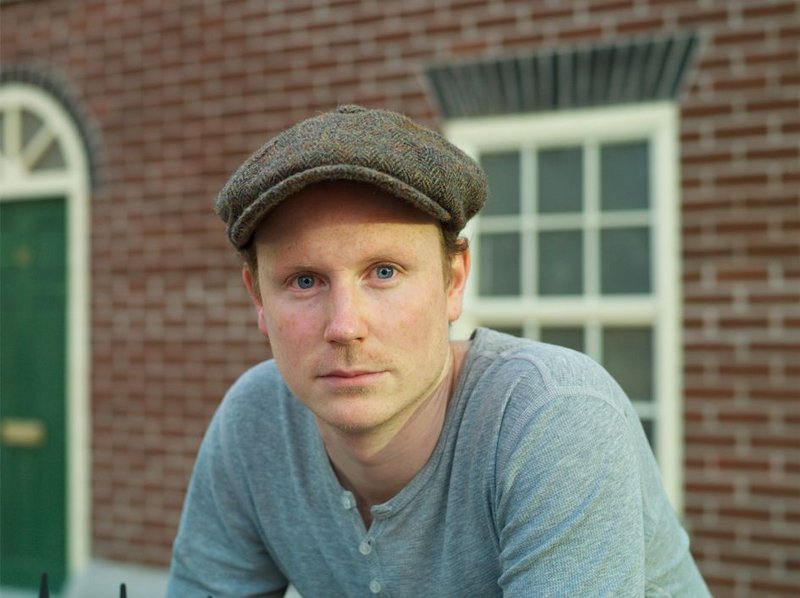 Alex Chinneck says he is trying to reclaim brick from our subconscious.
This was blasted with hot air each evening to gradually melt the structure, with the dripping and warped bricks creating an extraordinary texture. After repeated heating over a month the structure collapsed, with only the roof left on top of a surreal heap of melted wax.
Chinneck is hoping to use the opportunity offered by the Brick Works! exhibition to research some new processes and sculptural possibilities. He is interested, for example, in exploring the potential for digitally distorting a brick wall and then building the resulting wobbly form in real bricks.
He really seems to be just getting into his stride, with plans for another two (as yet confidential) high-profile architecture-related projects in London in the pipeline this year, as well as smaller 'pop-up' pieces and a possible TV programme.
---
Brick Works!, an exhibition with Alex Chinneck, Fernando Casasempre, Iain Howlett, Demelza Watts and Maki Suzuki, runs from June 16 to July 10 at The Building Centre, Store Street, London. www.buildingcentre.co.uk, www.brick.org.uk
---