Neil Ginger, CEO at Origin, explains why aluminium is the superior product for bi-fold doors and windows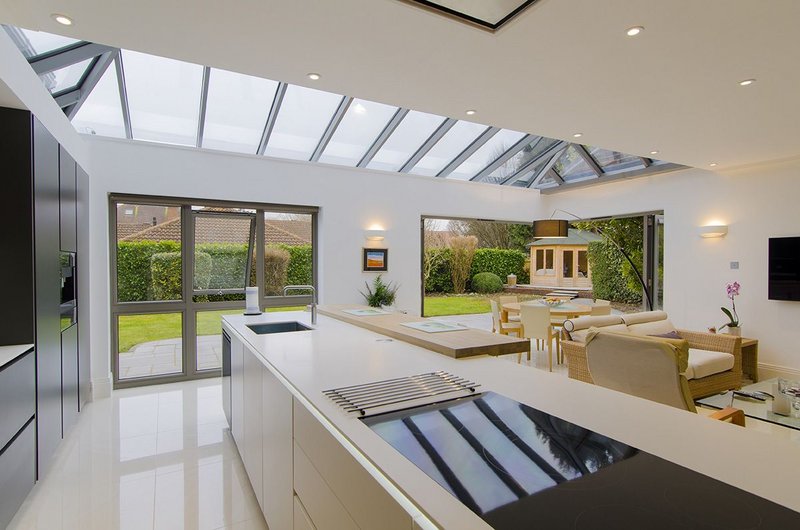 Creating the illusion of extended space or increasing the luminously within a property are important factors in architectural interior and exterior design. Inventive manipulation of space and light using aluminium bi-folding doors and windows can turn a traditional house into a striking masterpiece.
Material
Aluminium is without a doubt the superior product when it comes to bi-folding door and window construction. It is strong and only 33% the weight of steel. Creating a fusion between design and functionality, the strength of aluminium allows bi-fold doors and windows to be manufactured with extraordinarily narrow frames, letting more light into the space. Rooms can be opened up, and the relationship between the inside and outside merged.
Complex architectural configurations become possible; bi-folding layouts such as moving corner posts and bay set-ups can be executed to give uninterrupted panoramic views. The innate strength of aluminium makes it very secure, especially when combined with multi-point locking systems.
Aluminium's environmental credentials are also unbeatable. Energy efficiency has become increasingly important to renovations, extensions and new-builds. Aluminium frames incorporate thermal breaks which resist thermal transfer, keeping the room cool in summer and warm in winter. This achieves lower than average U-values, especially when incorporated with weather-tight seals.
Maintenance
Maintenance is another consideration when designing a property. PVCu is usually the cheapest option for bi-fold doors and windows, but the relative lack of strength and the tendency to expand and contract depending on temperature can make operation unreliable. Timber is also a popular choice, but requires ongoing maintenance. Aluminium is virtually maintenance-free, requiring very little to stay in good working order. Its strength and durability means that it is more resistant to flex, expansion and contraction when in direct sunlight. Consequently, Origin offers an 'industry leading' 20-year guarantee for its doors and windows.
Make-up
Traditional black, white or grey RAL colours are still popular choices, but if you are looking to create something a little more avant-garde, powder-coated aluminium comes in a range of colours. Origin has developed nine eclectic colours, each with 10 shades, featuring bright primaries to candy pastels and deeper earthy tones. Dual colours can be specified, meaning that the internal frame can match the interior decor of the building, while the outside matches the external features and style. Realistic wood grain effects are even available, offering the aesthetic beauty of wood with the superior performance of aluminium.
The practical element of privacy when incorporating a vast expansion of glass can be an issue. Additional electric roller blinds provide the finishing touch and a practical solution to adapt the room to different light and weather conditions, preventing heat build-up in the summer and stopping it from escaping in winter.
For more information and technical support visit: www.origin-global.com
Contact:
08081 685816