The facade of a building is its calling card in the landscape, allowing the architect to make a statement: subtle or bold, eye catching or serene. Now imagine a façade that changes mood as the light changes. How much more expressive could that be?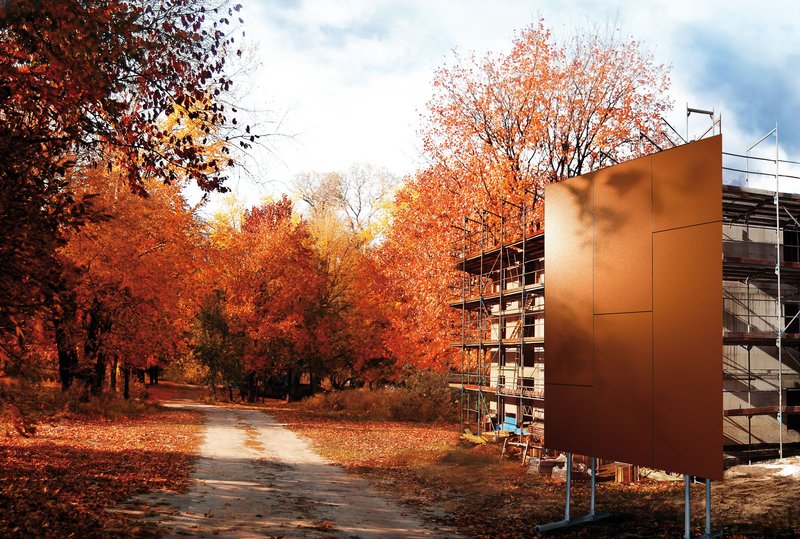 With 16 designs the new ROCKPANEL Brilliant series of façade boards ranges in spectrum from natural brown, aubergine or green hues through cooler colours like grey or blue and on to a striking red or orange. The sparkling surfaces offer an astounding play of colours, whilst sunlight or artistic spotlighting further enhances the radiance of the panels.
The boards are available in the fire-safe FS-Xtra grade. Applied on an aluminium or steel substructure, these boards can meet the requirements for European fire class A2-s1, d0. This means that they can also be used for buildings where greater fire safety is needed or preferred, such as in high-rise buildings, schools, hospitals and care homes.
The ROCKPANEL Brilliant boards can be curved and shaped easily without special pretreatment, so they adapt flexibly to the contours of every structural shell. They are weather and temperature-resistant and come as standard with a ProtectPlus finish, which makes the boards self-cleaning.
The boards hold the highest BRE Green Guide ratings of A+ and A for the installed product, and the ROCKPANEL Group is the first cladding manufacturer to receive a European Environmental Product Declaration complying with EN 15804 (ECO-EPD) from BRE Global.
A video and overview of the ROCKPANEL Brilliant designs, dimensions, and physical characteristics can be found at www.rockpanel.co.uk/brilliant