Inconsistent whole-life carbon emissions data set to end as a soft launch of the Built Environment Carbon Database early next year prepares to introduce consistent assessments and benchmarks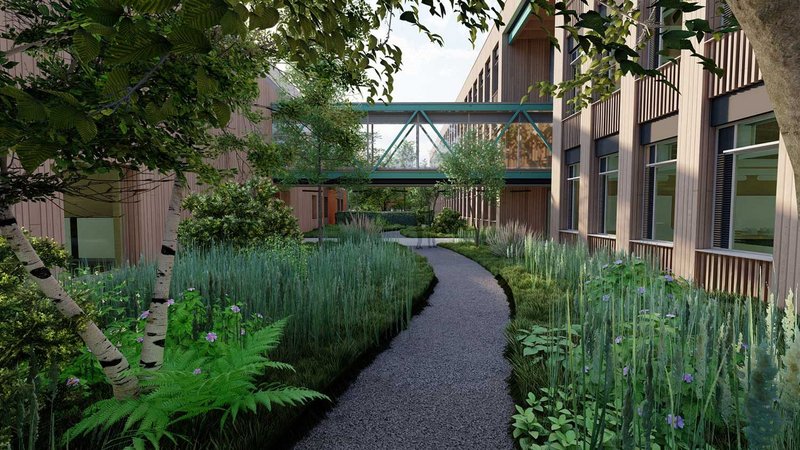 The Built Environment Carbon Database could give valuable benchmarking data on buildings, moving the industry towards a lower carbon future – as does this Genzero school for the Department for Education.

Credit: Ares Landscape Architects and Lyall Bills & Young Architects
A Built Environment Carbon Database (BECD) being developed by a consortium of professional bodies including the RIBA, the RICS, BRE, CIOB, IStructE, and ICE, will soft-launch for testing and feedback from the sector in the new year.
The free-to-access software will pull together a swathe of industry carbon data in a single location and, according to its creators, function as the main UK platform to store new carbon assessments and generate project- and product-level benchmarks. In return for benchmarking information and calculations users will need to upload project information.
A key driver behind the platform's development is inconsistency in the measurement and reporting of whole-life carbon emissions and underlying data needed to benchmark construction performance and set targets.
James Fiske, global director of data and information products at RICS and chair of the BECD steering group, said: 'If you go to five different "carbon accountants" and ask them to carry out an environmental assessment of the same building, you'll get five different numbers back. The challenge the industry has is how can we possibly set any kind of targets or benchmarks, or offset correctly, when we can't trust the numbers?'
The problem is the use of different methodologies, says Fiske, what they include or don't, and the conflicting product information that sits underneath, which together cause inconsistency.
The database will be split into two sections. The first, due to launch in a rudimentary but 'fully-functional' form in January, is a high-level database containing asset-level benchmark data points provided by the professional bodies involved in the platform's development. These will make it possible to check and compare the carbon footprints of different building types to support project feasibility, early design and end of life stages.
For example, a user could search for 'warehouse in the south east' and see the typical associated embodied carbon and whole life carbon benchmark data. This could feed into their decision making on factors such as whether to build new, or refurbish another building in the area. The developers intend to add in the ability to filter for buildings of a certain size or construction method, or even make it possible to search for benchmark data on a specific structure within a building, such as a foundation.
The problem is the use of different methodologies – what they include or don't – and the conflicting product information that sits underneath, which together cause inconsistency
The second section will feature product-level embodied carbon data intended to support detailed design, construction and operational stages, as well as support reliable assessments. According to Fiske, there's debate as to whether this should only include Environmental Product Declarations or also unverified EPDs, generic life-cycle assessments and estimates.
'There is an argument to bring all the data available for product emissions into one space,' said Fiske. However, some form of 'confidence factor' may need to be applied to the data, he adds: 'If you're using an unverified EPD, you might be using it but with a 20% uplift uncertainty factor, which would inevitably create a greater drive towards the calculation and requirements of EPDs.'
The longer term aim for the database is for the likes of RIBA, RICS and CIOB.to endorse the data being uploaded to the platform by project teams. How the data is recorded and set out would be described in a standard workflow for project carbon assessments, in accordance with best practice approaches, such as the RICS professional statement.
'The more reliable data that goes into it, the more reliable the benchmarks and calculations that come out of it will be,' Fiske concludes.
See more at Built Environment Carbon Database