Cadisch MDA's hand-finished metals offer architects an alternative to traditional building materials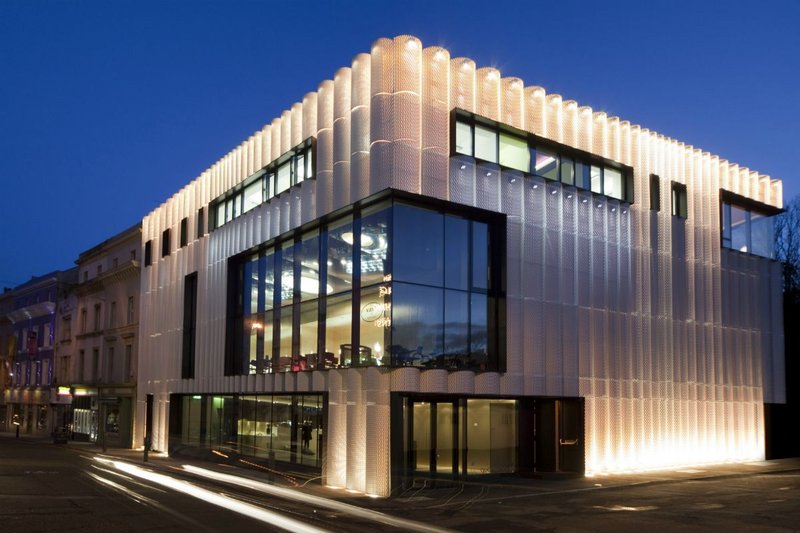 Cadisch MDA's Meshtec Ambasciata expanded metal cladding at the Quarterhouse venue in Folkestone. Alison Brooks Architects.
Cadisch MDA designs and supplies architectural metal, offering architects and specifiers the right materials for any project while maintaining the integrity of a design. Many of Cadisch MDA's architectural products can be seen in award-winning projects around the UK and worldwide.
Cadisch MDA has six architectural metal ranges accompanied by a collection of finishes and backing structures. Meshtec expanded metals include small meshes for bespoke suspended ceilings and large open designs for car parks and large cladding projects. Perftec designs feature perforated metals and the range includes Picperf technology, which transfers high resolution images across large perforated metal facades. The Welltec range includes standard and custom profiled metal sheets. The company's latest innovations include Vitramesh, a laminated mesh in glass and perspex, and Cerritec, a profiled expanded mesh that offers architects and designers a distinctive look for ceilings, feature walls, external brise soleil and cladding.
The company can undertake anything from small intricate projects to large-scale cladding jobs. Any standard RAL colour or prime anodised finish is available with the range. In addition, Cadisch MDA has also launched a new array of patinas that offer all the charm of aged copper or rusted Corten with the safety of a coated finish. This also includes wet look textures, leaf litter imaging and even a carbon fibre copy.
Clients are provided with a full consultation and given advice on the most suitable materials and finishes for projects, as well as support on fixing and installation. The Cadisch MDA team are a group of close-knit professionals who share a passion for architectural metal and what can be achieved with their products.
For more information and technical support, visit: cadischmda.com
Contact us:
020 8492 7622
---