Non-flammable insulating panel Calostat proves that fire protection and thermal insulation can both be achieved in one material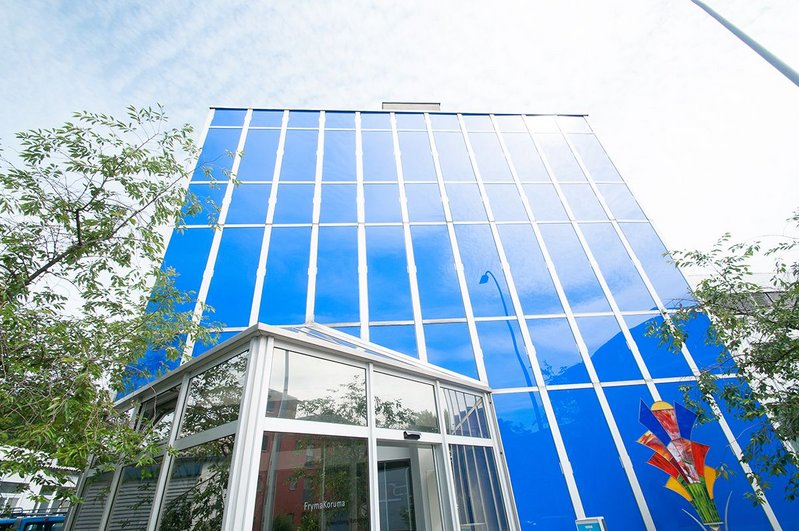 A safe building insulated by Calostat.
Calostat is a newly developed, high performance heat-insulating panel made of silicon dioxide. Produced by Evonik, one of the world's leading specialty chemical companies, this innovate insulation material is mineral-based, giving it the added benefit of being non-flammable.
Calostat has many unique qualities. It is a hydrophobic insulation material with a gross density of 165 kg/m³, a low thermal conductivity (λ = 0,019W(mK)) and is self-supporting with an outstanding compressive strength. It also benefits from no fungicides, algicides or pesticides. Further, Calostat is reaction-neutral in relation to other materials and is resistant to environmental factors like mold formation. Finally, it is fog-free, and, unlike most fossil insulation materials on the market, recyclable.
According to European Standards (EN 13501), a document that sets out requirements for a specific item, material or component, Calostat is classified as an A2-s1, d0. This is the lowest smoke-emission category, verifying the material as non-combustible. Furthermore, it also fulfils requirements in the German Institute of Standardisation (DINs), establishing calostat as a Class A material that withstood a fire shaft test during its test regulations, and the North American ASTM norm for non-combustible materials.
Calostat proves that fire protection and thermal insulation can be achieved in one material, despite popular opinion across the building materials sector. Depending on how you look at it, it is a fire protection panel that also insulates, or it is in insulation panel that also protects against fire. It can also be installed as a fire barrier or in particularly vulnerable areas of a building's façade (like roller shutter boxes and lintel panels).
Introduced onto the construction market in 2013, Calostat has consistently proved its performance and durability in a number of buildings. It has been recognised by the European Technical Assessment as being suitable for the external insulation of roofs, floors and various façade systems for residential, industrial and office buildings. It can also be used in internal insulation in various systems, as it does not emit harmful substances into the air. Evonik was awarded with the Cradle-to-Cradle and the Materials Health Certificates in Gold for Calostat.
In 2016, Calostat's parent company, Evonik, generated sales of €12.7billion–81% of which were outside Germany, proving its reputation as an internationally recognised company.
For more information and technical support visit: www.calostat.com
Contact:
+49 152 09383 967
---