A compact, high-quality printer is providing office-standard results at home for hybrid-working construction professionals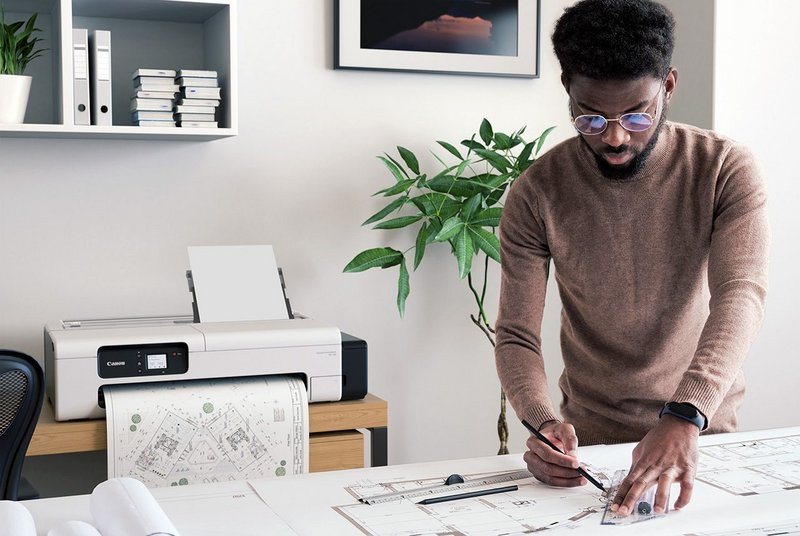 The Canon imagePROGRAF TC-20 wide-format printer: cost effective, professional prints at home.
Architecture is not a solitary pursuit. Collaboration between colleagues has always been a vital component of the job, whether during physical construction or as a sounding board through the design process.
But since the Covid-19 pandemic, more people within the construction industry have been choosing to work remotely.
While around 40 per cent of working adults now work from home at least once a week, a 2022 survey by Architects' Journal and the Architectural Review revealed that 72 per cent of architecture professionals were working flexibly. Given the continued growth in homeworking, that percentage is now likely to be higher.
For those in construction, the increased flexibility, ability to work from different locations (especially useful when undertaking site visits) and a more achievable work-life balance are compelling.
Advancements in technology made during the pandemic have also made collaboration easier and more reliable for those working remotely.
However, challenges remain. Architects are reliant on having the right infrastructure to support their productivity and ensure their high quality work is reflected on paper.
How to solve the problem of print
The architecture industry is used to responding to change at pace. The introduction of CAD, for example, initially presented a challenge for some hybrid workers, as sourcing the necessary specialist graphics cards was difficult. Now hybrid workers can access these essential programmes remotely.
The biggest barrier still tying many to a centralised office environment is therefore the limited printing provision available from home.
Construction relies on highly detailed drawings and high-quality printing more than many other industries and home printers have not historically been able to provide the size or print quality required.
This has left many either falling back on expensive outsourcing arrangements or returning to the office. Even those professionals able to work to a hybrid model find that space is at a premium.
No matter how vital access to high-quality printing is, finding room at home for a suitable machine is a problem.
5 reasons your practice needs the Canon imagePROGRAF TC-20 wide-format printer
Gives construction professionals the freedom to work in a hybrid manner and adapt their working locations without compromising quality.
At just 24in wide, it is compact enough for small spaces and, as it prints all sizes up to A1, it's easy to reproduce professional-quality working drawings at home.
Colour pigment inks provide high-definition print quality that keeps details clear so drawings can be quickly and accurately reproduced.
Low power consumption (28W or less when in operation), reduced packaging materials, easy-to-recycle ink bottles and recycled plastic within its design.
EPEAT Gold registered in the US - the top level - signifying its superior environmental performance.
The Canon imagePROGRAF TC-20 wide-format printer brings architect-grade printing home, providing the printing support that has been missing from architects' homeworking environments.
For more information and technical support, visit canon.co.uk/imageprograf-tc-20

Contact:
01895 648000
uk@support.canon-europe.com
---