Faceted glass 'pillows' bring light to Heatherwick's industrial building turned art museum in Cape Town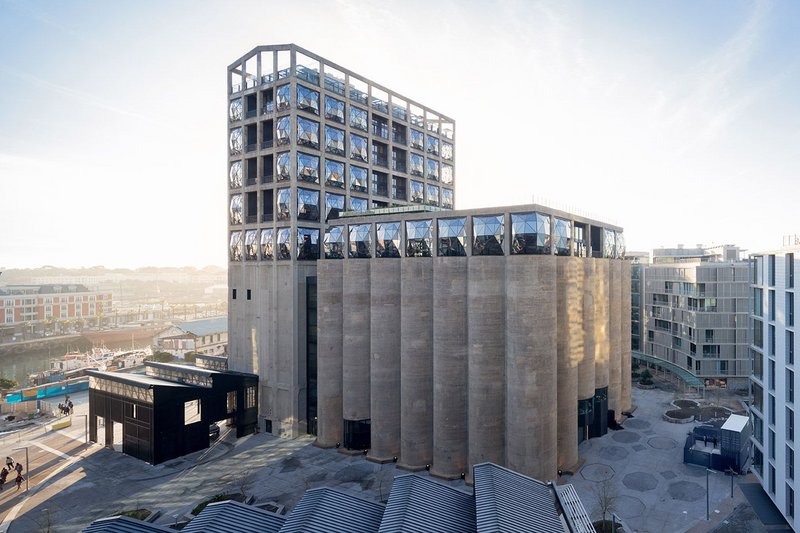 Credit: Iwan Baan
Venetian lamps made of chicken wire were a key inspiration behind the pillowed windows that glitter at the top of Heatherwick Studios' converted former grain silo in Cape Town.
The jewel-like protrusions are a key feature of the 30m tall tower, which was originally built in 1924. Now it is home to the Zeitz MOCAA museum of contemporary African art on the lower levels, with a new boutique hotel on the top four storeys.
The glazing panels are inserted into the existing grid-shaped concrete frame and bulge outward by one metre, as if gently inflated. Each is lit up at night to transform the building into a glowing beacon in the harbour.
Stepan Martinovsky, project leader Heatherwick Studio, says: 'We wanted to retain the original building's silhouette, to preserve its monumentality and historical significance, so the windows were an opportunity to make something special on the outside that would respect the overall massing without creating a "trophy building" typical of many contemporary museums.'
The faceted windows are based on designs for Venetian hand-blown lamps, created by blowing glass through chicken wire mesh to create miniature bubbles.
Each window is faceted into a triangulated pattern comprising 56 panes of structural glass. The largest window opening is around 6m high by 5m wide.
Martinovsky comments: 'The option to create pure, double-curved glass windows wasn't compatible with the budget so we focused instead on creating an intricate faceted pattern. We worked hard to create something that would interesting and unique that does not look like we wished we could have made it round.'
Each window works as a form of structural dome. The triangular shaped structural glass is fixed with structural silicon to T-section aluminium extrusions attached to a frame of flat steel bars. Each panel was prefabricated offsite and lifted into position by crane.
The glazing is not entirely transparent and required a level of opaqueness and reflectivity to reduce heat gain and glare, a real problem in Cape Town where the sun can be very bright.
The pillows have succeeded in drawing public attention to the tower, which though monumental in size, lacked presence in the city. 'At night it's like a beacon in the harbour and during the day the panes pick up strange and out-of-context reflections, like a red boat floating unexpectedly into view,' Martinovsky concludes.