Financing model for Cepro microgrids promotes zero carbon homes by removing cost and risk from developers without passing costs on to buyers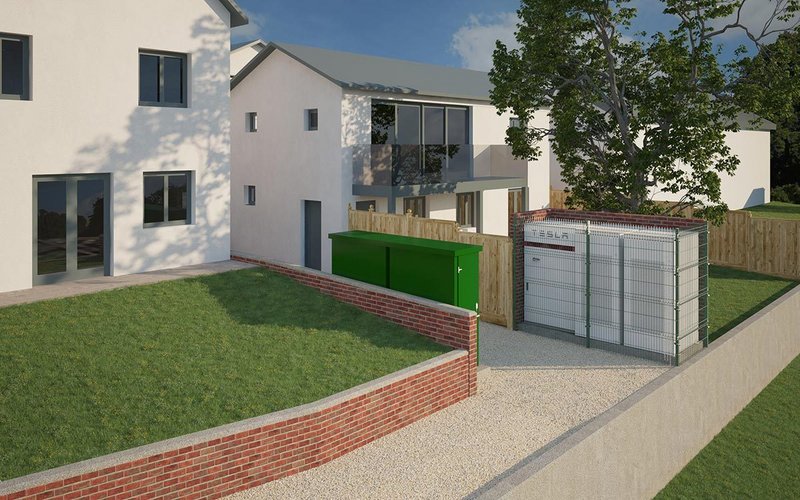 A company set up to help housing developers build and finance community microgrids is one of seven zero carbon building solutions to get an injection of support from the Energy Systems Catapult.
Clean Energy Prospector (Cepro) designs, builds and operates smart microgrids, comprising solar PV, heat pumps, battery storage and digital control systems, for new build housing developments.
An innovative business model sees the suppliers of low carbon systems finance the cost of installation via a community Energy Services Company, removing the risk and the cost from the balance sheet of the housing developer.
This means that zero carbon homes can be sold without pushing up the sticker price, explains Damon Rand, head of product at Cepro: 'Developers typically want to sell houses without retaining a long term interest in the site, which means the only way they can deploy low carbon technologies is to pass those costs on to house buyers – something they are normally reluctant to do. Our approach is to assemble a supply chain around a specific project and bring finance to it, so that developers are able to do more and become more low carbon without raising the cost of homes.'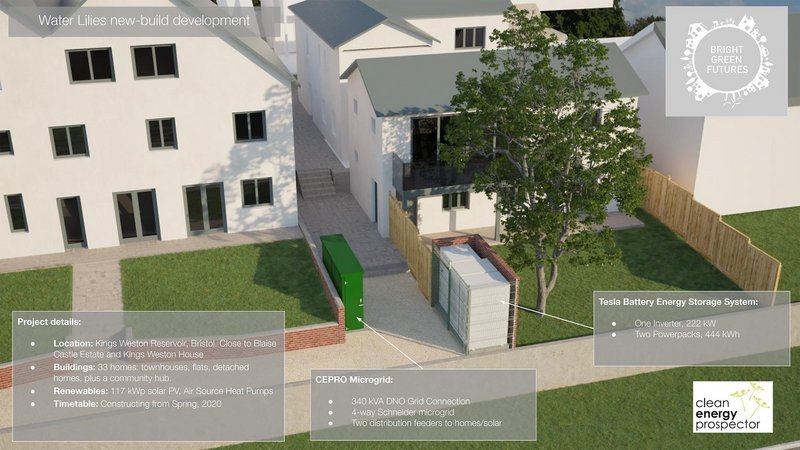 The Energy Systems Catapult's fourth 'Innovator Challenge' business acceleration programme was set up in collaboration with property manager and developer Places for People, to help SMEs unlock new routes to market, secure investment and break down barriers to growth.
The seven innovators in this year's cohort include Amp X, which is developing a digital energy platform underpinned by machine-learning, advanced data analytics and control systems. Atamate has developed a smart building platform that automates continuous control and monitoring of the internal environment to reduce energy consumption and simplify building management. Pumped Heat's innovative heat battery stores off-peak or excess renewable electricity as it is generated ready to use on-demand through conventional heating and hot water systems. The other firms receiving support are: Sero, Studio Victoria and Wondrwall.
Cepro's microgrid solution is being piloted on two newbuild housing developments: the Water Lilies project in Bristol, delivered by developer Bright Green Futures, and Hazelmead in Bridport by developers Bridport Cohousing and Bournemouth Churches Housing Association. The first occupancies are expected in March or April next year.
'The Bristol project will have full net zero on site operational energy use,' said Rand. 'Bridport will be almost net zero, which depends on the carbon reductions achievable using the large one megawatt battery installed on site.'
Although low carbon technologies required to deliver zero carbon homes are now widely available, the relatively high capital costs mean they typically pay back over long periods, of up to 20 years, which has held back investment. Out of around 130,000 homes built in the UK each year, only a fraction have solar PV installed, let alone more advanced systems like home batteries or heat pumps.
Cepro's model encourages external investment by low carbon infrastructure suppliers, who as part of an energy service company earn 'trading revenues' selling power to the national wholesale market and the UK balancing mechanism. Local customers are also charged for the electricity they consume, typically at 10-15% below market rate.