Spanish ceramics are the key ingredient for successful hospitality design being both durable and versatile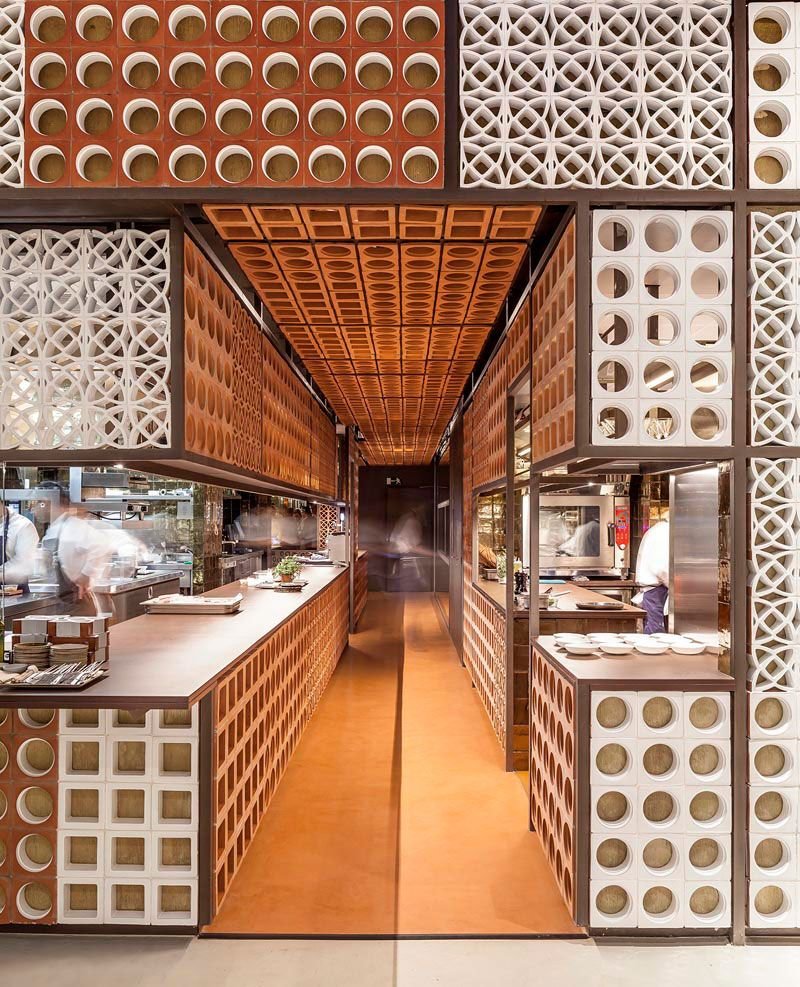 Disfrutar Restaurant by El Equipo Creativo, 2015 Tile of Spain Awards – Special Mention

Credit: Adrià Goula
Hospitality design demands solutions that combine beauty with durability and hygienic performance. Whether choosing bespoke or ready made ceramics, tiles are both easy to install and to replace if needed. Further advantages include minimised maintenance, durability and anti-slip options, plus excellent resistance to fire, thermal shock and UV damage.
Spanish ceramics offer the kind of versatility and reliability essential to these public use projects, and are increasingly the key ingredient for successful hospitality design, as demonstrated by a growing list of internationally acclaimed projects. One such example is the Blue Wave Cocktail Bar by Barcelona-based El Equipo Creativo - winner of the 2015 Tile of Spain Awards for Interior Design for the creative use of handcrafted bespoke shell-shaped ceramics in shades of blue, installed on the floor, walls and ceiling.
Natali Canas del Pozo of El Equipo Creativo explains why Spanish ceramics were given a starring role:
'Our intention was to use a material which came in different finishes and which could be implemented in a variety of ways while serving as a link between the spaces. Ceramics are both versatile and fragmented and can be applied equally on walls, ceilings and floors. They are the right choice due to their physical qualities and their relation to Mediterranean architecture. Although it is a traditional material, its versatility facilitates its use in very modern designs.'
The Spanish tile industry, renowned for combining a heritage of craftsmanship with technical ingenuity, has further enhanced the decorative options with many inspiring bespoke solutions, combined with new coating methods. The latest inkjet technology offers endless aesthetic possibilities – from the decoration of heavily textured surfaces with the most realistic reproductions of wood and stone, to allowing architects to customise tiles with imagery of their choice.
Safety is another key factor when specifying surfaces for busy public environments such as hotels and restaurants. The Spanish tile industry has developed an impressive selection of heavy traffic options, including those with the highest slip resistance. Porcelain tiles offer elegant paving solutions for hospitality by virtue of their durability, resistance and decorative possibilities. Expertise is also available to facilitate installation, be that for raised-access systems accommodating essential services or the levelling of rough or sloping surfaces.
Spanish manufacturers also offer tile ranges with recycled content and continue to push forward development in meeting sustainability standards. This is demonstrated by the industry's Lifecycle Analysis (ACV) a new heat-recovery system for factory kilns.
Have you recently completed a project with Spanish tiles? Enter the Tile of Spain Awards for Interior Design & Architecture: www.premiosceramica.com
For more information and technical support visit: www.tileofspain.com
---