Tile of Spain reveals the fresh, innovative ideas on show at this year's tile fair in Valencia, from digital printing effects to formats offering designers maximum flexibility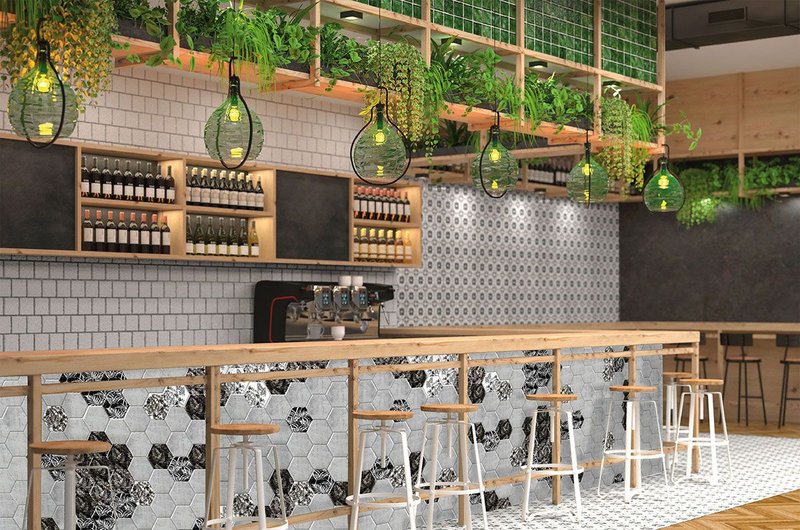 As a key global event for the tile industry, Cevisama is notable for its size and this year attracted 793 exhibitors covering some 120,000m2 in the fair's showground. Spanish tile manufacturers were out in force and their displays reinforced their reputation for high-performance products that offer quality and sustainability.
Porcelain is natural, durable, energy efficient, hygienic and easy to maintain and install, making it ideal for all kinds of projects. Many tiles offer extra benefits, such as frost-resistance and anti-slip surfaces, allowing them to be safely used for exterior or indoor-outdoor spaces, as well as high-traffic areas. All Spanish tiles are fire-proof and anti-allergenic, making ceramics a natural choice for any professional. Below, Tile of Spain highlights some of the best designs at the 2019 Cevisama tile fair.
Transitional designs
Creating tiles that can easily be mixed and matched with co-ordinating ranges offers designers and specifiers maximum flexibility. A choice of identical formats in complementary tones allows contrasting materials to be combined in a single space.
Tropic by Ceramica Da Vinci (pictured top): hexagonal wall tiles in a 15x17cm format, offered in grey and green in a variety of designs and a solid colour tile.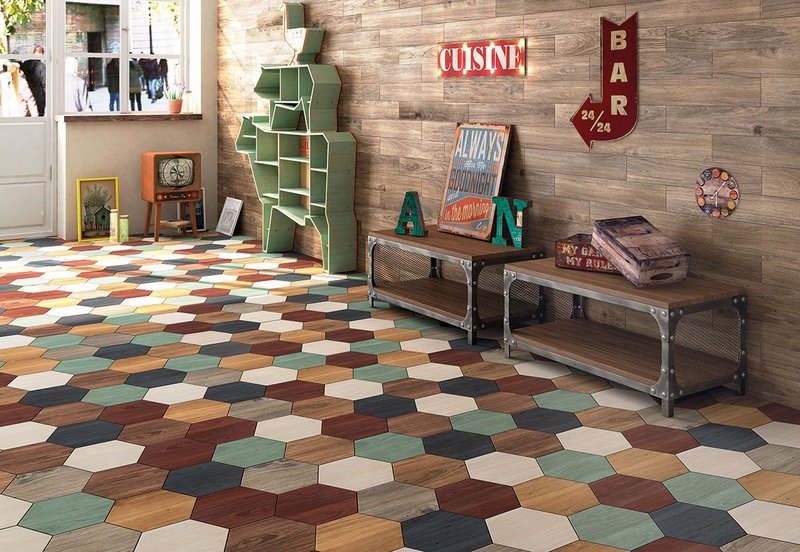 Wondrous wood effects
Wood-effect porcelain's likeness to the natural material is impressive. The diversity of designs for wood-effect tiles has expanded significantly this year and there is no shortage of subtle details and mixed textures.
Atlas Hexa by Bestile (above): Gres porcelain hexagon tiles for walls and floors in a 25.8x29cm format, available in eight colours.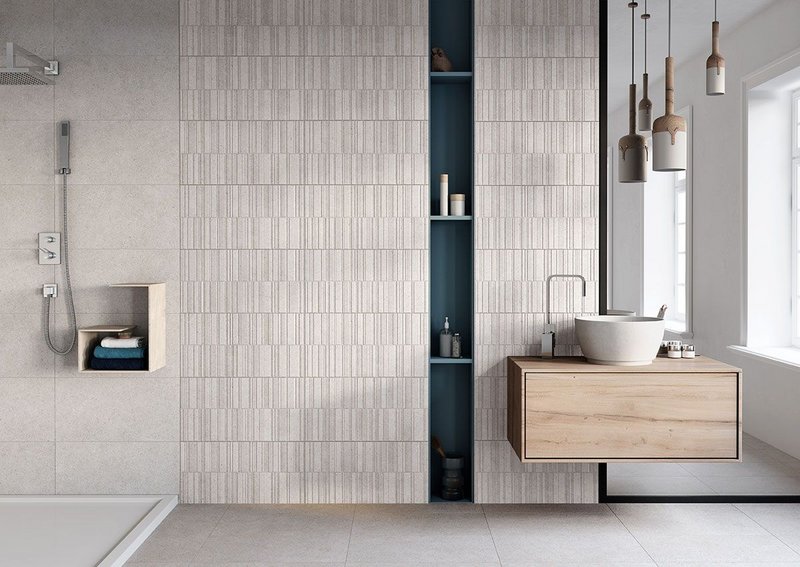 New neutrals
Neutral surfaces will always play their part in commercial and residential schemes and this year designers and architects are spoiled by greater choice in the market. Whether white, beige, taupe, grey or black, the new neutrals are remarkable for their innovation.
Deco Sassi Arena by Gayafores (above): concrete-effect 32x62.5cm and 45x90cm tile formats with line decoration in a palette of neutral colours, including Arena (shown).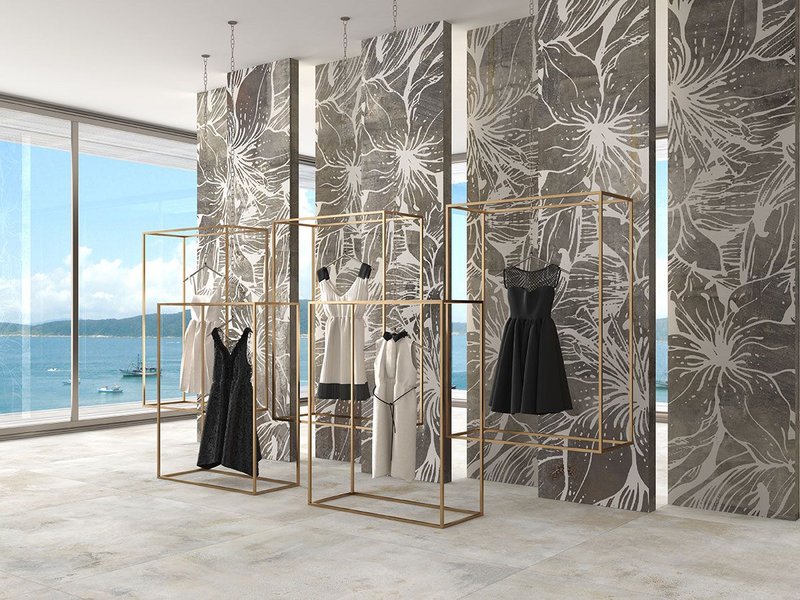 Dramatic maximalism
Bold looks are everywhere and extremes in decoration can be expressed eclectically with tiles. Maximalism can be any kind of material or effect - so long as it is as spectacular as this floral pattern.
Tattoo Oxidum Graffiti Décor by Apavisa (above): large-format porcelain tiles in a 60x260cm format.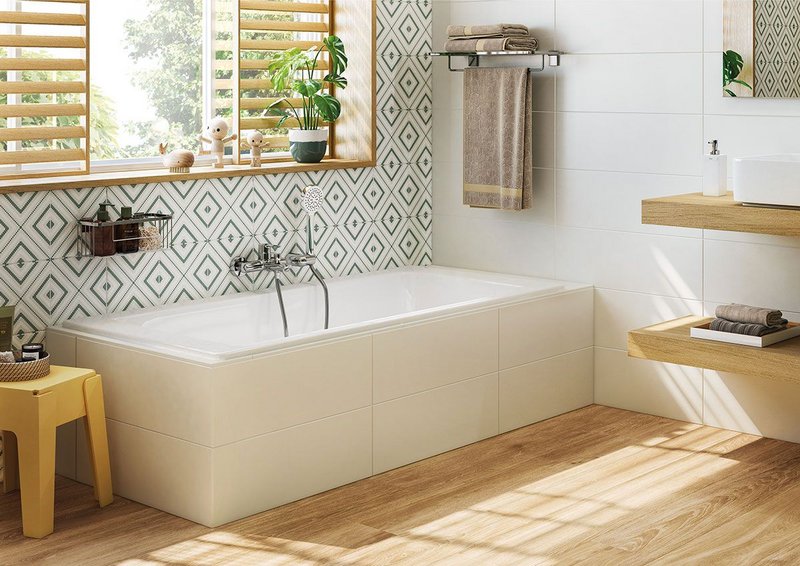 Diamond geometrics
With geometric tiles as popular as ever, the diamond shape is a striking motif that offers lots of possibilities for designers. It can be used big and bold or subtly.
Deko Samba Verde by Roca (above): white body wall tiles with a diamond pattern in green and grey in a 21.4x61cm format that co-ordinates with formats in six solid colours.
Lush botanics
Botanical patterns and green hues are proving popular for decor tiles. Greens are evocative of the rainforest or woodland and offer designers a lush natural palette.
Light-Dec Bosco by Rocersa (above): available in either a gloss or matt finish, this 33x100cm tile format is ideal for walls.
About Tile of Spain
Tile of Spain is the voice of the Spanish tile industry, encompassing more than 125 tile manufacturers.
For more information and technical support, visit: tileofspain.com
Contact:
020 7776 7785
---