Circular construction, where all elements and materials are reusable, could be enabled by BIM and cloud computing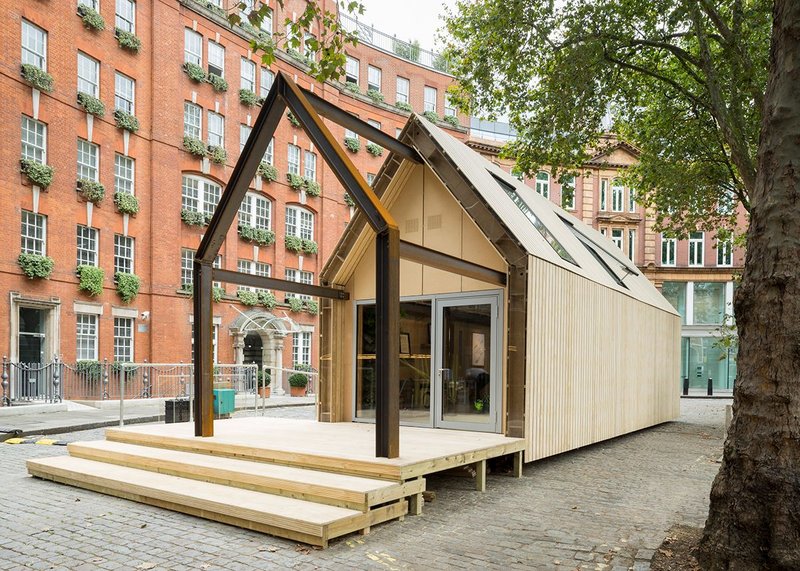 A sustainable building prototype, erected as part of the London Design Festival, demonstrates how cloud computing and BIM could one day underpin the circular economy in construction.
The Circular Building, located outside The Building Centre in Store Street, is the result of a collaboration between the Built Environment Trust, Arup, Frener & Reifer and BAM.
It features only components that are non-toxic, mostly natural and easily recyclable or upcyclable. The entire structure is prefabricated to enable separate components to be easily disassembled and reassembled at another location.
Data on every material used in construction, including the chemical composition, strength and other information required to allow reuse, was entered into a cloud-based materials database, which links to the project's BIM model and a dedicated website.
Quick response (QR) codes on each component in the building can be scanned using a smart device to direct users to the relevant information within the BIM model. The digital system aims to solve the historic problem of dealing with waste at the end of a building's lifetime when materials cannot easily be re-used because this key information is not available.
Lewis Blackwell, from the Building Centre, told RIBAJ: 'BIM is perfectly suited to the circular economy, if we can hold information on materials and their historic use in a rich mass of data, it can tell us their origin, what needs to be decommissioned, and how the structure can be adapted. It links the whole process up so when you come to repair or take apart a building you know what you are working with. In the past that would have involved huge amounts of unwieldy documentation.'
The Circular Building is intended to trigger a discussion on how the construction sector, responsible for 24% of all waste generated in the UK, can move towards a circular economy and think differently about materials and building processes.
A circular economy aims to keep resources at a continually high value and in a loop with other industries, through reuse or upcycling, to avoid waste and disposal.
The idea of extending the lifespan of materials and components could transform the entire business model for construction, says Blackwell: 'We could move towards leasing models under which the steel, the timber etc. is owned by the manufacturer and when it comes to decommissioning a structure they upcycle and sell it to other clients, or reincorporate it into their manufacturing processes.'
He adds: 'This model makes sense as a building owner is unlikely to want to take on the complicated responsibility of trying get the value back from materials.'
The Circular Building is expected to live on after London Design Week. The temporary structure will either be taken apart and re-erected at another demonstration site, or the parts will be returned to manufacturers to re-incorporate into their supply processes.