Pellings commissions Hunter Douglas to work on £7 million refurbishment at Enfield Civic Centre with innovative and cost-effective ceilings solution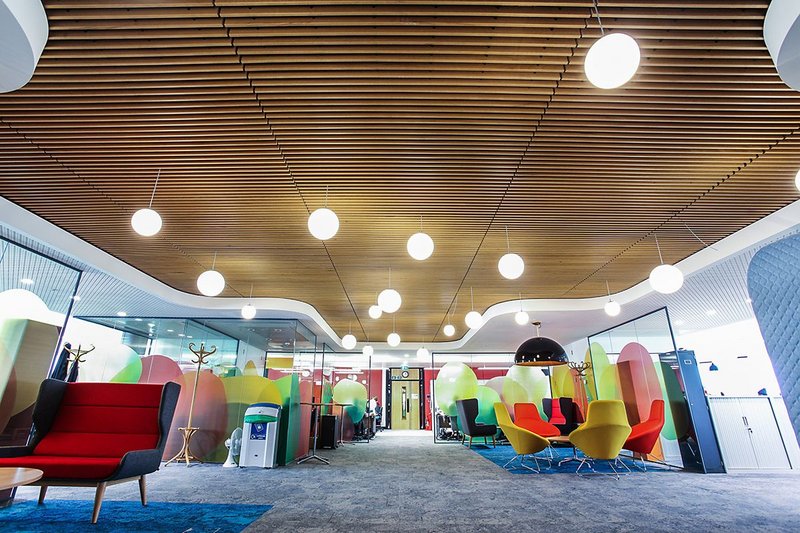 Hunter Douglas, a global manufacturer of architectural products, is adding its style and expertise to an ongoing £7 million refurbishment of Enfield Civic Centre with a bespoke grill ceiling.
Hunter Douglas was commissioned by architectural consultancy Pellings to create solid timber grill ceilings totalling 480m2 in breakout areas over eight floors as the civic centre, which dates back to the 1970s and is undergoing a four-year refurbishment programme to bring it up to date.
The project, which began in 2013, has seen the seventh, eighth and ninth floors completed. Now work is being undertaken to transform floors three to six. Work on floors five to one will take place over the next 20 months, with an expected completion date of summer 2017.
Hunter Douglas used the CAD drawings created by Matt Godwin, head of interiors at Pellings LLP, to create an Ayous grill ceiling in 7-40-15-55 module. The timber was impregnated with Hunter Douglas' standard fire treatment, which meets the European Fireclass B-s2-d0.
Kevin Taylor, Hunter Douglas technical sales manager, said working to a budget of £80,000 meant that the original concept of an oak ceiling had to be changed to oak-stained Ayous. The result is just as stunning, he said. It is complemented with an acoustic backing that is sprayed black to maintain a warm look.
'The use of Ayous offers designers the ideal solution because it is hard wearing and has a lovely grain to it, making it easy to stain in whichever finish the client requires,' said Taylor. 'The system design allows for easy access to services, such as the air conditioning units, and also looks aesthetically pleasing.'
'The council was looking for a scheme with a wow factor, incorporating large amounts of glazing, a central meeting hub, desks to the perimeter with no furniture against the wall above waist height,' Goodwin said. 'All of this combines to give the space an open feel with clear views throughout the entire office.'
The ceiling was the most complex part of the scheme and the grill ceiling was an important part of it, in combination with other perforated and translucent materials.
'I've worked with Hunter Douglas in a previous role and knew it could do the type of ceiling I was looking for.'