DuPont's extensive range of products tested at BRE shows the extensive knowledge required to get airtightness right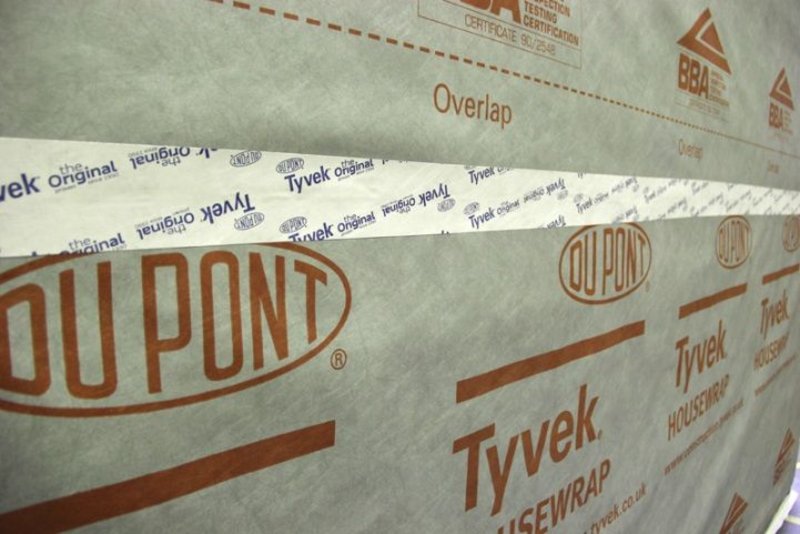 DuPont's airtight system performed well in recent tests at BRE.
There is an increasing awareness in the market of both the importance of airtightness and the complexity of getting it right. However, there is a simple solution: work with a proven system of fully tested products – and the expert team behind them. Recently, a 'passive house' demonstration bringing together key DuPont membranes, AVCLs, tapes, sealants and, crucially, correct installation methods, was undertaken at BRE with very impressive results.
The following products were fitted to a specially built structure, taking great care to correctly seal at laps and penetrations, and in all corners, curves and awkward spaces: Tyvek Supro to the roof, Tyvek HouseWrap to the exterior walls, AirGuard Control AVCL to the interior walls, Tyvek tapes throughout, plus the newly launched Tyvek FlexWrap EZ tape to windows, doors, rafters and floors, as well as the latest Tyvek membrane to the external wall.
A blower door was fitted and the structure pressurised to the industry standard 50Pa. Results were recorded after each stage of application and the final figure came in at 0.12 m3/hr/m2 @50Pa (0.24 ACH). This is well below the exacting Passivhaus standard of 0.6 ACH, which is equivalent to around 0.3m3/hr/m2 @50Pa.
Airtightness can be straightforward to achieve if using the right products and systems, but there can be no weak link in the chain. A reduction of specification quality or incorrect installation will risk disappointing results. Both the BRE test and extensive field experience show that there's simply no substitute for quality and expertise, making the holistic approach from DuPont particularly indispensable.