The Kaldewei Meisterstück Classic Duo Oval freestanding bath combines timeless beauty with a modern design vocabulary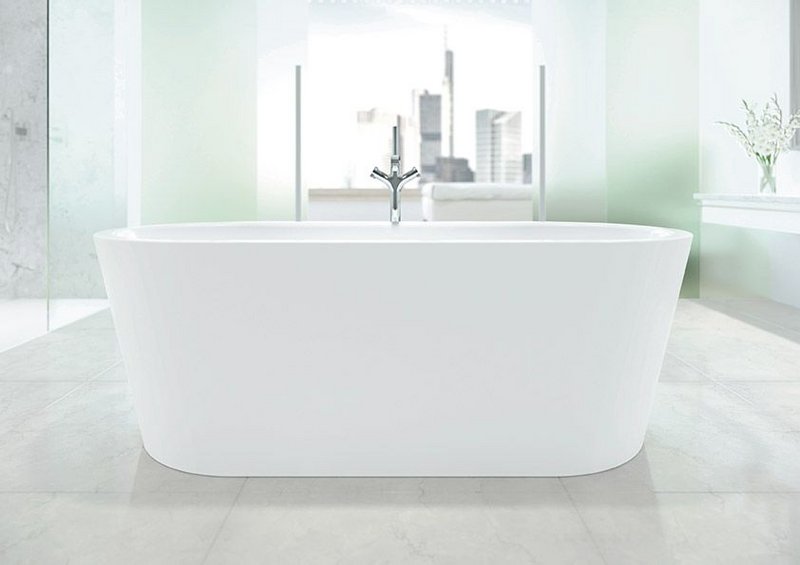 Kaldewei Meisterstück Classic Duo Oval freestanding bath.
Kaldewei brings a classic bath back into the modern bathroom. The freestanding Meisterstück Classic Duo Oval is an object of timeless beauty, encased in seamless panelling of superior Kaldewei steel enamel. Combined with the narrow bathtub lip, the harmonious interplay of a supple oval contour with a conical exterior produces a highly distinctive aesthetic. Two comfortable backrests guarantee relaxed bathing pleasure with space for two.
It is not only in private homes that the new freestanding Meisterstück Classic Duo Oval bath reveals its classic elegance to best effect. Its aesthetic and the particular material qualities of Kaldewei steel enamel are also a popular choice for exclusive hotel bathrooms and upmarket residential developments. While gentle on the skin, it is exceptionally robust and easy to clean. The new Classic Duo Oval is the starter model of the Meisterstücke Collection and represents excellent value for money.
The new aesthetic of the freestanding bath extends Kaldewei's successful classic series, opening up even more diverse options for bathroom design. The Meisterstück Classic Duo Oval is precisely coordinated with the design of the new Classic washbasin with the aim of providing a perfect match. The freestanding bath together with the round undercounter washbasin from the Classic family produce an extraordinarily striking effect, particularly when fitting out high-end hotel bathrooms.
Whether paired with matching washbasins and enamelled shower surfaces or as flawlessly beautiful soloists, the Kaldewei Meisterstücke series stylishly enhances a bathroom's architecture. They are unique pieces, most notably because of their enamelled panelling in a single, seamless material, a quality confirmed by several prestigious design awards for the freestanding bathtubs of the Meisterstücke Collection including the Red Dot Design Award 2015, the iF Design Award 2015 and the Iconic Award 2016.
Made from steel enamel, all Kaldewei products are robust, extremely hygienic and guaranteed for 30 years.
Kaldewei will exhibit at the hotel design event Sleep, 21-22 November 2017, stand V10.
For more information and technical support visit: www.kaldewei.co.uk
Contact:
01480 498 053
---