Next week is Clerkenwell Design Week and EC1 will be buzzing with ideas and events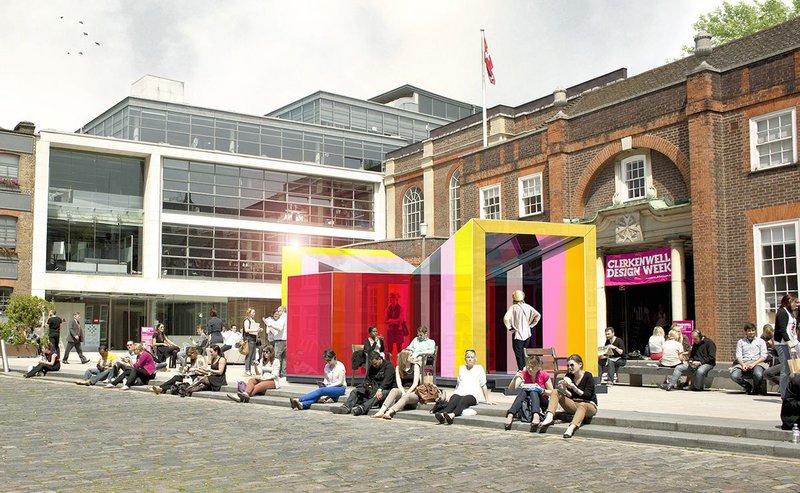 Cousins and Cousins' Glaze pavilion
It's your chance to reclaim the streets again as Clerkenwell Design Week enters its sixth year with a plethora of large outside achitect-designed installations and hosted events.
Head to St John's Square next week to see Glaze, a walk-through installation of opaque and transparent glass designed by practice Cousins & Cousins and manufacturer Gx Glass. Inspired by Venetian Murano glass, the piece also tips a wink to Clerkenwell's former Victorian glassworks at the nearby Farmiloe Building.
Agora on the Green
Grimshaw-o-philes go check out the 'Tensilation' pavilion at St James' Churchyard, a super lightweight modular canopy system comprising complex geometries, manufactured by MDT-tex. The futuristic space will house an exhibition of work by Grimshaw's Industrial Design Unit and the launch of his new table range, co-designed by Italian furniture manufacturer Cassina.
A series of abstract 1 to 1 scale columns and forums, designed by Swiss design studio Gruppe and inspired by classic Roman structures and children's building blocks, will be positioned around Clerkenwell, including at Exmouth Market and outside Farringdon Station. Entitled 'Vita Contemplativa' and built of coloured facade panels by Equitone, the interactive sculptures are inspired by the similarity of the borough plan to an ancient Roman city, with its clear edges and intersecting north-south and west-east roads.
As part of the Design Week 'Fringe', sponsored by Stirling Ackroyd, local architects will throw open their doors to host workshops, displays and installations.
All week, architect Bissett Adams will display new generative artwork by Brian Eno, the well-known pioneer of ambient music and cutting edge visual artist.
On Wednesday, NBBJ will aim to shed some light on how its 'No Shadow Tower' concept for high rise buildings works. Exploring new techniques in computational design, the practice will also discuss how innovative modelling techniques can help architects resolve problems arising from tall buildings and improve the public realm.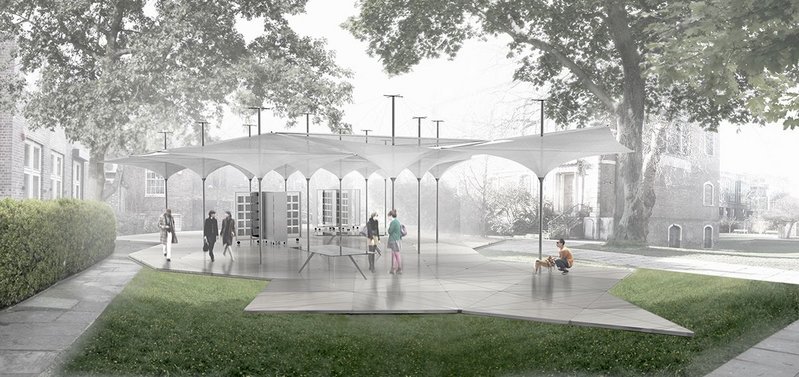 Grimshaw's Tensilation pavilion at St James'
The same day, Hawkins\Brown's 'The Joy of Infrastructure' seminar will introduce collaborators working on the practice's three Central London Crossrail stations, and a panel will discuss the legacy and future role of design and public art in London's transport infrastructure.
And if you have time to squeeze it in, Zaha Hadid Design is presenting a special display of new and classic objects by design brand Alessi, plus famous designs by Zaha Hadid and Nigel Coates. Guided tours of the gallery will be hosted on Tuesday and Thursday evening, with a panel discussion on design, featuring Pierro Lissoni and Nigel Coates, taking place on Wednesday.
Last, but not least, RIBA Journal editor Hugh Pearman chairs a panel of experts to discuss Brutalism and whether we preserve or scrap the buildings of this era. Speakers include Simon Henley (Henley Halebrown Rorrison), George Saumerez-Smith (ADAM Architecture) and Matthew Whitfield (English Heritage).
Clerkenwell Design Week runs May 19-21. See you there!
---