Architects and designers are taking notice of a home-grown online paint company that offers a regenerative business model, cleaner products - and bigger thinking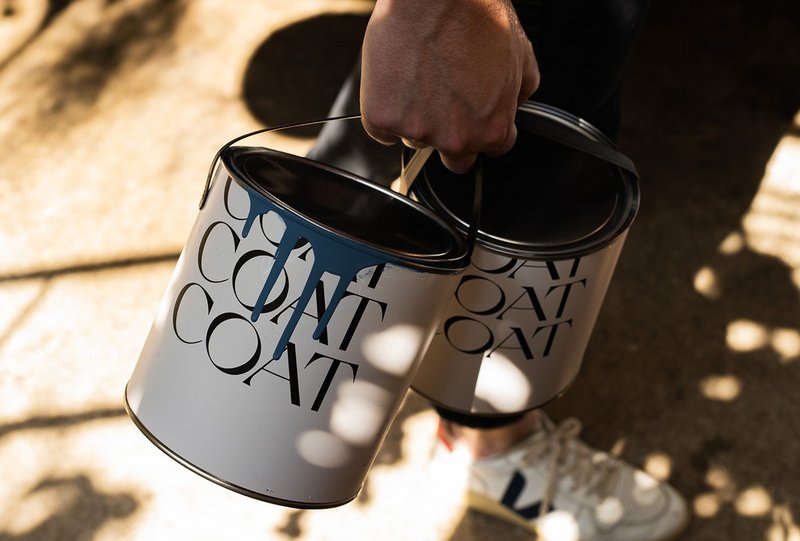 Why architects will want to change the paints they specify: The EU limit for Low VOC products is 30g a litre, which is the strictest in the world. Flat Matt paint from UK firm COAT has 2g a litre.
Online UK paint company COAT is changing how paint is produced, sold and distributed.
The Clerkenwell-based firm, co-founded two years ago by friends Rob Abrahams and Rob Green, aims to go beyond basic environmental considerations to build a new breed of regenerative business.
A recent study by The Royal Society of Chemists found that UK households are collectively stockpiling 50 million litres of unused paint at home. Ninety-eight per cent of that waste paint is either burnt or sent to landfill.
The biggest contributor to paint waste is the paint industry itself. Millions of litres are scrapped each year due to over production and top-down demand generation. Worldwide, 70 per cent of the world's paint produced is still solvent based.
'It's not a case of sustainability,' explains Abrahams. 'We have to actively reverse the negative effects of climate change by contributing net positively rather than just neutralising or - worse - sustaining.'
13 ways COAT is revolutionising everything specifiers know about paint
COAT doesn't make tester pots. It offers peel-and-stick recyclable swatches instead. These are 95 per cent less wasteful than a traditional tester pot.
It is the only major paint company to mix paint exclusively to order using a zero-waste model.
COAT is the first - and only - paint company to offer specifiers direct returns of unused or leftover products for 100 per cent recycling, re-processing and re-engineering.
Its entire range is water-based, ultra low VOC, odour free and vegan friendly.
COAT offers an exemplary product finish with opacity and durability levels that exceed mainstay rivals.
100 per cent of its products and packaging is recyclable - and the majority is recycled too.
COAT is the world's first and only Climate Positive paint company, which means its products contribute zero to any project impact calculation.
It measures and double-carbon offsets emissions of its entire supply chain through forest preservation investment.
The EU limit for Low VOC products is 30g a litre, which is the strictest in the world. COAT Flat Matt is 2g a litre.
COAT paint is Certified Child Safe EN73-1 and EU Certified A+ for Indoor Air Quality.
It has committed to B-Corp Certification (pending), which verifies high standards of performance, accountability and transparency on employee benefits, charitable giving, supply chain practices and input materials.
COAT has signed The Climate Pledge, which commits to achieving the Paris Agreement targets 10 years early.
Last month it was awarded 'Best Eco-Friendly Decorating Brand' by Marie Claire magazine.
Beyond this, the company plans to implement cutting-edge work practices and continue to reduce carbon emissions in-house and across its supply chain.
Every part of the business is considered - from production, through to consumer behaviour and testing, delivery and post-purchase loop systems - to build a company that does so much more than most - and in tangible, visible and measurable ways.
To speak to the team about specifying a project, or learn more about COAT's trade programme, visit coatpaints.com
Contact:
07542 030502
---