Aircrete blocks played an important part in last month's Sunday Times British Homes Awards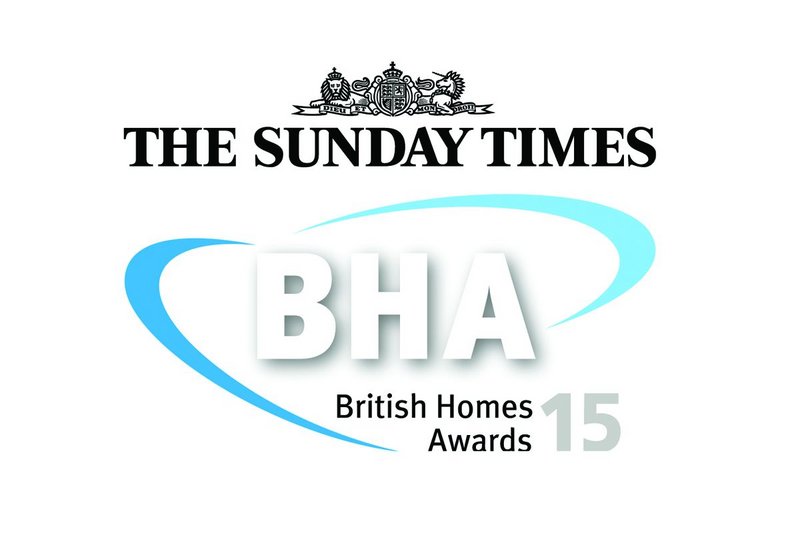 2015's Sunday Times British Homes Awards sought innovative solutions to typical housing needs for its Homes for Britain design award. Homes were to be a minimum of three bedrooms on two storeys with options for double height spaces, roof terraces and single-storey elements. The plot size was 9.5m by 26m and a two-car garage was also part of the requirement.
Aircrete manufacturer H+H sponsored the awards and architects were asked to specify Celcon Blocks made from aircrete in their designs. It was keen to demonstrate that, although aircrete is a traditional building component, it provides flexibility for cutting-edge housebuilding – as shown by the range of winning and shortlisted solutions. In particular, many architects extolled its ability to add to high insulation values as well as provide thermal mass.
Thematically, the competition was inspired by garden cities, giving entrants permission to reach into the style of Britain's Arts & Crafts, with wood and cladding used extensively.
McInnes Gardner's peaked design was innovative enough to take the Homes for Britain prize, though its modern look also harks back to a more traditional barn structure.
RBDS' Almond Place unashamedly incorporated colonial-style iron verandas, classical scrolls and mullion windows in semiotic nods to Britain's domestic heritage.
There are whiffs of America's Arts & Crafts and Frank Lloyd Wright in the brickwork and glazing over corners, and in the trellises, of Growing Home by waparchitects.
Integrated greenery Falling Water-style is also a part of Somorjay & Talliss' Hanging Gardens, while Emrys Architects' Garden Villa is arranged around a village green and gardens are brought together to maintain biodiversity. All that's missing is a maypole.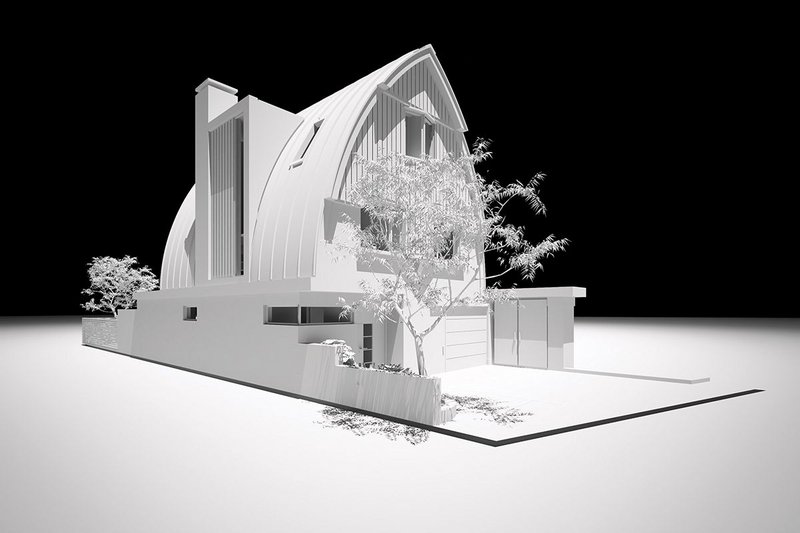 WInner: Arc House
Winner: Arc House
The distinctive shape of McInnes Gardner's winning ArcHouse is reminiscent of the whale jaw bone arches or ships' prows of coastal areas. Rows of the peaked homes, set at angles to prevent overlooking, would boldly challenge the blocky British streetscape – and refresh the garden city ideal.
Despite its architectural elan, the ArcHouse's internal space is expertly utilised over its three floors, from the double garage at foundation to the heat-recovery and ventilation system (HRVS) at the apex.
Along with four bedrooms, there is a utility area, bike and rainwater stores, a utility bench (at ground), a first floor study, and a dressing room, en-suite bathroom and office on the second floor with the master bedroom.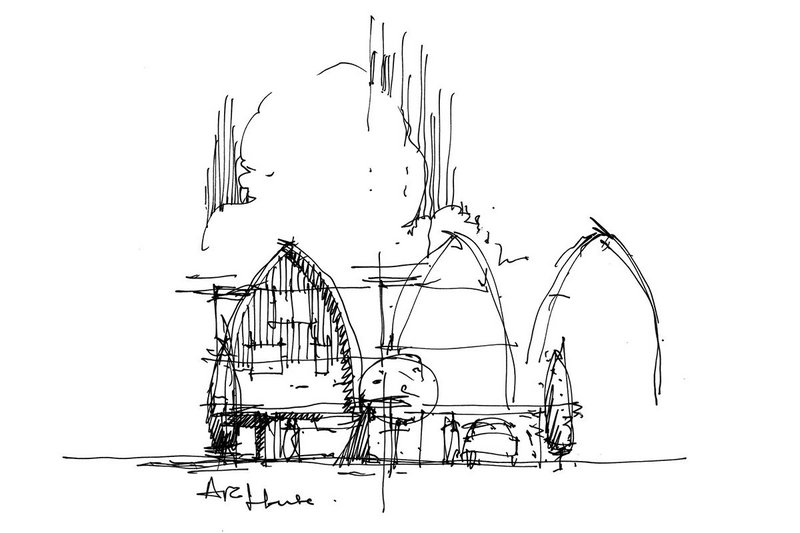 To the rear, an oblong void is inserted alongside the arch, creating space for the stairwell, but maintaining the spiky rhythm at the front elevation.
A £200,000 build-limit (£100/m2) encouraged creativity in the use of the build methodology. The peak – through which the sky is more readily glimpsed – is formed with 200mm thick curved structural insulated panels sitting directly on aircrete walls and gables. In this iteration, these are coated with zinc to further brighten the street. Synthetic thatch is a suggested alternative – a nod to the garden city's rustic genesis.
The building is faced with overlapping clapboard – maritime or rustic – panels topping a cheerful patchwork of brick and acrylic render.
Thrifty specification is particularly necessary given the amount of green kit with which the house is stuffed. This includes the HRVS mooted at 90% efficiency, underfloor heating, a Viessmann Vitovalor 300-P domestic fuel cell micro CHP boiler, and external wall insulation with Thin-Joint aircrete blocks providing internal massing – part of a system helping the building's claim to zero carbon status.
---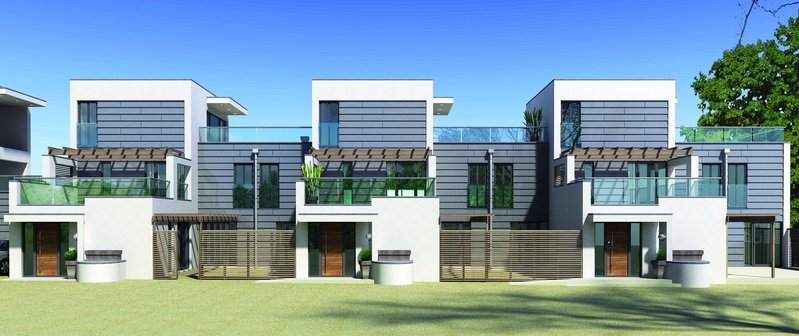 Hanging Gardens
The hanging gardens of Somorjay & Talliss' modular houses' title refers to the timber screens and pergolas adorning the ground-floor outdoor space and roof terraces. Preventing overlooking on a densely packed site, vines and vegetables could be grown over the homes, fulfilling the verdant promise of the competition's theme. Within, each benefits from a double-height volume over the main living room – affordable internal grace. The intriguingly sculpted homes could be built singly or in pairs as required, and the ground floor is also flexible to incorporate car parking and internal partitions can also be reorganised to suit.
---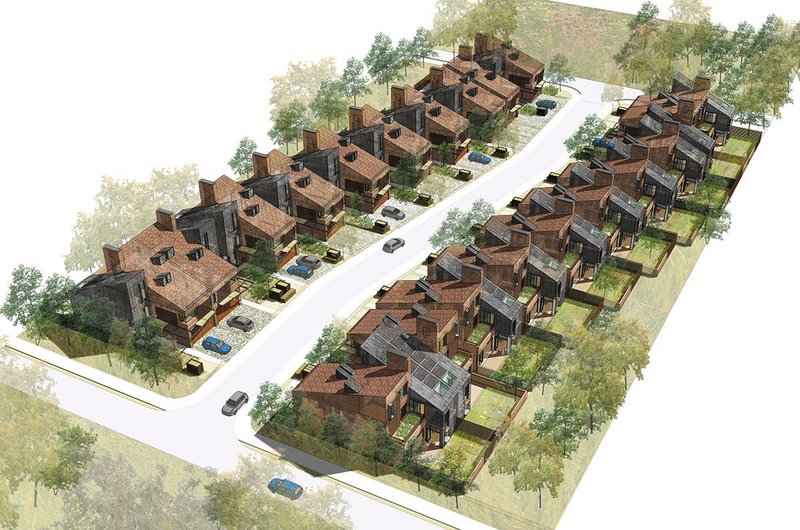 Growing Home
These sophisticated, four double-bedroom homes are striking in their adjacent volumes, with deconstructed roofs pitched against each other. The cladding chosen by waparchitects is flexible, but this design, in timber and brickwork, references Frank Lloyd Wright, who was contemporaneous with the garden city movement.
The Utopian touch is to 'rewild' Britain's front gardens – 25% of which, it points out, are paved over and 33% of which lack plants. Space for growing at the front is provided alongside the driveway and garage, so the back garden can fulfil a recreational function. And a fully planted roof space is thrown in for good measure.
---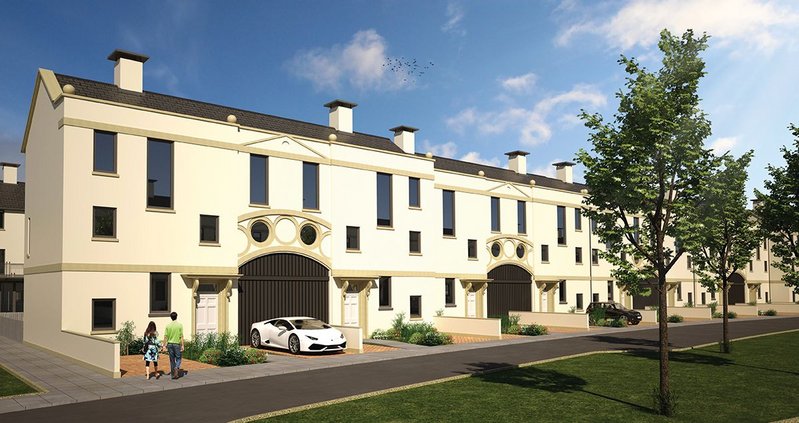 Almond Home
RBDS' shortlisted, three-storey Almond Place scheme presents different faces on its public and private aspects. On the street-side facade, a counterpoint window rhythm enlivens classical motifs. These include console doorcases, string courses and thin pediments. A Bramante-inspired arch wittily surmounts the garage door. To the rear, the impact is Edwardian colonial, including Eastern-inspired ironwork roofed balconies fronting high loggias on the first floor, and Arts & Crafts-style mullion windows on the second. The final result, repeated on crescents, inhabits the space between post-modernism and neo-classicism, calling to mind successful British terraces of the past.
---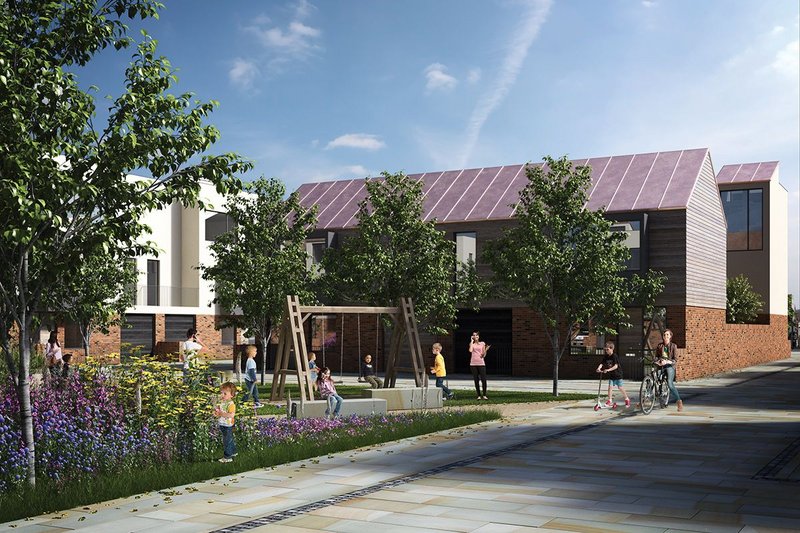 Garden Villa
Emrys Architects has taken a macro approach to the design of its villas, putting communal space literally and figuratively at the centre. The 'simple' public square creates a 'home within a landscape', and back gardens are similarly grouped together for pools of green, limiting overlooking.
Living spaces are at the top of the dwellings, providing seamless access to a garden roof and better natural lighting.
The neighbourhoods use a combination of facades, some of simple render and others of clapboarded – a repeated refrain through many shortlisted entries.
Here, the effect is to create barn-like masses, adding a touch of rusticity.
---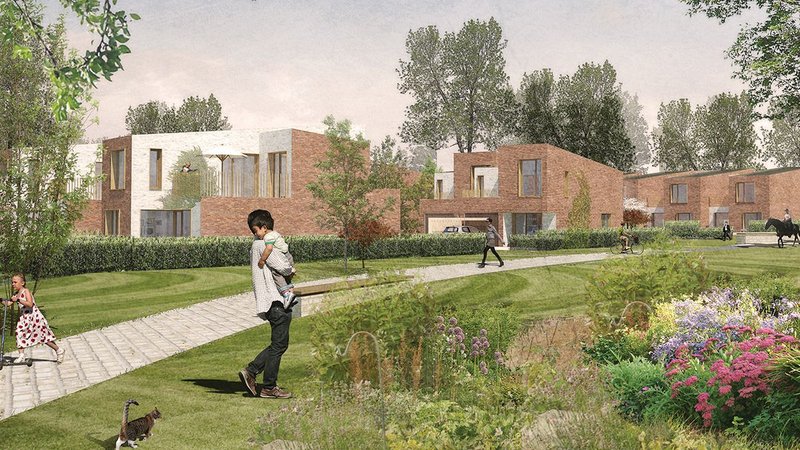 Hundred Year Home
The design for Hundred Year Home from CF Møller is focused on openness, simplicity, proportion and light. The clay-faced brick and tile dwellings are here arranged on a tilted angle, and while the large windows allow natural light to permeate throughout, privacy is unaffected.
The architect has specified high quality materials – reassigning cost away from mechanical heating and cooling. To provide both air-tightness and thermal mass, the designer has plumped for a familiar block component, obviating the need for skilled labour or specialist supply chains. Simple detailing should help the home to last the intended 100 years.
---