Let a Renaissance masterpiece be your inspiration for the chance to win £2500 with SterlingOSB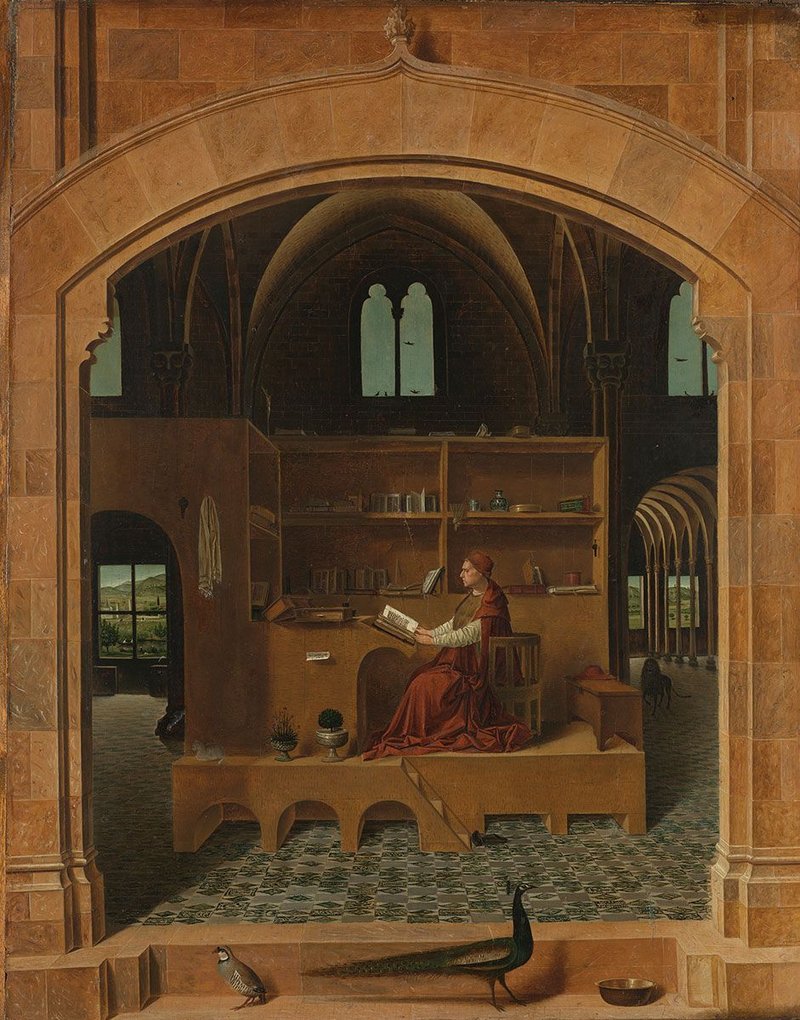 St Jerome in his Study. Antonello da Messina, c1475.

Credit: The National Gallery, London
Antonello da Messina's 1475 painting of St Jerome in his Study was not only a great Renaissance perspectival study but presented viewers at the time with a novel notion of space – that of 'a room within a room'.
St Jerome sits within a raised wooden structure, a carrel: his study. His slippers are at the foot of the steps, a cardinal's hat behind him. Around him is his lectern writing desk, plants, bookshelves and all the appurtenances of his status and biblical meditations.
The overall idea is of a small space of intense study within a much larger architectural volume. But in depicting it, could Antonello da Messina have, in fact, created the first hot-desking workstation?
Our judges include:
Stephen Proctor, Founding Director, Proctor and Matthews
Sarah Castle, Director and Co-founder, IF_DO
Dr. Jan Kattein, Director, Jan Kattein Architects
Ed Burgess, Principal, Burgess Architects
Jan-Carlos Kucharek (Chair), Senior Editor/PIP Editor, RIBAJ
The brief
RIBAJ/SterlingOSB's Room within a Room ideas competition invites proposals for a portable, transformable workspace made from SterlingOSB in a room within a house, public building, school or office.
It is to be a space for study and will require a desk and bookshelves, perhaps with a seat or day bed as part of the design. It will require some hanging space to allow our Renaissance person to display their work and ponder it, away from prying eyes. It may have openable windows and moving shelves or levels. All this is open to the imagination of the designer.
This will also be a space that critically transforms to become a stage for exposition of those same ideas. Our modern day Room within a Room may be able to turn inside out – to go from private study to public forum.
It may be like a reversible jacket, itinerant architecture, transforming wagon for a Wild West snake oil salesman. Hinging, reversing, sliding or folding open, it will at once be a place of solitude and ultimate revelation – all formed from SterlingOSB.
---
CRITERIA
Design a space of no more than 8m2, predominantly from SterlingOSB, in which people may emulate the concentration of the beatified Jerome; a space within a larger architectural volume to which one may retreat to study. It may be roofed or not – the point is that it facilitates a level of separation from the space in which it sits.
Entrants will demonstrate how SterlingOSB can be employed in the design of a small building or installation, how the space is used and how SterlingOSB's bespoke and high strength features are an integral part of the design.
Designs are likely to be wholly internal, but may be partially external. If so, the cladding material must take account of its exterior context. Internal cladding materials, if used, should also be explained.
JUDGING
Chaired by RIBA Journal, judges will be looking for imaginative uses of SterlingOSB and innovative spatial propositions. Any proposal should consider the structural, acoustic and thermal demands of the design. Prefabrication, panels or CNC fabrication may all be considered. Other materials may be used to both clad and fit out the proposal but structural integrity is to be predicated on the use of SterlingOSB.
The winning proposal will be the one that, in the minds of the judges, produces a solution that is spatially powerful, has a logic if transformable, and which best accommodates the demands of the modern day Renaissance man/woman, while making best use of SterlingOSB's properties.
SUBMISSIONS
Entries must include the following and be laid out on no more than two A3 sheets, supplied electronically as pdfs:
Plan and sections explaining function.
Elevations showing the external look of the intervention.
3D axonometric showing construction methodology and or/components.
Any supplementary images you might consider helpful, for example showing spatial configurations.
An explanation of no more than 400 words describing the nature of the proposal.
NOTES
The jury's decision is final.
First prize: £2500. Three commended submissions: £250.
No correspondence will be entered into by the organisers or judges regarding feedback on entries.
Shortlisted entries will be notified in writing.
Shortlisted entries will be invited to the prizegiving event on 13 September 2018.
Please email questions to ribaj.roominaroom@riba.org
Deadline for entry: 26 June 2018
ENTRIES ARE NOW CLOSED
RIBAJ SterlingOSB Room within a Room Competition is produced in partnership with Norbord Europe
@NorbordEurope
---