Flanagan Lawrence specify Lazenby polished concrete floors and GFC surfaces at new build 12 Hammersmith Grove to create visual cohesion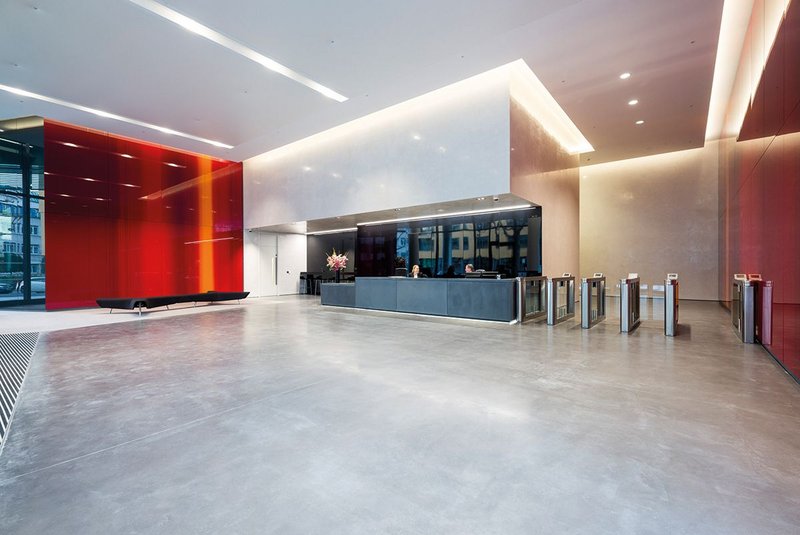 Flanagan Lawrence has specified Lazenby Basalt polished concrete floors, Azure Grey precast tiles and the GFC reception unit at a new commercial office in Hammersmith, London. The architect chose Lazenby for its 12 Hammersmith Grove project for the complementary concrete colour range on offer, superior quality installations and master craftsmanship.
Welcoming visitors and office workers, Lazenby's Azure Grey GFC Reception Desk provides a striking entrance feature, spanning over 8m The front face is cast in four separate pieces making a feature of the jointed panels. The GFC panels are all 20mm thick with a maximum panel size of 2m x 1m. Lazenby's GFC panels are thinner when compared to the normal maximum limitations of standard concrete - 1.2m x 1.2m x 30mm - which makes them lighter, more manageable, with no need for steel reinforcement. The reception desk has an elegant 3mm shadow gap and is securely fixed to a purpose designed and built wooden frame. Mobile vacuum lifting equipment was used to move the large GFC sections into place. The purpose built wooden frame was designed and prefabricated to aid the precast sections manufacture.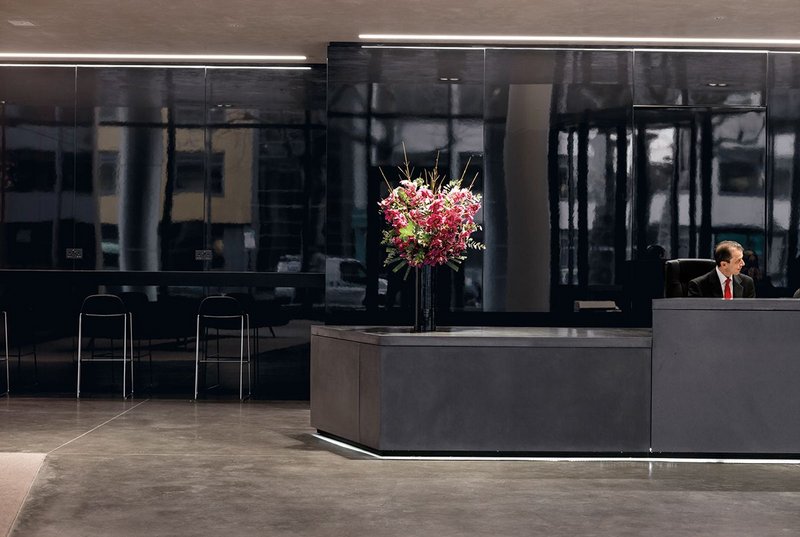 Alongside the reception desk Flanagan Lawrence has specified Lazenby's Basalt Polished Concrete Floors to complement the Azure Grey GFC. The design includes 276m² of Basalt installed on the ground floor and 44m² in each of the 10 lift lobbies throughout the building. Azure Grey precast concrete tiles are inside and around the threshold of every lift.
The thickness of the Basalt polished concrete floors are 100mm and the precast concrete floor tiles are 30mm thick. Careful attention to levels for the lift thresholds ensure a seamless transition from polished concrete to tiles. Installation took three days per floor and the precast GFC and precast concrete elements took one week to install.
12 Hammersmith Grove is a magnificent example of how Lazenby's complementary concrete colours is transforming architectural spaces.
For more information and technical support visit: www.lazenby.co.uk
Contact:
01935 700306
---