OrthoGraph's multiplatform professional survey software is available on iOS and Android mobile platforms for free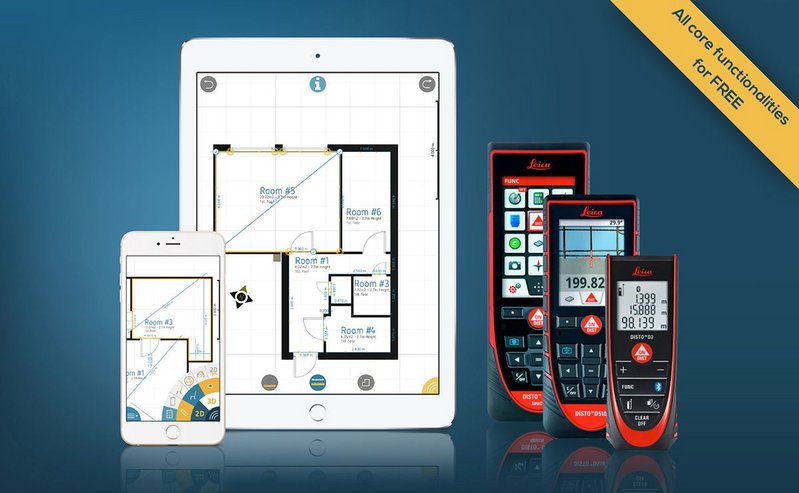 Have you ever thought about managing a complete building survey on a mobile device? Can you imagine a professional floor plan which was created on a smartphone? Do you want to make building surveys faster than ever?
Forget pencil, paper and inaccurate drawings with too much information. Use just your iOS or Android device, OrthoGraph I and your hands to make a professional building survey.
OrthoGraph I is extremely effective when combined with the newest Leica laser distance meter, Leica DISTO D2, which is the best DISTO choice for indoor measurements; small size with high-performance and flip-out end piece. This allows you to measure all corners and diagonals with speed and with the highest accuracy.
Meet an ergonomic, easy-to-use user interface, which makes a complete building survey available on iOS and Android tablets and on smartphones too. Draw and set walls with simple touches, measure walls, diagonals as you go, get calculations on site easily. Save yourself from the long hours of manually loading your survey results into your CAD software and as OrthoGraph I is compatible with most CAD platforms, you don't need to worry about data loss. Using OrthoGraph I builds BIM models which can be exported into the main large scale desktop file formats (IFC, DXF) with just a simple touch, just to be emailed to your desktop or even to your clients.
OrthoGraph I 's unique measurement technology has been completely redeveloped. The software has always handled all measurement data - such as wall lengths, diagonals, openings with position and properties - in a unique, comfortable way. Now, as the program's survey engine has been renewed, you can expect new parameters to aid your work. Also, rooms can be easily merged together if they were sketched and measured separately. By simply moving them besides each other, they will snap to their proper position. The updating of measurements is not only more improved, but faster, too.
Connect a compatible Leica laser distance meter to make your work fast and more accurate. The newest Leica DISTO D2 is compact, lightweight and powerful, a great tool for every OrthoGraph user. You won't need another colleague anymore to support your survey.
Try OrthoGraph I's newest technologies and create floor plans from the simplest to the most difficult ones for free; sketch rooms, make measurements, furnish your floor plan, even preview your plans shortly in 3D. From now on, you only need to pay for the work results: project saving, on-site reports and 3D walkthrough. Choose the weekly ticket, or subscribe to the monthly or annual plan.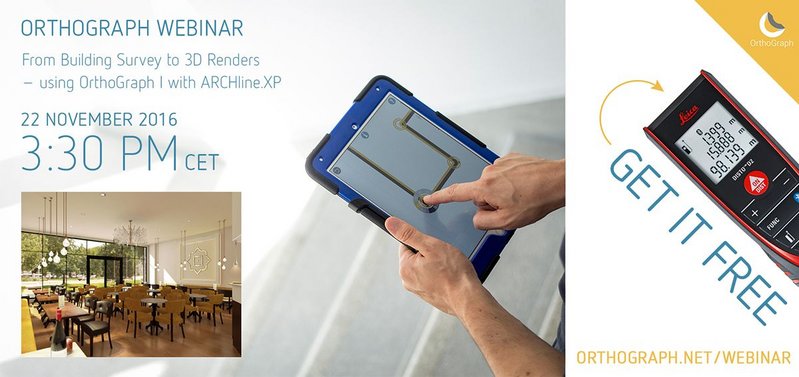 Curious? Take part in our webinar to see how does the application work and get a chance to win a Leica Disto with an OrthoGraphI-ARCHLine.XP package.
To get the app visit www.orthograph.net where all download and licensing information is available.
Already have an OrthoGraph FloorPlan license or OrthoGraph Cloud subscription? Upgrade to OrthoGraph I here: www.orthograph.net/upgrade-orthographi
Contact:
---