Concrete panels inflated by an air cushion is cheaper and more sustainable than conventional methods, say researchers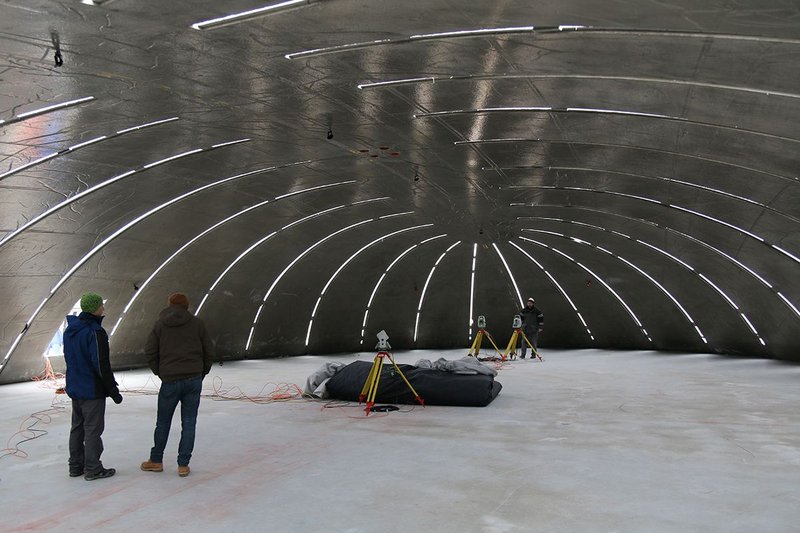 Surveying work inside the concrete shell

Credit: TU Wien
Researchers in Austria have erected the first structure to use a new form of inflatable concrete dome construction.
A team from Vienna's Institute of Structural Engineering created the 2.9m-high double-curved structure in just two hours, by pumping air into a cushion under a layout of pre-hardened concrete panels.
The structure served as proof of concept for a concrete bridge, designed to allow deer to cross a railway line, which is due to be built in Carinthia, south Austria, this summer.
Researchers claim the construction method is cheaper and more sustainable than a conventional concrete dome structure, which would require complicated curved formwork, framework and associated labour.
In addition, the use of pre-hardened concrete avoids structural issues associated with existing pneumatic constructed domes, says Benjamin Kromoser, co-inventor of the technique: 'Existing systems apply wet concrete to pre-inflated formwork, which can lead to imperfections and a negative influence on static behaviour.'
At the start of the construction process a flat concrete plate with wedge-shaped outlets is cast on top of the deflated cushion. As the cushion inflates, post-tensioned steel tendons gradually pull the structure together to increase its rigidity. Glass fibre reinforced plastic rods inside the plate absorb strains.
Researchers say it is possible to build large-scale structures with a diameter of over 50m diameter, and individual concrete panels up to 10m long can be produced.
Fine cracks appear in the concrete after it is bent into position, but these do not affect strength, they claim, and once the concrete is plastered over it has the same properties and stability as a regular concrete domed shell.
The bridge planned for Carinthia will measure 26.5 m long, 19.1 m wide and 4.2m high. It will be used to refine the technique in time for construction of a deer pass that is double the size to be built over the twin-track Koralmbahn railway, later in 2017.
'Most important for us is to make an application to prove the technique works at full scale, then we will look at future projects,' says Kromoser. 'We see it as being suitable for temporary structures, such as large enclosures for events, or a cupola on a church.'