The remodelling of a traditional farmhouse has called for the specification of Mumford & Wood Conservation™ timber windows and doors.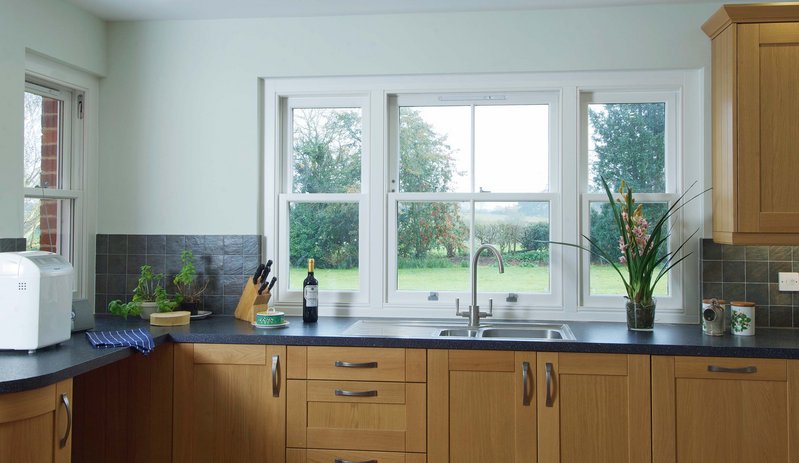 Built around 1880, this red brick property has been significantly extended to the rear although the original building remains structurally unchanged. The property had been previously added to in 1970 with a single-storey, flat roof extension with very little consideration given to the style or thermal performance of the building.
In 2012 a new two-storey rear wing was added which has greatly enhanced the aesthetics of the building that now boasts elaborate use of insulation, replacement timber windows and extensive use of local oak for flooring and other interior details. Conservation™ double glazed box sash windows with traditional cords and weights have been installed throughout the new wing while a smart lean-to styled garden room structure, with glazed roof, French doors and fixed glazed side panels, create a bright and relaxing informal day-room. This has been finished with three coats of high quality micro-porous paint in a shade of green from the RAL Classic collection.
Elegant single glazed box sash windows remain only in the original structure of the building which provides spacious formal reception rooms, an attractive hall and gallery, and two large bedrooms that overlook a secluded and mature garden and drive.
"The new wing was added in 2012 and I must pay tribute to my architects, Daniel Connal Partnership, who took care of every detail of the build and for introducing me to Mumford & Wood," says homeowner Nick Deane. "The rooms with double glazed windows are very comfortable and they have made a huge impact on our energy consumption in this large property."
One single glazed window in the lounge was replaced, from necessity, with an elegant double glazed feature bay window consisting of a central sliding sash flanked either side with fixed sash windows to retain visual consistency. "The bay blends perfectly with the original window in the same room. Together with part double glazing and an efficient new log burner we're almost too hot," continues Nick. "We now have all the benefits of 21st century thermal performance as well as improved aesthetics with windows of different ages that complement each other very well. Visitors can't easily identify old from new which is very satisfactory."
The farmhouse is one of several on the Estate that was sold off to sitting tenants in 1920 and was sold again in 1964. The property remains in the family and no attention to detail has been spared in the recent construction. Old and new handmade bricks were matched, bonding patterns replicated and arched soldier courses over door and window openings have been expertly created.
Doors and windows in the established Conservation™ range provide a coordinated collection of thermally efficient products with superior aesthetics. A combination of modern manufacturing technology in accordance with the British Woodworking Federation's Wood Window Alliance standards is combined with authentic period detailing that has earned the brand award-winning status. All products are made in England from the finest engineered, clear grade, sustainably sourced timber and have an expected life of 60 years or more.
All products are internally glazed for added security and the new colour match and dual colour paint or stain facility is a popular option. Conservation™ windows and doors achieve exceptional U-values which far exceed the requirements of current Part L Building Regulations' and are BRE A+ rated. They also carry the BSI Kitemark, are Energy Saving Trust listed and many products carry Secured by Design accreditation.
More product information is available at www.mumfordwood.com where you can download the new Style Guide, Aftercare Manual, detailed CAD drawings and new online RIBA-Assessed CPD material. Please also visit ribaproductselector.com for detailed Conservation™ NBSPlus product specifications.
For the latest company news and updates connect via Twitter or Facebook.