A cold-applied waterproofing system steals the show at the Vue cinema in Doncaster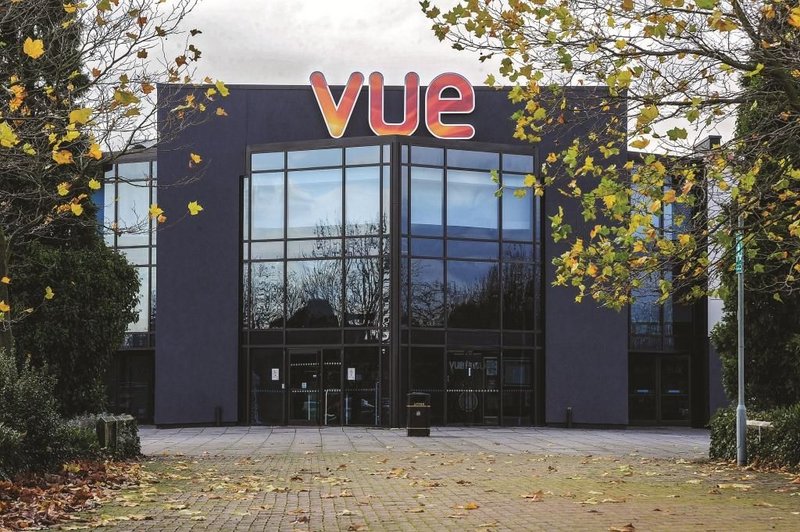 The refurbished roof of the Doncaster Vue – all the interfaces competently dealt with using Hydrostop EU AH-25
When a Vue Cinema on the outskirts of Doncaster needed a section of flat asphalt roof refurbished as part of extension and maintenance works, a zero odour solution was required that would allow the building to stay open to the public throughout installation.
The 750m2 roof, located in the centre of the cinema above a stair and lift core and projection rooms, was covered with a lot of mounted plant, equipment and trunking, making it too disruptive and noisy to take up and replace the existing asphalt.
A liquid cold-applied waterproofing product was considered ideal to avoid the need for complex edge detailing associated with single ply or bitumen products around the plant.
Fumes emitted by solvents in traditional cold-applied liquid waterproofing posed a health and safety risk because of the potential to enter the cinema through air conditioning intakes on the roof and stay in the air for up to four days.
With these concerns in mind, specification manager Cameron MacAndrew, from roof design and supply business SIG Design and Technology, chose to recommend Hydrostop EU AH-25, a wet-on-wet cold applied liquid waterproofing system that contains no solvents or isocyanates, with a very low VOC content.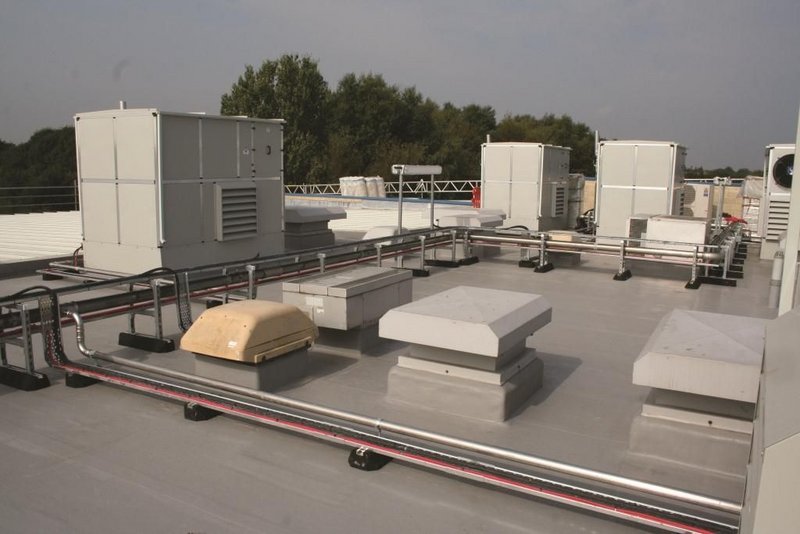 The Vue Doncaster – with roof-mounted plant hidden behind the parapet of its facade
'Hydrostop EU AH-25 emits no fumes and no odour, which meant the cinema could continue business as usual for the week,' said MacAndrew. 'Because it goes down wet on wet in a single pass install, it is a lot faster than most other cold applied systems that require base coats to dry before installers return to apply several top coats.'
For the installation process the roof was first cleaned. Then a base coat of AH-25 was applied, into which a 110 gsm layer of polyester reinforcing fleece was embedded, whereupon it was immediately saturated with a second coat of liquid.
AH-25 is totally impervious to standing water, unlike bitumen roofing products, and uses moisture in the atmosphere to fuel the curing process, whereas other cold applied liquid waterproofing requires a catalyst to be mixed in, complicating the application.
The product comes with 25-year guarantee, which is better than competing systems' maximum 20-year guarantee, for essentially the same amount of money,' said MacAndrew. 'And installers like it because it saves having to wear additional PPE or a use a respirator, as required when working with other liquid waterproofing.'
---
Speedy does it
The refurbishment and insulation of a 1970s social housing estate at Greenock in Inverclyde, Scotland involved the upgrade of 27 small 4.5m by 6m flat roofs for housing association Inverclyde Homes.
Due to concerns about potential disturbance to residents from fumes, noise and leaving large amounts of scaffolding erected around the roofs for an extended time, the cold-applied liquid Hydrostop AH-25 was specified.
'Using a conventional liquid waterproofing system, a primer is installed on the first day, a base coat the next day, and then a top coat on day three, but ­AH-25's wet-on-wet application reduced the installation time for each roof and allowed the scaffolding to be dismantled a lot faster,' said Chris Page, product manager for premium liquids and felts at SIG Roofing. 'The product is odour-free and the contractor Horsburgh Construction was able to install it using ­silent techniques with no power tools required to complete the works.'