AHR's new office building for Blackpool Council turn to the town's most famous features – the beach and its tower – for inspiration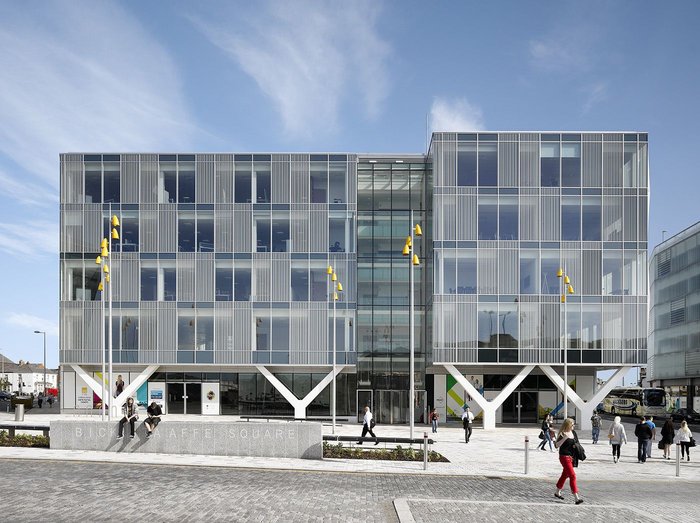 Blackpool's rippling sandy beach and iconic tower are among the distinctive sights that inspired the facade for the town's £18.5m new council building, designed by AHR architects.
The five storey block stands adjacent to Blackpool North train station, and houses 85,000 ft2 of office space, plus retail units and additional office accommodation on the ground floor.
Heavy glazing on the main south east and south west elevations helps maximise light and transparency using a Schueco curtain walling system divided into 6m-wide bays. Each bay features a mix of clear glazed panels, an opaque panel with an external frit, and a clear panel with a frit. Together they reduce the building's thermal load whilst booting transparency.
Tall, undulating steel fins were installed between the glass units, their profiles designed to echo the ripples on the beach when the tide is out, as well as reduce solar gain and improve shading on office floor plates.
North east courtyard elevation.

Entrance elevation showing solar control fins.

Entrance elevation and plaza.

Opaque and fritted screening to the internal courtyard glazed panels helps prevent solar gain.
Chunky Y shaped steel columns are spaced around the building's perimeter on elevations overlooking a new public square and an adjacent retail street. These reference key Blackpool structures with massive structural elements, such as the tower, roller coaster and piers on the beach. The Y shape helps maintain easy access to retail units on the ground floor.
A double skin facade was designed for the plaza elevation to provide unobstructed views of Blackpool tower. This comprises an inner double-glazed curtain wall, a 600mm-deep access zone and an outer skin of fully transparent glass. The layering helps to prevent solar gain and removed the need for opaque or fritted glazing.
'The work we put into the building fabric, such as the shading from fins, and the positioning of opaque and fritted panels, helped us achieve a very high EPC "B" rating,' says Dominic Manfredi, project director at AHR. 'We were able to push this to the EPC "A" rating that the council required by simply adding a relatively small 150m2 photovoltaic array on the roof.'
Facade axonometric.

First floor plan.

Ground floor plan.