As the NHS moves emphasis to prevention rather than cure, its buildings must also start to pre-empt the future by designing in resilience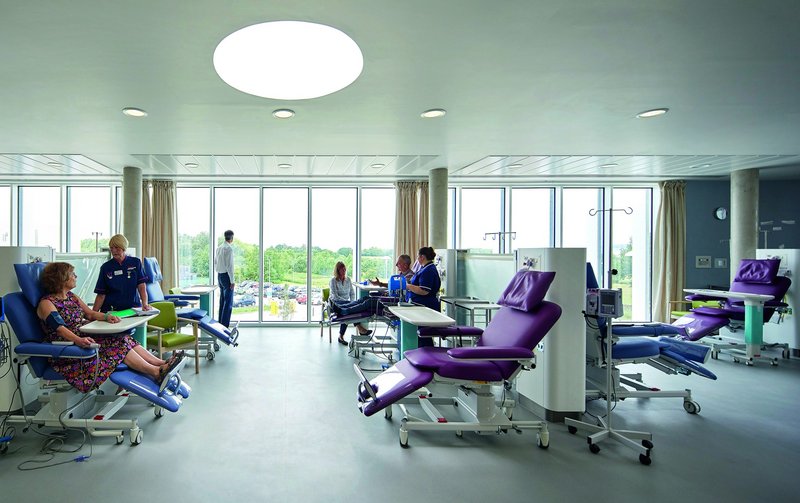 The Manser Practice's Macmillan Cancer Centre in Chesterfield brings the outside in with floor to ceiling glazing in its treatment rooms.

Credit: Hufton + Crow
Last September Boris Johnson promised 40 new hospitals in England under the government's new health infrastructure plan. The first six hospital builds, from Whipps Cross in Leytonstone to Leeds, were awarded £2.8 billion, while 21 more won seed funding to develop their business case. But within months, project teams were building 10 new hospitals across the UK –temporary critical care facilities created in existing buildings for the pandemic response.
Nightingale hospitals and the many adaptations, improvements and changes made to healthcare services and buildings over the past year have prompted questions for both the sector and government. Facilities already having to meet complex and fast-evolving technical and medical needs, cater for diverse patient and user groups, and be cost and energy efficient, must now take on Covid-19 requirements.
Looking further ahead, this experience has raised questions about the resilience of the healthcare estate and its service models, how facilities can be built and adapted faster and how they can better cater for patients, staff and other users. The post-Covid sector may have to change more fundamentally but recent project experience and practices from other sectors and nations could already help point the way ahead.
The human factor
While hospital treatments rely on advanced technology, it is people who define the sector and who were applauded during lockdown. Patients, carers, clinicians and visiting loved ones all have their own needs and the pandemic highlighted how they can come under pressure; the essential closure of facilities to visitors was one example.
The Prince & Princess of Wales Hospice in Glasgow maintained visits through lockdown. 'All patient rooms have access from the ground floor, with each room having a garden space,' explains Paul Bell, partner at Ryder Architecture, the hospice's architect. This is the only UK facility to have been designed to the Sengetun model of care, pioneered in Norway's St Olav's Hospital in Trondheim. The model relies on creating a supportive, non-institutional environment with small courtyard clusters of bedrooms giving patients a sense of place and community while still allowing easy staff monitoring.
The hospice, in Bellahouston Park, has two clusters of six and 10 beds, support facilities and day services in a series of villas with no conventional institutional corridors. 'Designing out corridors means you create villas that are well proportioned and ventilated,' says Bell. Although based on an established model, the client and project team carried out research to produce a people-focused building that includes family bedrooms and large kitchens so families can be together. 'The lead architect spent time at a hospice, including in a bed, to experience the environment. The client used the time taken to secure funding for the project to visit every hospice in the country,' Bell explains. 'Often projects are driven by programme, but we had the luxury of taking time to understand the user group so we could create a more collaborative design.'
A similar focus on people and collaboration informed the development of the 350-bedroom Dumfries and Galloway Royal Infirmary, designed by Ryder in collaboration with NBBJ. The project was undertaken under Scotland's version of PPP, the non-profit distribution (NPD) model, and when Ryder came on board already had a reference design with outline planning permission. The proposed design combined a diagnostic and treatment block, inpatient pavilions and a women's and children's hospital. The architect refined that, reducing a long arc of a corridor and relocating the women's and children's hospital. 'It allowed us to bring the broader landscape into the site,' says Bell. Views out enable visitors to easily find their way around and look onto landscaped surroundings that have made this facility become familiarly known as the garden hospital.
The hospital was delivered by a consortium including Laing O'Rourke using modern methods of construction, such as prefabricated bathroom modules and external wall panels incorporating windows with interstitial blinds. 'We spent time with the contractor and supply chain to design for that,' says Bell. 'It allowed us to deliver the project ahead of its contract programme and helped NHS Dumfries and Galloway's transition to its new estate.' Such innovation is increasingly common in the sector, but Bell questions whether a rethink of the hospital itself is needed. 'We are still very reliant on the acute hospital setting and hospitals are complex and expensive buildings,' he says. 'I wonder if we can re-evaluate what needs to go into an acute hospital and take services closer to where people are living and working, perhaps helping to regenerate the high street.'
Reshaping services
Some clients have been considering significantly reshaping services, says Guy Barlow, joint managing director at The Manser Practice. That has resulted in innovations like its urgent care village design for Chesterfield Royal Hospital, a re-imagining of a hospital emergency department that is being created through redevelopment and extension of the existing facility. The planned approach will see patients streamed on arrival, but rather than move to other departments they will remain in the village where specialist services will be on hand in a more integrated care service – more flexible and better equipped to respond to surges in demand, including a pandemic. 'The provider will have to reconfigure its whole service, with the building there to support activities,' says Barlow. 'It's some of the most fundamental work we've seen.'
The architect began working in healthcare more than a decade ago when a client seeking a fresh approach was attracted by its hospitality expertise. Since then it has brought that expertise to projects including the NGS Macmillan Unit in Chesterfield, a new cancer unit and Macmillan support centre. As well as conference suite and office space, the facility has an open plan treatment area with floor-to-ceiling glazing whose design could grace a hotel spa. Barlow says the healthcare sector could go further and create hotels, as Scandinavia does, to accommodate patients having treatments such as chemotherapy, generate income and release precious hospital bed capacity. 'The opportunity is there to reshape the hospital and there are a lot of business models out there. But it requires a leap of faith to make the change,' he adds.
Covid may provide the push needed, and is already prompting a rethink in outpatient departments, explains Barlow. 'At the peak of the pandemic response 80% of a hospital's outpatient consultations were carried out virtually, and it is thought that 50% will be done virtually in the future. So hospitals are now looking at what that means for the physical facility and what the outpatient department of the future will be.'
Future flexible
Hawkins\Brown's 2019 refurbishment and extension of a GP's surgery in leafy Sawbridge­worth, Hertfordshire, proved prescient in including telephony suites for online consultation alongside face-to-face consulting rooms. 'The surgery was a nice safe place to come to, but we looked at the longer term,' says Ewan Graham, associate director at the practice. 'The project was driven by a tight budget and was fairly agile so we provided just enough consulting rooms. The space worked well through Covid because GPs who would typically be seeing patients in consulting rooms are now using dedicated telephony suites.'
While telehealth was already in the sector's sights, future technologies and treatments are harder to predict, making flexibility a growing priority for healthcare settings. The upcoming centre for the Institute of Neurology, UK Dementia Research and University College London Hospitals NHS Foundation Trust's neurological department near London's King's Cross will combine research and care, having laboratory space and an outpatients' department with six MRI scanners. The architect's design allows space to be adapted and reconfigured as research translates to treatment.
A new project at Guy's & St Thomas' NHS Foundation Trust's Evelina London Children's Hospital will go further. The planned Triangle development will be a generic shell-and-core building to allow flexibility on fit-out, with Hawkins\Brown working on the former and NBBJ the latter. 'If it were designed for a very specific business case, it may not stand the test of a decade and Covid has underlined that,' says Graham. 'The hospital's Hopkins building was completed in the early 2000s and is already not big enough. The estate has to be able to flex its muscles.' The approach makes the most of a highly constrained urban context, where a new building has to be slotted into a tight triangular site within sight of the Houses of Parliament.
Shell-and-core might be common in commercial construction, but it remains rare in healthcare because of the complexity of its buildings. 'We're working within reasonable parameters,' explains Graham. 'We're designing the building to support around 50% of the space for high-tech requirements (operating theatres, scanning suites, diagnostics and lab space) and 50% for medium-tech (consulting rooms, inpatient wards and support space). The building will have structural zones and pathways designed-in so that it will be possible to upgrade an area from medium- to high-tech.'
Covid has not changed the project brief, but it has added impetus, says Graham. 'It has cemented the brief in everybody's mind and opened the door to the hospital's potential to drive on with innovation, like having autonomous guided vehicles to transport waste around the hospital.' It may also open a door for the construction industry, he says. 'There has been an amazing ability to adapt in healthcare – changes that may have taken three or four years happened overnight. Healthcare is now on the government's radar. There will be the opportunity to take lessons from commercial construction in consolidation, facilities management and construction. There is real scope for the pandemic to provide intellectual leverage on what a revitalised estate might look like'. This could be a seminal moment.