Flooring manufacturer Forbo's new Tessera Cloudscape carpet tiles have names such as Cumulus Blue, Sunset Sky and Mistral Gale and aim to bring light - and mindfulness - to urban workspaces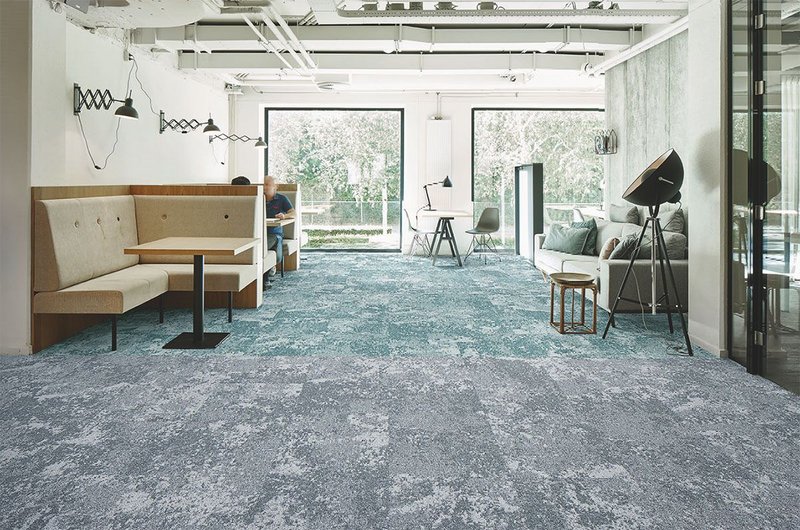 Forbo's Tessera Cloudscape carpet tiles in two shades - 3402 Ocean Winds (back) and 3401 Light Airs (front).
A new carpet tile range from Forbo Flooring Systems aims to enhance wellbeing and mindfulness in office environments. Tessera Cloudscape is inspired by the changing patterns of cloud formations and has been designed to help create calm and airy working spaces that foster reflection and collaboration.
The tufted multi-height loop-pile carpet tiles are available in 16 colours, from the palest Dawn Chorus to the darkest Thunderbolt, and are suitable for a range of applications and light reflective requirements.
Tessera Cloudscape tiles are 7.2mm thick and measure 500 x 500mm. Other sizes are available for special orders. The tiles are manufactured with 100 per cent solution dyed polyamide 6 on a polyester primary and a modified bitumen and polyester secondary backing. All Tessera Cloudscape carpet tiles contain 62 per cent recycled content by weight and are manufactured using 100 per cent renewable energy.
Forbo's Tessera Cloudscape carpet tiles offer specifiers a textured look and natural colour palette for relaxed and productive working environments.