Interface introduces contemporary colours and texture to its carpet collections to make specifying for wellbeing in the office easy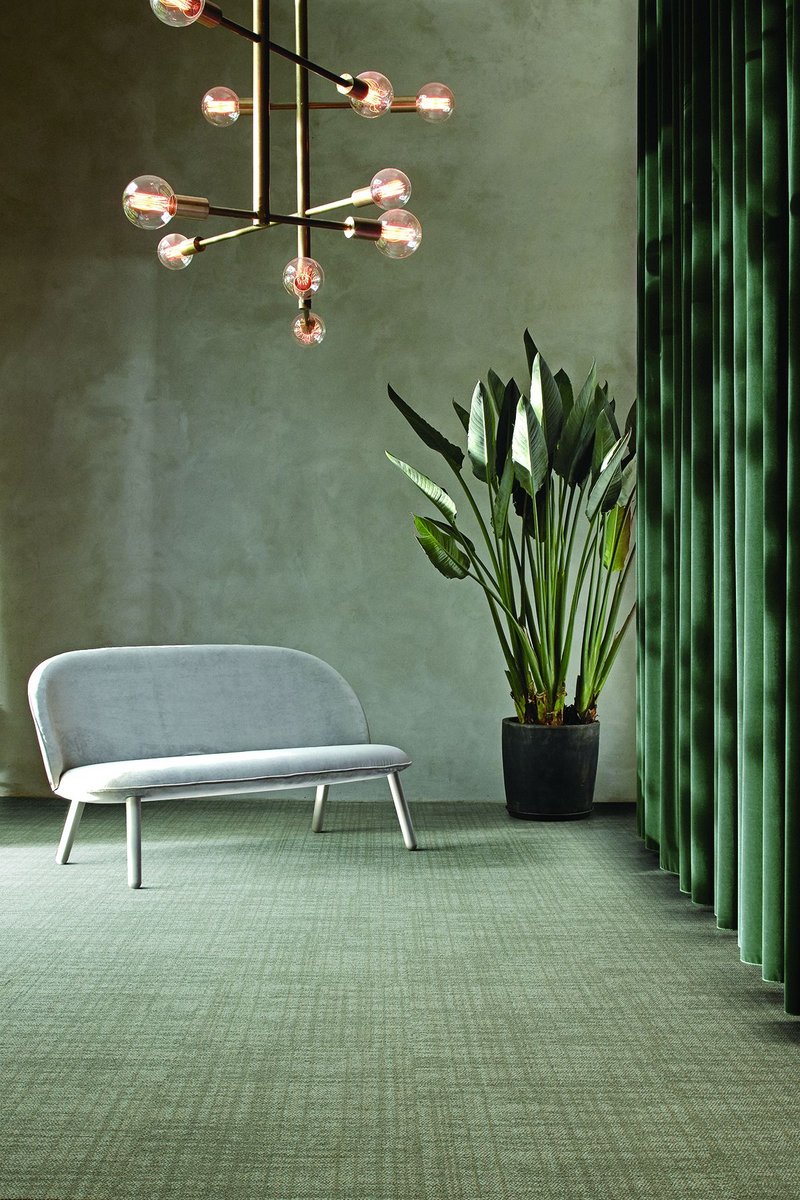 There has been a new focus on the wellbeing of employees in the workplace in recent years, with research suggesting that the wellbeing of employees can have significant impacts on the financial performance of a company. Research is also emerging that there is a measurable link between the way a space is designed and employee productivity, which is why more companies are prioritising workplace design.
However creating environments that work for the employees and the various tasks they carry out, while facilitating workplace efficiency requires careful planning.
Designing for success
To create spaces in which employees can flourish, everything from layout, decoration, air quality and natural light needs to be considered. Yet, one of the most profound effects is the colour palette, with recent research suggesting it can affect mood and the ability to perform even the simplest of tasks to the full extent. Discussing the psychology of colour in the Huffington Post, Leslie Harrington, executive director of the Colour Association of the United States, said: 'We have an innate reaction to colour on multiple social and cultural levels.'
Blue, for example, encourages productivity, while red tones increase anxiety, making them less suited for use in spaces where quiet, focused concentration is required. Green on the other hand has cool, refreshing qualities and promotes feelings of restoration. Green is also used in design to emulate and reflect nature and inspire creativity. In fact, research carried out in Germany found that simply seeing the colour green can lead to measurable improvements in creative tasks.
This growing demand for nature-inspired design even inspired the colour matching company Pantone to announce 'Greenery' as its Colour of the Year for 2017. Discussing this year's selection, Leatrice Eiseman, executive director of the Pantone Color Institute said: 'We know what kind of world we are living in – one that is very stressful and very tense. Greenery is the colour of hopefulness, and of our connection to nature.'
A home from home?
But it's not just nature that is inspiring workplace design. In recent years the textile industry has seen a huge uptake in offices designed as a 'home from home'. The popular Danish concept of hygge and the more recent Icelandic trend gluggadedur have encouraged business leaders to take an entirely different approach to workplace design, using warm tones to emulate a feeling of cosiness.
While these trends use colour palettes that are somewhat neutral and muted, others are much more striking. The Digital Wave trend, for example, is inspired by bold, high-octane colours to establish a brightness that appeals to younger employees, particularly millennials.
However, it should be noted that there is no 'one size fits all' when it comes to design, and the effects of one colour over another are not universal for all people or all spaces.
Design and distinguish
To make the most of workplace design, it is important to create 'zones' that meet the various needs of employees and the demands of the various tasks they do throughout the day. For example, a space designed for concentration and solo working should look different to a space in which collaboration and creativity are required. The modular flooring manufacturer Interface makes it easy to create these distinct areas by offering a huge variety of colourways. One of its latest carpet tile collections, Multichrome, features bold colourways, futuristic textures and intricate weave structures that can be used to differentiate between spaces.
By aligning colour psychology with the latest design trends, and creating distinct working zones, companies can create flexible and productive environments while giving employees the freedom to choose where and how they work best.
As the ways in which we engage with work continue to evolve, so too will the design of workspaces. Focusing on work place designs that enhance wellbeing and increase performance deliver win-win situations for both employers and employees.
For more information and the latest research on how the built environment affects health and wellbeing: www.humanspaces.com and interface.com
Contact:
01274 698503
---