With its distinctive colour and riven texture, Cupa R5 Excellence slate has been covering some remarkable roofing projects in the UK and around the world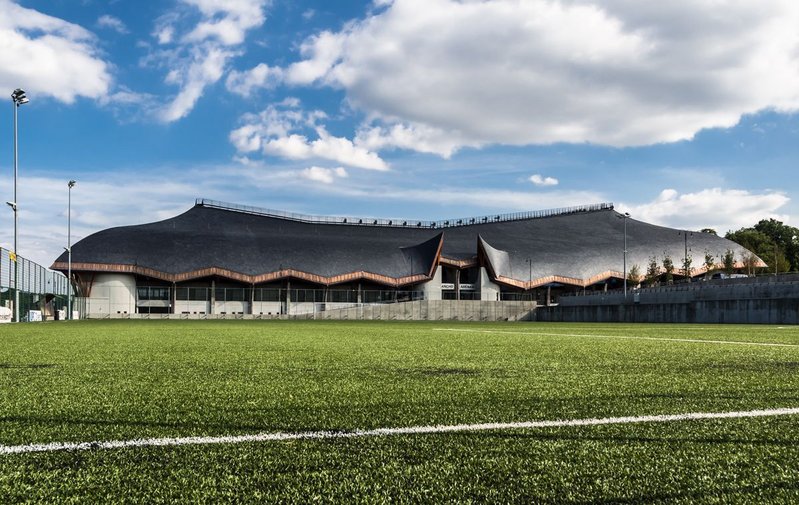 Cupa 5 slate roof tiles at the Pancho Arena stadium in Hungary, designed by Imre Makovecz.
Roofing slates are the ideal option for architects and designers looking for a waterproof, long-term roof with no maintenance. Available in a variety of formats, sizes and thicknesses, Cupa Pizarras natural slate adds value to any building and is a material of choice for architects, builders and roofers throughout the UK.
Cupa R Excellence tectonic slates have a 100-year guarantee and are hand-picked for their regularity and flatness to ensure fast installation and a perfect result. The Cupa 5 grade slate is extracted from the Valcadal Quarry in Ourense, northern Spain, and is dark grey with a riven texture that brings a unique style to buildings.
In the UK, Cupa 5 slate tends to be used for high specification housing. Around the world it can be seen in projects including the Almudena Cathedral in Madrid, Spain, the Echternach Lyceum in Luxembourg and the Pancho Arena football stadium in Felcsut, Hungary. Slates are available in sizes from 30x20cm to 60x30cm and in 5 to 9mm thicknesses.
Cupa Pizarras' wide range of natural slate roofing solutions ensures the continuity and availability of its products and its team of natural slate experts can offer advice and support around any technical and installation issues.