CURA pod fast-to-deploy plug-in intensive care units are being rolled out across Europe in the fight against Covid-19 - and the NHS is set to become an early customer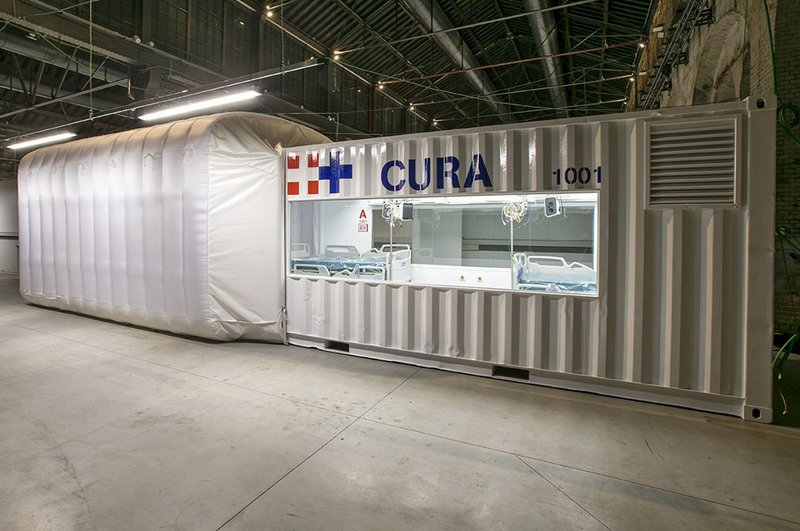 The first CURA pod unit installed in Turin, northern Italy.

Credit: Max Tomasinelli
The open-source design for the CURA pod (Connected Units for Respiratory Ailments) was conceived by Italian practice Carlo Ratti Associati and architect Italo Rota as part of an initiative supported by the World Economic Forum. It comprises a regular 20-foot intermodal container converted into an isolation ward with comprehensive biocontainment equipment.
Each unit features an inflatable entrance that can be connected to a hospital and requires less than an hour to install, helping ease the pressure on healthcare systems treating patients with severe respiratory problems.
The first ICU was built and installed at a hospital in Turin, northern Italy last month and teams in Canada, the USA, the UAE and other countries have adapted the design and are now moving into production. An unnamed developer in the UK with experience of converting shipping containers into retail spaces is working with a contractor to deliver pods for the NHS.
'We wanted to develop a collaborative, open-source design to improve the efficiency of existing solutions for field hospitals, taking into account what is most needed at this moment - ICUs,' says Carlo Ratti. 'The virus is spreading so rapidly and its spatial behaviour is often so hard to predict that a design solution needs to be flexible and agile, which led us to the idea of repurposing shipping containers.'
CURA pods can be moved swiftly from city to city as waves of infection spread and medical equipment is mounted inside to cut installation time per bed compared to temporary hospitals. 'It is just a matter of unloading it, powering it and connecting it to the vacuum and gases,' says Ratti.
The pod runs autonomously with an extractor that creates negative indoor pressure to deliver a high level of biocontainment and ensure compliance with EU standards for Airborne Infection Isolation Rooms. Windows cut from each side of the box allow doctors to visually assess patients and visitors to communicate with sick relatives in safety.
The pod at the hospital in Turin includes ventilators and monitors, intravenous fluid stands and syringe drivers. The inflatable tunnel functions as a changing room and storage area, but could allow multiple pods to connect together in modular configurations, such as to create a field hospital.
According to Ratti, CURA ICUs are among the cheapest on the market to manufacture. A production run of at least 10 containers would cost roughly EUR75,000 per unit, including medical equipment.
Other partners in the project include engineering consultancy Jacobs and health technology company Philips, which supplied medical equipment
'Shipping containers are not a very creative idea in architecture, but this seems to be one of the few cases where they really make sense,' Ratti concludes.