Integrating climate control systems into compact new developments can be a challenge. Mini-VRV systems can help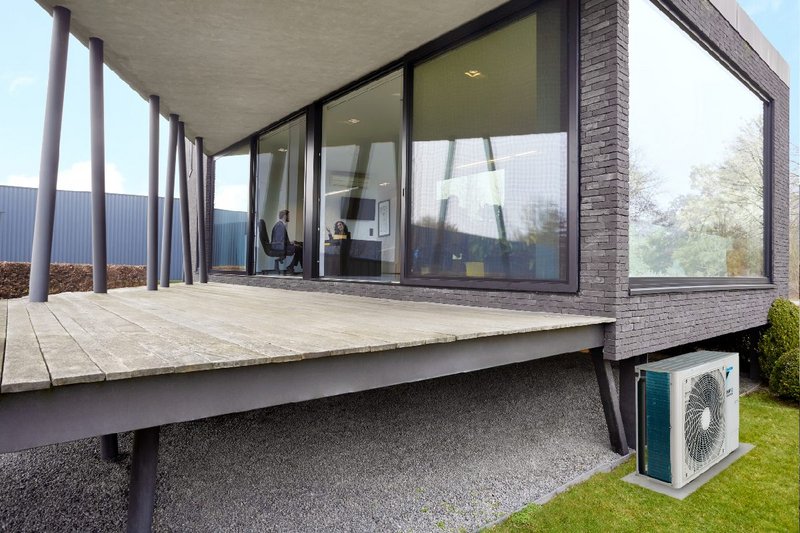 Good things, small packages: the Daikin Mini VRV 5 R32 unit achieves industry-leading efficiency and helps decarbonisation by using lower GWP refrigerant.
Shortages of exterior space, planning restrictions, the impact of noise and aesthetic considerations can all cause problems when it comes to integrating climate control systems into new developments.
The dimensions of many air conditioning systems mean there are few places where units can realistically be located.
The Daikin VRV system is a multi-split type air conditioner for commercial buildings that uses variable refrigerant volume (VRV) control to provide users with the ability to maintain individual zone control in each room and floor of a building.
Size matters in compact locations
Daikin's compact mini-VRV systems can provide a solution for residential and smaller commercial applications such as offices and boutique hotels. The VRV IV S-series and VRV 5 S-series are low profile, single-fan outdoor units that are less than one metre tall with heights of 823mm and 869mm respectively.
These mini systems help to solve line-of-sight issues when seeking planning approval as the units can be installed behind low walls and roof parapets, beneath windows or concealed on balconies.
Reducing in-operation noise
When installed close to windows the sound impact of units must be considered. Daikin Mini VRV systems are engineered for quiet operation and include a low noise mode that further reduces the operating sound.
Where additional acoustic measures are required, sound insulating covers can be specified. The specially designed enclosure that can be supplied with the Daikin VRV 5 units provides a reduction in sound of up to 9 dBA while maintaining performance levels.
The art of camouflage
The ability to locate the units in normally impractical areas ensures minimal impact on the building's architectural design.
However, where the unit is not hidden from sight, it may be important to minimise the visual impact.
Daikin can create bespoke patterned vinyl wraps using high-resolution images that camouflage outdoor units to match their backdrops. It is also possible to paint units in specific patterns and colours.
Inside and out: checking compatibility
With any climate control system it is important to consider compatible indoor units. The VRV IV is compatible with the wall-mounted Daikin Stylish and Emura indoor units, which are available in a range of finishes and can be custom coloured to any pantone reference. The units deliver up to A+++ Seasonal Efficiency in cooling and heating.
Compact mini-VRV systems can help ensure all the climate control requirements of a building are met with minimal impact on the design.
For more information and technical support, visit daikin.co.uk
Contact:
01932 879350
---