Harnessing sometimes copious data to create smart cities will require smart moves from both the profession and government too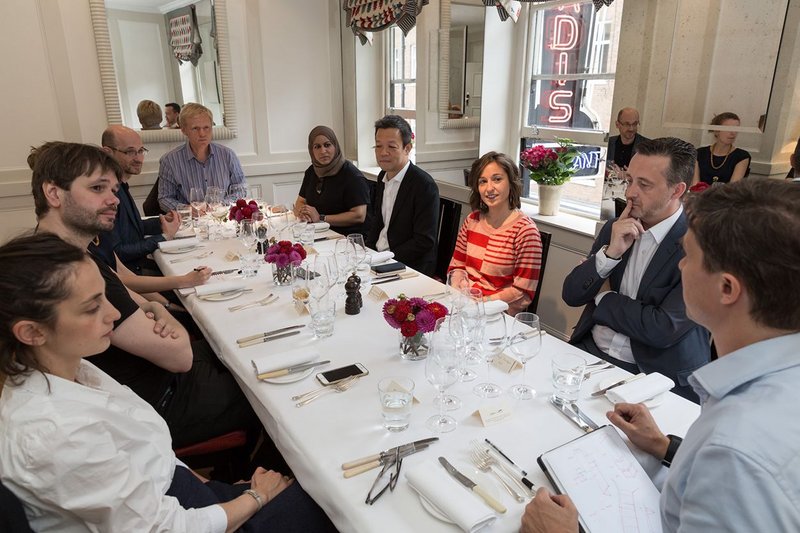 Clockwise from bottom left: Ekaterina Lichtenstein, Dirk Krolikowski, Peter Barbalov, Pierre Wassenaar, Diba Salam, CJ Lim, Lola Fernandez-Redondo, Nigel Headford and James Santer.
Back to London; the last of AluK's roundtable series exploring technology in architecture took place at the Soho restaurant Quo Vadis, in the room next door to where Karl Marx wrote much of his famous Das Kapital in the 1850s. And though the setting is opulent now, that connection happened to be rather fitting for the day's discussion on the topic of smart cities. All about the means of production, the discussion both flowed with capitalist objectives from mechanising cities to increasing globalisation, efficiency and profitability, and attempted to make arguments that struck down capitalism's inadequacies by using technology to improve democracy, access and equality.
As is usual with major discussions into technology, it was necessary to establish the groundwork to answer 'What is a smart city? before any debate could take place.
Initial answers focused on positive, big picture thinking, with Lola Fernandez-Redondo from Greenwich's Digi Cities team providing the first stab at a definition: 'A smart city is one that meets its citizens' needs and aspirations, making efficient and responsible use of the resources and services available, and uses technology to achieve that.'
Going further, Diba Salam, founder of Studio DS, levelled that the quest for efficiency and responsibility is a two-way process of connecting institutions and people that were previously more separate: 'We are trying to build connections between cities, citizens and governments to give people better control of what they are surrounded by, whether that is their infrastructure, offices or homes.'
We are trying to build connections between cities, citizens and governments to give people better control of what they are surrounded by, whether infrastructure, offices or homes
With the idea circulating that cities are a series of governance platforms, Dirk Krolikowski, lecturer at The Bartlett and director of DKFS Architects, insisted that democratisation and open source are two key phrases: 'The idea is that you have a feedback mechanism that allows us to inform change in the city quite fluently and directly, not top down but bottom up. This is the democratisation aspect we are experiencing.'
Bartlett tutor and Studio 8 founder CJ Lim's example of this was how the phone has empowered rural farmers around the world by allowing them to access the daily index of what a ton of produce should cost, stopping middlemen misleading them.
Given the large majority of architects in the room, however, the discussion naturally moved to how the digitisation of cities affects the profession. That came in the form of data as a design tool and BIM as a new material that can anticipate and predict the future.
'As individual agents we are gaining intelligence,' Krolikowski continued. 'Some of our decisions are getting more informed. This technology shift is enabling us to make better decisions from a procurement point of view. We are more resource aware. We design in a more differentiated way. We can fabricate everything to purpose with lots of insight facilitated by software. That is also the case for the city.'
'In terms of the definition of a smart city,' said Ekaterina Lichtenstein, senior associate at HOK, 'it is about channelling information into design; to make use not only of the static information layers – fabric, parking spaces, etc – but also the dynamic data to plug in the living and breathing aspects of the city. From our point of view, cities already generate a lot of data. London is at the forefront for accumulating all sorts of live data in one place.'
At the centre of this was praise by all for the government which collects and distributes much of the data available. 'I was doing a project recently in the UK,' reported Farrells partner Peter Barbalov, 'and the data was available for the kind of people that live there. That informed the decision of how to develop the place to be more inclusive. Access to data empowers us. Before, when you designed a building, you went to a place and you didn't know how it worked. We can understand what people do in that place, how much people earn and how it is working. We see patterns we couldn't before.'
Other examples of how data is being translated into the design of smart cities included electric vehicle tagging, connected charging points, smart parking as well as smart energy meters, lampposts which collect data and Sense, a management system which gets data from the energy providers about what is being generated and used that can include weather forecasts in its algorithms to understand future demand. Even just the UK government learning how many buildings it has is an improvement.
Santer asked whether technology could go one step further in, for example, a bus that knows that you will want to go somewhere and someone else wants to go there so people are pooled together. Buses then get smaller and greener, as well as moving more quickly and efficiently through cities.
Yet critique of government was never far away. And that while the government is good at compiling, it is not so effective in finding ways to capitalise on the data, with Pierre Wassenaar, regional director at Stride Treglown, saying: 'How the government chooses to work with – as opposed to push out – data is important. There has been a tendency for governments just to think of itself as closed. There are good examples like Boston which teamed up with Ways to bring real time traffic information.'
While most of the participants at the roundtable agreed data was an important factor in design, whether for cities or buildings, this was the subject where rifts began. While a handful advocated prioritising data rather than intuition for design, others felt cities and buildings should not be so prescriptive, questioning the design it leads to and the diminishing confidence of architects in their own skills.
'Allowing for the unexpected is what makes us human,' said Lim. 'If technology can help us experience the wonderful nuances of urban life, that's great.'
But to counter this, Lichtenstein argued that any way of designing that isn't based on data is a 'very expensive art. As designers we can be quite lazy, complacent that we understand the city. But in fairness, we don't understand because patterns of use are changing and so far it has been difficult to go out and ask people how they use the city. Now there is no excuse because the data is out there and so not to use it is a crime – as a designer you are being presumptuous.' Salam added that only phasing could really reveal a site's potential.
CJ Lim, on the other hand, thought digital and analogue need not be so divisive: 'I see smart cities from a broader point of view. It is very much about the three Ps: it should protect, provide and allow diverse participation. It doesn't matter if we use technology or analogue, what is important is that smart cities should allow development in humanity and civilisation. If we have to use very advanced technology or a spade to get it moving, then so be it.'
'The challenge we have now,' agreed Fernandez-Redondo, who is working on a project with the DLA and the London Data Store to move data collection to the next stage, 'is that because we have so much technology, instead of using it to help overcome challenges, we may be creating new ones.'
But with news of the newly assumed prime minister's cabinet choices buzzing through on everybody's mobile phones, it eventually dawned on the participants that perhaps not everyone had been invited to the digitisation party. And contrary to projections made 15 years ago that we wouldn't need cities in the future, more and more people are moving to them, rather than choosing to live in the countryside connected by huge pipelines of data.
'Many highly digitally influenced buildings are very expensive,' Lim pointed out. 'If technology could provide and produce buildings and other crafts not just for the rich and powerful but for everyone, it would make things more equal in life. Technology tends to be for a certain clique of the profession, or certain professions only. If technology would allow people in the Faroe Islands or people in Outer Mongolia to engage and feel like they have equal access to protection, provision and participation, for example, then maybe they wouldn't need to leave Outer Mongolia to come into Beijing. We wouldn't need this mass migration.'
Fernandez-Redondo agreed: 'Technology has the potential to make everything affordable, but unless governments invest in giving people skills, digitisation of the world is going to polarise it more. We are facing a huge threat, the same one as during the industrial revolution: it will be a huge social stress that people will not be able to access the jobs we will need in future. Machines are replacing humans and then only high level jobs will remain. There will be a huge part of the population which is not skilled. Everyone needs access to the digital economy. If we forget this, the world is going to become more polarised than it is today.'
Participants thought the overwhelming obstruction to this was the inequality of experiences and communication, whether people were physically in a city or not, as well as a lack of strategic input particularly in education. For that to change, high-speed internet must be treated as a utility like water.
Two final thoughts: the first from Barbalov that a recent TfL study revealed that over the past few years the highest growing traffic type in London is white vans; and the second from Wassenaar that London was hopeless at organising electrification. As online shopping enables the customer to avoid travelling it requires the delivery van driver to instead; and we are talking as if we have control, but we have absolutely none.
AluK is running a seminar, Small cities equals smart design? on Thursday 6 October, 6-9pm.
Details at: alukdesignstudio.co.uk
---
WHO WAS THERE
James Santer, associate director, AHMM (chair)
Santer has worked at AHMM for 15 years. His team works in strategic masterplanning. As a practice, AHMM thinks cities should be designed by architects more than planners.
Ekaterina Lichtenstein, senior associate, HOK
Lichtenstein is from Russia, but grew up in Germany. She works on the masterplanning and landscape team at multinational architecture and planning company HOK. With most of its work in the Middle East, she focuses on designing cities from scratch.
Dirk Krolikowski, lecturer at The Bartlett and director, DKFS Architects
Krolikowski has a background in teaching as well as practice. He worked for Richard Rogers for 11 years before setting up his own practice DKFS Architects.
Peter Barbalov, partner, Farrells
Architecture and urban design practice Farrells has been running for more than 50 years. Barbalov's perspective is from the practitioner's side, not necessarily designing cities.
Pierre Wassenaar, regional director, Stride Treglown
Stride Treglown is based in Bristol with offices across the UK. Wassenaar specialises in university buildings and heads up the practice's technology and innovation sector.
Diba Salam, principal and founder, Studio DS
Salam founded Studio DS three years ago. The practice does a lot of international work and uses technology heavily to enhance designs.
CJ Lim, director, Studio 8 and professor of architecture and urbanism, The Bartlett
Lim, as part of Studio 8, works on many masterplanning projects in Asia, particularly for the Chinese and Korean governments. He is also a tutor at The Bartlett.
Lola Fernandez-Redondo, head of strategic planning and design, Digi Cities, Royal Borough of Greenwich
Digi Cities is the commercial arm of the Royal Borough of Greenwich. It's a small team of interdisciplinary professionals that brings together the economy, governance, service and innovation, ICT and the built environment. The team develops urban design visions and government strategies.
Nigel Headford, divisional head, AluK
Headford hopes to get ideas on how AluK's products could be integrated into smart cities.
---