Taylor Maxwell facades help newbuild student flats feel at home in Northampton conservation area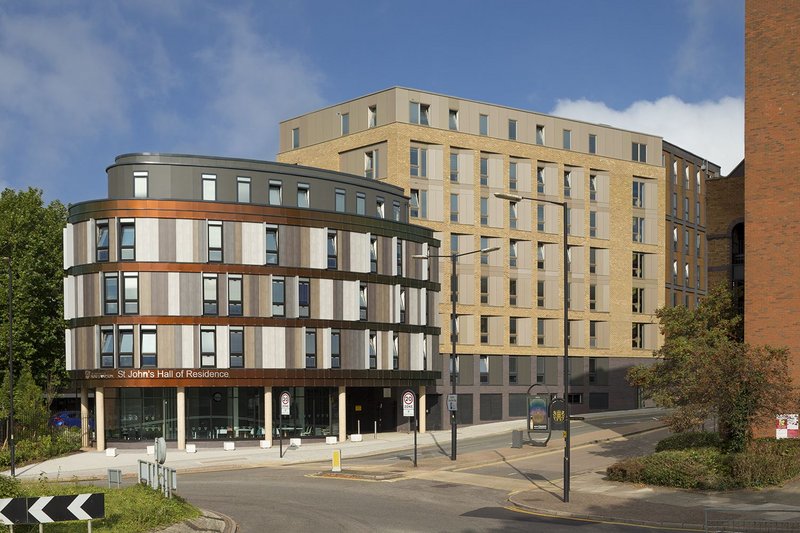 One of the challenges presented by building 464 new student flats for Northampton University was that the St John's site abuts the Derngate Conservation Area, in a part of the town that has many buildings of historic interest – several of them listed. Andy Roberts, a director at Nottingham based architect Church Lukas, outlined some of the elements that needed to be balanced in the project:
'Trying to put 500 rooms into a city centre is a very difficult task. You need to fit in with the facades and scale of the surrounding context. That requires two things; different materials, and different proportions to break up the mass. We looked at the proportions of the building and decided to create a number of structures rather than a big monolithic block, because of the scale of the buildings neighbouring the site.'
The contribution needed from the materials supplier was to create a complimentary feel to the different buildings. But this was to be achieved not by using random materials to set up an artificial contrast. What was required was a transition from one building to the next so that when you are walking around, the development feels unified and fits with the conservation area, while the brick on each building is actually very subtly different: that was the objective.
Building in a conservation area guarantees extra scrutiny, but it is also a chance for architects, builders and suppliers to display their skills; unifying old and new so that both elements enhance each other.
Church Lukas turned to Taylor Maxwell to provide the facades for this project. Andy Roberts described why the firm is the practice's first choice supplier for bricks and cladding panels: 'We have a longstanding relationship with TM. On almost every project we do, I will call the local rep and ask him to source certain materials. As well as doing that, he will provide images of what it would look like in context. You can make informed decisions from that process, which is a superb service in itself.'
---