The distinguished facades of the Defence and National Rehabilitation Centre's (DNRC) timeless buildings feature over 1,000 Brick Slip Feature Arches and 3km of offsite cornice designed and manufactured by IG Masonry Support
IG Masonry was instrumental in achieving over 1,000 brick arches and cornices of classical and traditional architectural styles. The IG systems were chosen for their efficiency as prefabricated units and to achieve the desired aesthetics. The quality and craftsmanship is apparent throughout and has delivered on the façade envisioned at the beginning of the project, giving the impression that the buildings vary in age and have grown over time – Neil King, Purcell UK
Overview
The Defence and National Rehabilitation Centre (DNRC) is a bespoke £300 million purpose built clinical rehabilitation centre of excellence based in the Midlands, at the Stanford Hall Rehabilitation Estate near Loughborough.
The classical architectural style of this project extends to over 47,000m2 of floor space, of which approximately 41,000m2 is new, purpose-built accommodation. Two storey structures were configured around a series of interlocking courtyards and external garden spaces, creating distinguished, timeless buildings respectful of the existing architecture, including the grade II* listed Stanford Hall.
Each elevation features a network of complex brickwork elements. Lee Marley Brickwork collaborated closely with IG design engineers, using modern building techniques to create the brick facade and achieve the architect's vision.
IG Masonry Support manufactured and designed a range of bespoke prefabricated brick slip solutions, including over 1,000 Brick Slip Feature Arches and just under 3km of offsite Cornice.
IG's Brick Slip Feature Arches are one piece prefabricated units, manufactured bespoke to order. The patented perforated stainless steel in an IG Brick Slip Feature Lintel allows BBA approved adhesive to squeeze through the perforations and form a 'mushroom' on the inside, providing a mechanical and chemical bond between the steel lintel and bricks. IG collects a consignment of bricks from site which are then cut into 25mm brick slips and bonded to the lintel. This eliminates the need for a specialist brickwork contractor to spend hours on site cutting bricks to suit complex brick details. The finished brick feature arch blends seamlessly with the surrounding brickwork.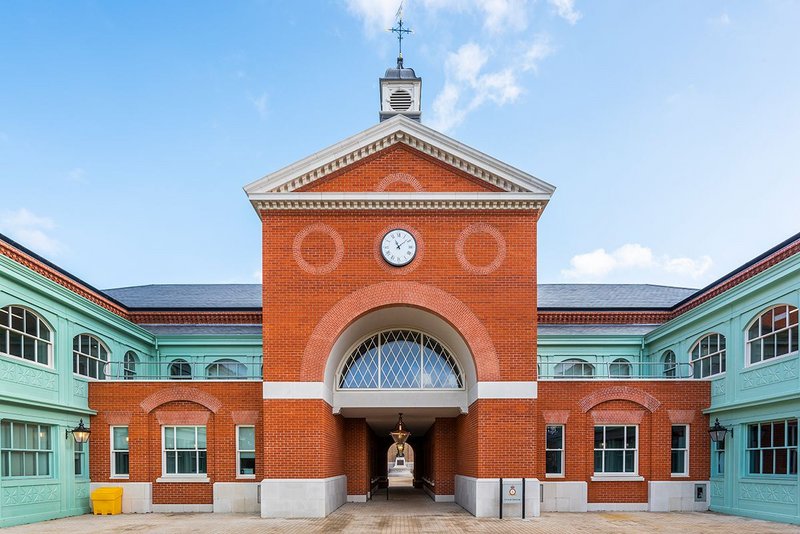 IG Brick Slip Arches and Bullseyes.
Challenge
Consistency and quality were essential when replicating the complex brickwork elements throughout this 21st century state of the art landmark project. To create the arches using traditional methods would have been a time consuming task requiring a great deal of skilled labour and brick cutting onsite. IG Masonry Support's offsite solutions provided greater certainty for project delivery within the ambitious construction schedule.
Solution
IG's Brick Slip Feature Arches and Cornice offered the perfect solution for achieving the key architectural features on the exterior facades of the buildings. A clock tower retained from the demolished stable block at the historic estate forms the cornerstone of the main courtyard which features a series of impressive arches throughout its ground floor elevation. The design of the arches vary throughout each elevation, featuring a collection of different classical architectural styles. IG provided Lee Marley Brickwork with Brick Slip Feature Arch solutions that enabled it to achieve grand architectural details with the simplicity of a single piece prefabricated component.
The largest free standing arch installed on the development spanned an impressive 8.7m opening. The base of the arch sits at 9.5m above ground level. This bespoke brick slip solution incorporated a 0.3m deep brick soffit and a 0.8m brick face. The arch was fully installed in under an hour, demonstrating how effective modern building methods can deliver large-scale brick features. Crowning the brick façade of each building, the corbelled cornice demonstrated a varying degree of complexity. IG designed and manufactured a lightweight system of cornice units to achieve this architectural element. The speed at which the corbelled units were installed significantly reduced the amount of time that Lee Marley Brickwork's team was working at heights.
IG Masonry Support's products provide quality and consistency and this proved a major advantage for Lee Marley Brickwork. Each bespoke brick feature component was produced in a factory in optimum controlled conditions, free from wet weather, extreme temperature and excessive dust.
Credits
Architect
Purcell UK / Steffian Bradley Architects /
John Simpson Architects
Contractor
Interserve
Brickwork contractor
Lee Marley Brickwork
Location
Stanford on Soar, Midlands
Products used
IG Brick Slip Feature Arches & Cornice