The UK's largest built-environment event features nine shows under one roof, an Innovation Trail of the latest products and tech, MaterialDistrict Expo's curation of state-of-the-art materials and surfaces, plus a host of industry experts. And, of course, it's free...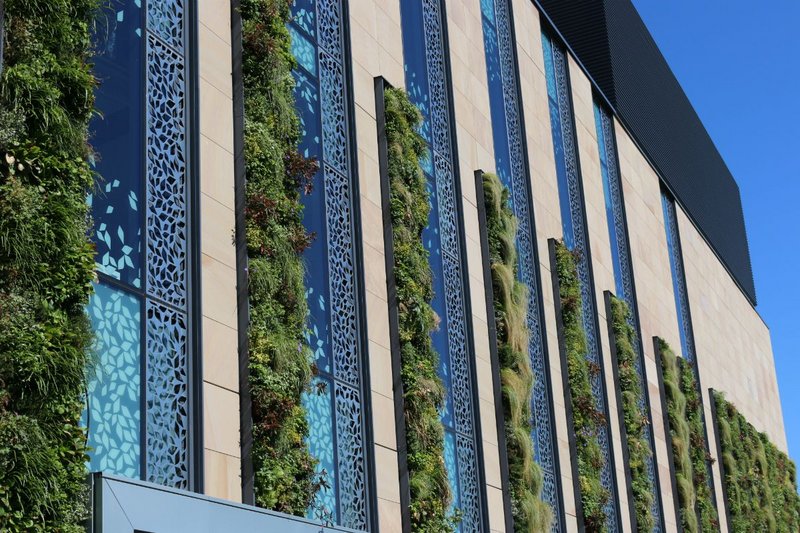 ANS Global's living wall at Atkins' Easter Bush Campus, University of Edinburgh. The exhibitor aims to create stunning visual and environmental impact - inside and out.
UK Construction Week opens its doors to exhibitors and visitors at the NEC Birmingham on 9 October 2018. It is the UK's largest built-environment event, is free to attend and consists of nine shows: Timber Expo, Build Show, Civils Exo, Plant & Machinery Live, Energy 2018, Build Tech Live, Surface Materials Show and HVAC 2018.
This year's 'Future of Construction' theme promises to immerse architects and specifiers into a world of digital construction, 3D printing, robotics, artificial intelligence, augmented reality and modern methods of construction. Hear the latest research from the Birmingham School of Architecture and Design and follow an Innovation Trail of inventive products and ideas.
There couldn't be a more important time to embrace new developments and learn from the industry peers leading from the front. It's a chance to access an array of construction products and services all in one place, along with technological innovations for projects of all sizes.
UK Construction Week features over 350 industry experts and commentators sharing their insight into the shape of things to come. Other highlights include MaterialDistrict Expo's Surface Materials Show, which displays over 100 international materials, informative seminars and discussion sessions covering topics such as building in quality with RIBA president Ben Derbyshire and a global exhibitor list.
Exhibitors include ACO, Velux, 3D Systems, BLFA, Magnet, Joseph Ash, William Smith, IDS, Bruag, Formica, Pfleiderer, Soyang and Canon, which will be taking visitors' 3D BIM design files through an immersive experience.
UK Construction Week runs from 9 to 11 October 2018, 10am to 5pm, Halls 9 - 12, NEC Birmingham. Grand Designs Live is open to trade on 10 - 11 October 2018. Tickets are free and updates are available at ukconstructionweek.com.