With "industrial architectural" kitchens becoming increasingly popular with consumers, the desire for stainless steel sinks, appliances and accessories has never been greater.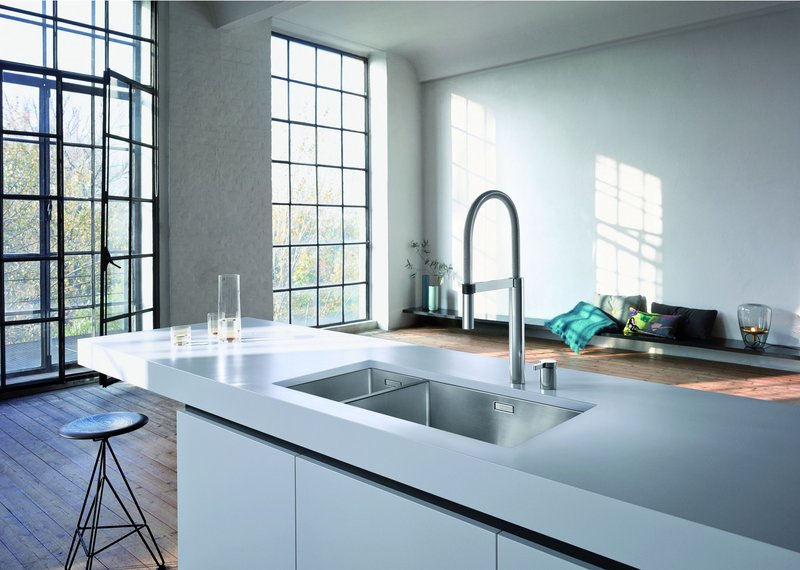 BLANCO Germany, one of the world's largest, leading manufacturers of stainless steel, Silgranit™ and ceramic sinks, has launched a new addition to the ever-popular CLARON sink series. Its pure, precision-engineered style is perfectly in keeping with this ongoing trend for all things industrial and urban.
The new BLANCO CLARON 550/200-U sink is part of the STEELART series, an exclusive collection of sinks, taps, made-to-measure worktops and accessories in expertly crafted stainless steel. A top-end undermount model with larger than average bowl sizes, it epitomises the perfect union of design and functionality.
Suitable for a minimum 80cm width cabinet, the new CLARON features a 10mm corner radius and is available with a variety of optional extras to complete its form and function. These include a stainless steel drainer and colander and a choice of wooden or glass food boards. Ideal for those who prefer a large bowl for rinsing and washing up, with a second, smaller bowl for food prep and draining, the BLANCO CLARON 550/200-U performs as good as it looks, exuding quality and cutting-edge design.
The Culina-S Duo mixer tap has a tall, cylindrical body which allows the spout to swivel by 360°, making it easy to wash large pots or fill tall containers in and around the sink.
For further information, please call BLANCO UK on 01923 635 200 or visit www.blanco.co.uk
To sign up for promotional offers and new product information, please register here www.blanco.co.uk/support/register