Creating flexible, agile work spaces can have a positive effect on productivity. Flooring company Interface offers three steps that lay the groundwork for a successful multifunctional environment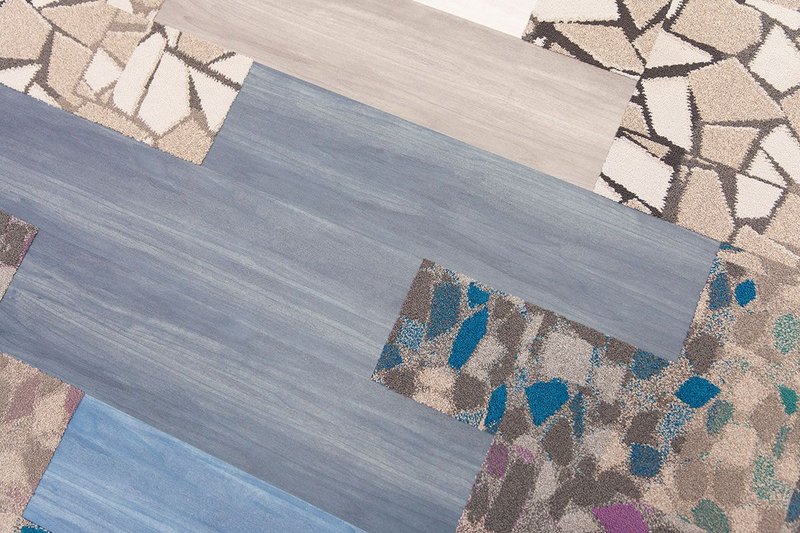 Mix and match: A careful combination of flooring types can offer practicality and comfort where they are needed while demarcating zones and transitions in lieu of walls and partitions.
Flexible working spaces and agile work practices not only have cost benefits, but a huge part to play in boosting productivity for office workers. But creating multipurpose, shared spaces that require such high levels of adaptability can be challenging for designers and architects.
Here are three ways that flooring can be a key driver in successful workplace design.
1. Realise the creative potential of flooring to zone open-plan spaces
Designing an appealing environment for space users doesn't have to be about using walls or partitions. Flooring, lighting and furnishings all offer creative ways to demarcate different zones without interrupting the flow of an open-plan space.
Many designers are opting for a combination of hard and soft modular flooring products that blend seamlessly to create distinct areas. For example, soft carpet tiles offer an ideal solution for a zone where people might want to gather informally to share ideas or simply take a break, and have a texture that complements comfortable seating and warm lighting. Hard flooring, such as Luxury Vinyl Tiles (LVT), can be installed in a communal eating area that needs to be kept clean and tidy, or in a walkway that joins two areas.
2. Look for broad colour ranges and hard/soft floor tile compatability for increased design versatility
Having different flooring textures offers one way of demarcating different zones, but being able to transition between colours adds another dimension to a design scheme. While colour variety is nothing new when it comes to carpet tiles, having the option of a number of colours in hard flooring is a relatively recent development. Interface's latest LVT flooring collection, Studio Set, features bright, vibrant shades right the way through to neutral tones, making it suitable for a wide variety of uses.
LVT flooring is also durable and robust enough to cope in high traffic environments. In spaces like these, transitioning from hard to soft flooring needs to be smooth. Interface has created its LVT flooring ranges to pair perfectly with its carpet tiles so an even surface is maintained throughout without the need for bulky transition strips.
3. Favour hard flooring that minimises noise to help concentration and productivity
Although hard flooring has many benefits, one reservation many designers and architects have is that it may impact the acoustics of a space, negatively affecting the productivity of workers. Having the right backing is vital to minimising noise. Interface's LVT flooring collections all come with Sound Choice acoustic backing, making it easier to create spaces for concentration and focus. The products have been recognised by Quiet Mark, the award programme that encourages companies to prioritise noise reduction.
Interface's LVT flooring collections offer a wealth of design choice. Level Set features wood-inspired 100 x 25cm Skinny Planks and stone-like 50 x 50cm squares – 28 options, combining natural beauty with durability. Studio Set explores the huge potential of colour, with 12 shades, ranging from intense, vibrant brights to soft, versatile neutral tones. And Boundary Metallics blends the industrial with the organic, creating new effects of light and texture in six colour options.
To find out more about Interface's LVT flooring ranges, visit interface.com/LVT
Interface Inc is a world-leading modular flooring company with a fully integrated collection of carpet tiles and resilient flooring. Its modular system helps customers create interior spaces while positively impacting the people who use them and our planet. The company's mission, Climate Take Back, invites the industry to commit to running business in a way that is restorative to the planet and creates a climate fit for life.
For more information and technical support, visit interface.com
Contact:
01274 690690
---