Combining resilience, hygiene and low maintenance with exceptional aesthetics, The Trovex Hygidoor is increasingly recognised as the superior specification choice for healthcare, education and commercial projects across the UK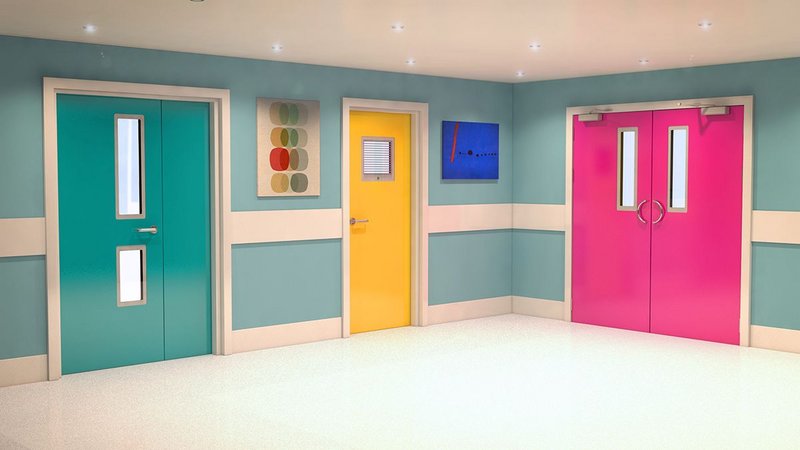 Trovex Hygidoors in leaf-and-a-half, single and double doorset configurations
For healthcare environments, doors are an important component to consider and no mistakes can be made during the specification stage. While doors operate as barriers to prevent germs and bacteria contamination, they are also a major contact point where bacteria can be harboured and infection can easily spread from room to room, contaminating a whole area.
The hygienic product manufacturer Trovex has addressed the problem with a range of innovative solutions. Fully encapsulated with Trovex hygienic PVC, the Hygidoor is highly effective at minimising the entry of superbugs to hygienic environments. The unique Hygiglaze flush-glazing system is designed without any external beading around the vision panel, creating a completely hygienic, easy to clean and aesthetically appealing face to the door. In addition, the Hygidoor has a hygienic wrapped frame, to ensure consistent hygiene across the complete doorset.
Hygidoors offer the option of Trovex Activ:ion antibacterial PVC which delivers proven, long-lasting protection with easy maintenance and a flawless appearance. Its homogenous silver ion technology reduces viable microbes by up to 99.9%, including bacteria like MRSA, Streptococcus faecalis and Salmonella typhimurium.
The Hygidoor is available in non fire-rated, FD30 and FD60 versions and complies with the strictest UK and European safety legislation. The solid core meets the Severe Duty rating, essential in high traffic areas.
Trovex is passionate about education safety and security, and continues develop new products to meet these needs. In education environments, the risk of damage from vandalism is ever-present and doors can become an easy target. Supporting the need for low maintenance and enduring quality, Trovex has recently launched the Hygidoor Tuff, an extremely strong fire-rated doorset that is easy to maintain and very hard to damage.
With a solid core and flush glazing as standard, the Hygidoor Tuff is clad with Trovex Resilience, an embossed hygienic cladding minimizing visibility of knocks and scrapes, preserving the aesthetic appearance of the Hygidoor and thus extending its lifespan and reducing ongoing maintenance costs, a critical concern in areas of high traffic.
Many demanding environments, such as hospital entrances, schools and restaurants benefit from the Hygidoor Tuff. Opting for Hygidoors in education projects offers significant benefits in costs, convenience and safety, both to those responsible for the maintenance and for the staff and students themselves.
In commercial projects Hygidoors are particularly favoured by designers and their clients in entrances and high traffic areas. Easy to clean and exceptionally hygienic, Hygidoors also bring distinction to their environment with crisp lines and a smooth finish. In addition, their configuration complies with most ironmongery specification, making it easy to adapt Hygidoors to the needs of the project.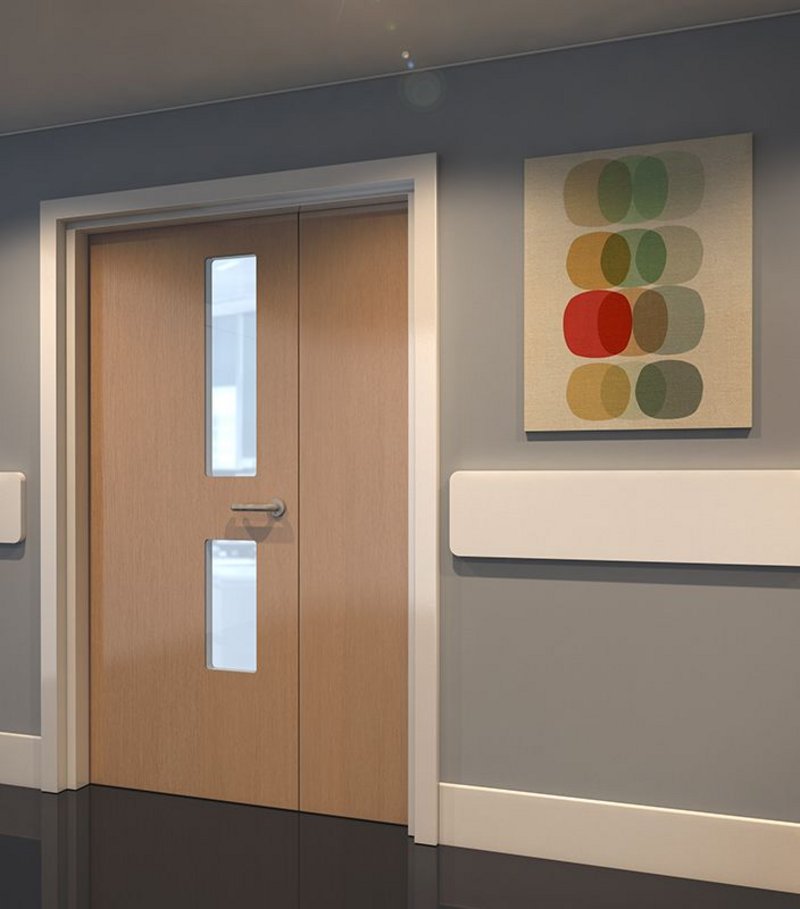 Hygidoor with wood finish
In 2016, Trovex put the Hygidoor through one of the most rigorous fire resistance tests, the FD60 test to comply with BS476-22, providing the Hygidoor at least 60 minutes of fire resistance. The assessment test was carried out at the Exova Warringtonfire Laboratory with the Hygiglaze door system withstanding considerably more than 60 minutes under a temperature of 950 °C.
As well as several wood grain finishes, the Hygidoor leaves and frames are also available in the full Trovex colour range, including gloss, satin or textured finishes. Hygidoors can be manufactured to specific needs, in different sizes, colours and finishes to suit each kind of project.
Manufactured in the UK, each Hygidoor is fabricated to meet bespoke requirements with a combination of advanced manufacturing technology and specialised skills, ensuring that every door is delivered with a precise fit, perfect performance and extended lifespan.
For more information and technical support visit www.trovex.com
Contact:
01707 254170
---