Canal Architectural has completed feature staircases for a wide range of projects including The Shard and Hugo Boss, discover more in its free specifier's guide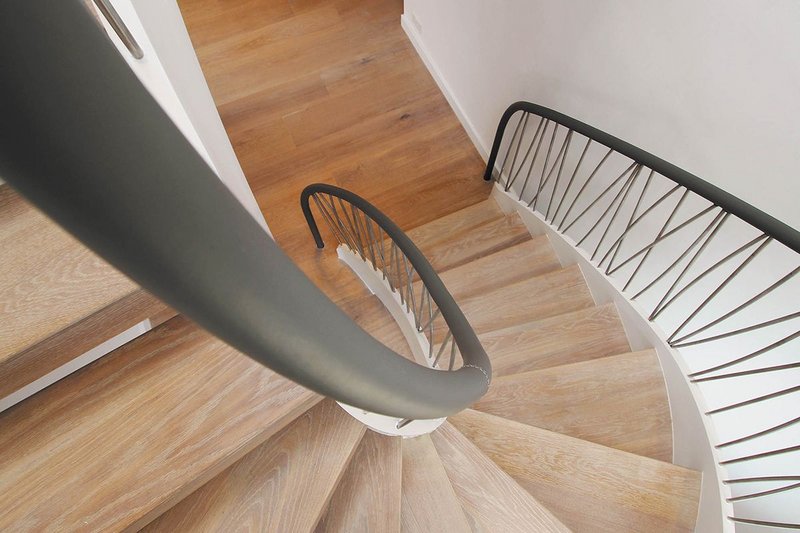 Painted steel staircase with a bespoke stainless steel spindle balustrade and leather handrail.
Discover the latest popular staircase designs and materials by downloading the latest specifier's guide by Canal Architectural here. Inside you will find projects which have been technically analysed to demonstrate what goes into producing a feature staircase. Here are some of the highlights:
Hanging staircase in The Shard
With a long standing relationship and a portfolio of prestigious commercial office staircases, Canal was the premium choice for the new Modus Group office staircase situated in The Shard, London.
Cantilever 'floating' staircase
One design that fits all is the cantilever staircase. The simple design of the overhanging tread has allowed many designers to create some interesting concepts to date. The transformation from a standard stair into one that needs no support underneath or between the treads, has created a vision of open space and demonstrates a particular 'floating' appearance that is aesthetically pleasing.
The boss of stairs
Canal has recently finished its third staircase project for Hugo Boss, this time on Regent Street, London. Discover the large helical staircase for yourself or visit it in person!
Twisting helical staircase
Utilising the craftsmanship of their manufacturing team, Canal built this staircase by twisting mild steel rods around each other, creating a unique balustrade design.
Mirror mirror in the hall
In the heart of London, project Burlington was completed in the main entrance of a commercial office. The specification was to replace the existing, dated staircase and balustrade with a new contemporary feature to transform the aesthetics of the building entrance and reflect the high-end brand using mirror polished stainless steel.
To download the specifier's guide visit: http://bit.ly/specifiersguide
For more information and technical support visit: www.canal.eu.com
Contact:
0115 986 6321
---