In collaboration with EOOS, Duravit's latest shower tray has a water-worn stone effect that is ready for an edgier look and doesn't need tanking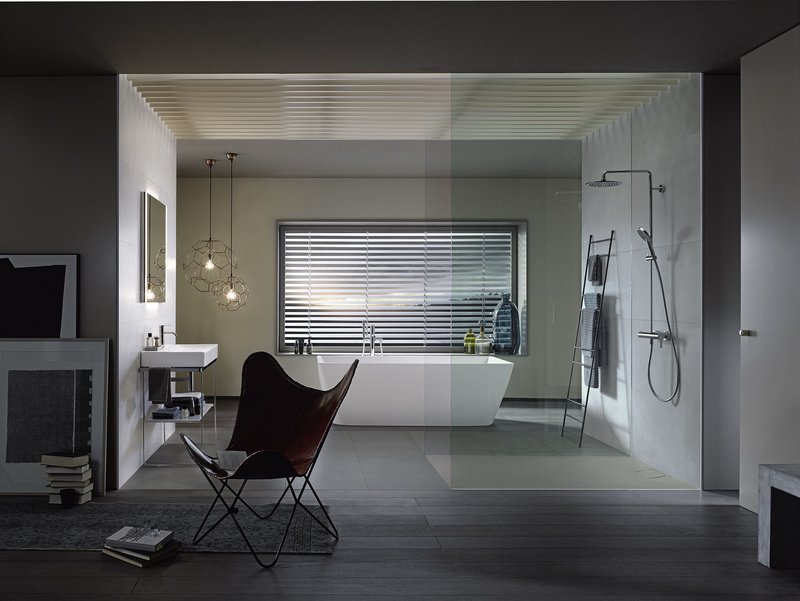 Stonetto from Duravit can be installed flush with the floor, recessed or floor-mounted.
Historically, industrial style has been associated with larger American loft style spaces, however, more recently elements of this look have become more available, especially for use within smaller and enclosed areas including bathrooms. The more obvious aspects of industrial styling such as rough weathered surfaces, exposed brick and pipework are ideal for large open spaces but are often too harsh for smaller living spaces and hotels.
Durait's new Stonetto shower tray is a collaboration between Duravit and the Viennese design group EOOS that has been designed to capture some of this raw, edgier industrial look more commonly associated with loft living. It has been designed to give the appearance of water-worn stone and although available in lighter shades when used in anthracite or concrete, it can give a bathroom an edgier feel. Its muted, softer versions help achieve a similar effect, with a darker colour palette giving the desired feel. The use, for example, of dark grey tones in what is usually a light and bright area such as the shower can influence the mood in the room and textures also assist when creating the correct ambiance.
Made from matt textured Durasolid Q, a high-grade cast mineral material, Stonetto's high surface hardness and density mean that the shower tray is extraordinarily resistant to damage and dirt. Both anti-slip and scratch-proof, the barely visible slope of the tray enables large quantities of water to drain quickly through the drain. Available in 12 sizes the shower tray can be installed flush with the floor, recessed or floor-mounted.
Stonetto's unique structural design also means architects and designers can create a wetroom style bathroom without the expense of tanking the room. Matching the darker tones of the shower tray to the floor surface and the creative use of tiles or wooden flooring gives the impression of walking on concrete or another industrial style surface, straight into a shower.
What's more carefully selected bathroom furniture, such as the new XSquare range from Duravit, is ideal to complete the look. XSquare is elegant in design, the vanity units, mirrors and cabinets with their crisp lines and chrome framework, hint at industrial styling without overplaying the message. Definition and intrigue can be added as well, through the choice of, for example, a matt finish or dark shade such as aubergine.
For more information and technical support visit: pro.duravit.co.uk
Contact:
0207 2533559
---