DuraSystem from Duravit is a new assembly and interaction installation set up designed to keep lines simple and minimal - and it works with all its ranges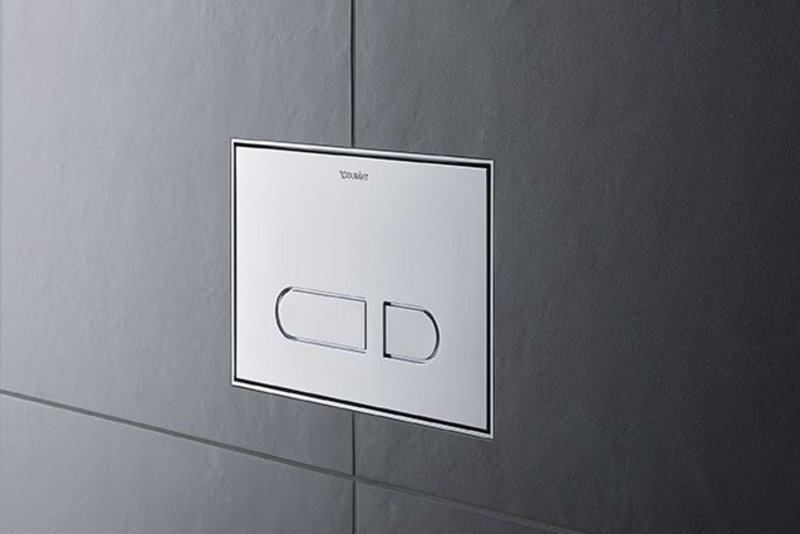 Duravit's new DuraSystem mechanical A1 toilet actuator plate.
Duravit is pleased to announce the launch of its new DuraSystem product range, a new sanitary ware installation frame and actuator plate system that is designed to make the bathroom as aesthetically appealing as possible. With concealed functional components, innovative technology hidden within the assembly units of the toilets and washbasins ensures the ideal interaction with products installed.
The new DuraSystem is available for the toilet, urinal, washbasin, and bidet. On the interactive side, a sophisticated system uses actuator plates that are appealing to sight and touch. Behind the wall, it guarantees a simple and perfect installation and solves many technical challenges. Whether for a new build, or a conversion, dry or wet installation, DuraSystem is versatile and suitable for any installation type.
There is also a lot of variety too, with the Duravit actuator plates available in both electronic and mechanical versions. Both feature the clear geometry that characterises the design of Duravit's products.
The electronic A2 toilet actuator plates, made from white glass, are surface-mounted. Their contemporary elegance enhances the bathroom and increases user comfort. An infrared approaching sensor activates the illumination of the symbols when they detect movement close by. The remote control enables many convenient functions to be set and adjusted as required: integrated hygienic flush, auto flush, nightlight, cleaning function, emergency power supply, and the particularly quiet and effective odour extraction as an extra feature. The mechanical A1 toilet actuator plate, on the other hand, is made from white plastic or high gloss chrome and can be flush mounted. It is also available in white glass.
The standard toilet frame and toilet frame for wet installation can also be upgraded retrospectively with a hygienic flush function. The DuraSystem installation frames are also compatible with Duravit's new rimless WC's and SensoWash shower-toilets. In addition, DuraSystem also offers solutions for the washbasin, urinal and bidet.
For more information and technical support visit: www.pro.duravit.co.uk
---