The extensive use of timber, offsite manufacture and the elimination of cement and plaster internally gives EcoLab it's impressive low carbon footprint.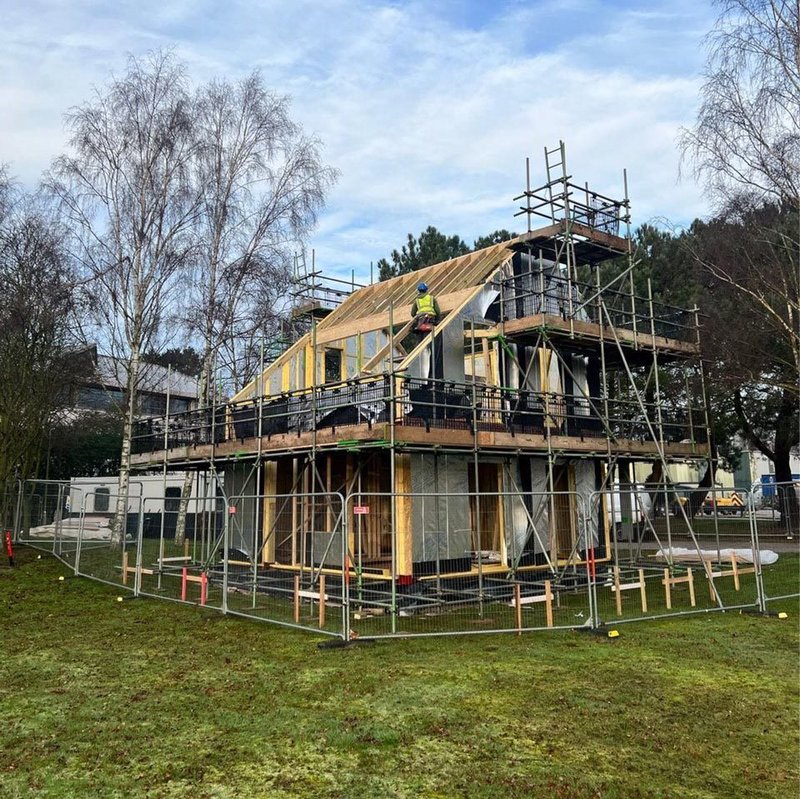 The EcoLab 2-bed starter home construction progress in February 2022

Credit: Studiomanifest.co.uk
An affordable home demonstrator with around 50% less embodied carbon than an equivalent brick and block house is approaching completion on a site near Ipswich.
The EcoLab two-bed starter home is designed as zero carbon in operation and to function as a 'living lab' where a range of innovative sustainable building techniques, products and technologies are put through their paces.
The project is being led by the University of Suffolk with partners including architects Studio Manifest, the New Anglia Local Enterprise Partnership and British Telecom, whose Adastral Park tech cluster at Martlesham Heath serves as a site for the home.
The 50% embodied carbon reduction was primarily achieved through a focus on timber construction and off-site manufacture. The timber frame structure features glulam beams and columns with timber studs, while internal walls are also timber and there is extensive use of wood fibre insulation. No cements or plasters are used internally and the home sits on a pad foundation to eliminate the need for concrete.
Benjamin Powell, director at Studio Manifest and lecturer in architecture at the University of Suffolk told RIBAJ: 'The construction industry and building regulations have caught up with the operational energy performance of a house over time, but are still some way off in terms of recognising the issue of embodied carbon.' According to Powell, the project aims to close the divide between academic theory and practice in the construction industry, 'which is resistant to change and dominated by a small number of volume house builders'.
The house is designed to Passivhaus standard with U values for walls ranging between 0.1W/m2 K and 0.08W/m2 K. A focus on adaptability means all internal walls are non-structural and can be reconfigured to allow spaces to be re-organised by future occupants. Panellised sections in the flank and rear walls can be removed to permit future extension. Furthermore, timbers and coverings are screw fixed to enable the reuse of timber and insulation in any later phases of work.
The EcoLab aims to showcase combined solutions for both the climate crisis and the housing crisis, with a strong focus on affordable construction. Many ideas were generated in a live design 'hackathon' to give architecture students the opportunity to see their designs develop into a built scheme.
The suitability of wood fibre insulation, not just as a high-quality insulation product, but for providing thermal mass and breathability, will be tested during occupation.
Cost proved to be the biggest challenge, said Powell, partly due to the one-off nature of the build and its location on a relatively complicated BT research centre site.
'The affordability element has not been completely demonstrated,' he said. 'We are building for around £3,000/m2, which for a really high-performance small house is not too bad. Scaling it up, big house builders could expect to save about a third, which is getting towards a price that's not a million miles away from being affordable,' he concludes.