Schlüter-Bekotec-Therm uses only two-thirds of the energy of an electrical system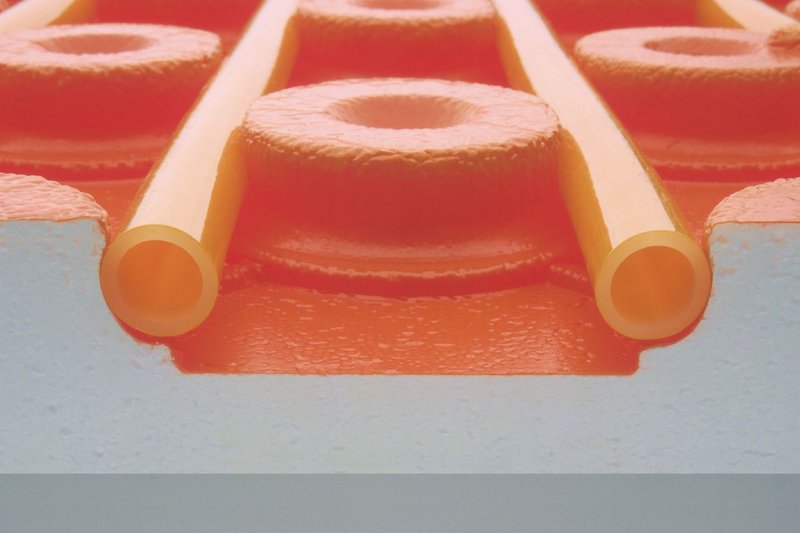 Underfloor heating is continuing to grow in popularity. Relatively cheap to install and economical to run, it is considered one of the greenest ways to heat a property.
Water-fed systems such as Schlüter-Bekotec-Therm work by pumping water via an established boiler or other heat source while a dedicated thermostat controls the floor temperature. These systems use only two-thirds as much energy as electrical ones. They tend to be better suited to new-build and partial renovation projects, such as a new extension or a new floor slab.
There are two types of water-based underfloor heating system, heat store and fast delivery. The former consists of pipes laid within a slab or screed. Once heated up it stores the heat and continues releasing it after the system has been turned off. Fast delivery underfloor heating works by laying pipes above insulation, usually in specially formed trays or panels. Schlüter-Bekotec-Therm uses a modular screed panel which is designed to replace part of the screed, thereby bringing the pipes close to the top of the screed and providing the best of both types in a single unique solution.
The system can be up to 30 percent more energy efficient than radiators because its larger area and more even distribution means it can use water at a lower temperature.
Water-fed systems can be easily integrated into an existing heating system to provide underfloor heating for some rooms and radiators for others.
Schlüter-Systems has NBS Clauses and BIM objects available on NBS Plus and at www.schluter.co.uk