Focus fireplaces, chimneys and stoves offer significantly lower emissions than before ahead of changes to regulations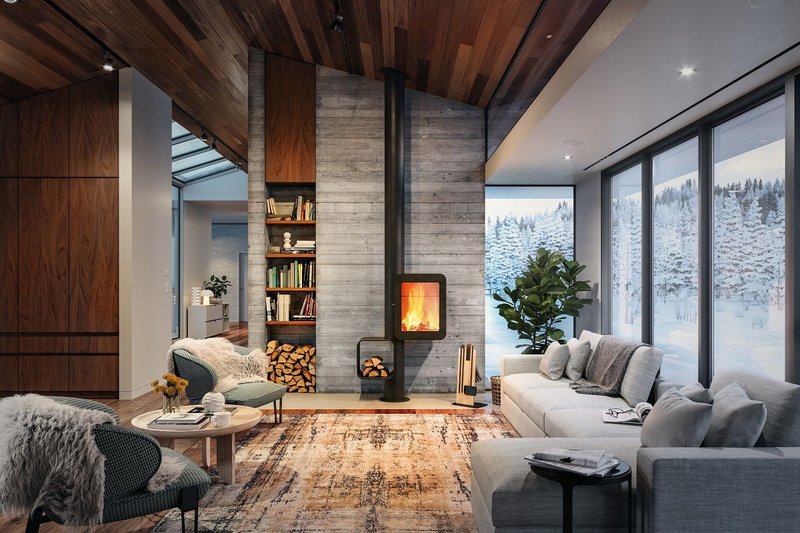 Grappus fireplace with built-in log storage from Focus. A woodburning high-performance stove suitable for low-energy buildings. The height of the hearth, counterbalanced by the offset log store, makes the stove easy to use and adapts well to any space. Grappus successfully combines practical and contemporary good looks with being Ecodesign Ready.
With changes to regulations in 2022, Focus is addressing sustainability head on with its Ecodesign Ready approved fireplaces, chimneys and stoves.
Known for its ground-breaking 360º pivoting, suspended fireplaces, Focus has introduced new models that are fully compliant with the new regulations. The manufacturer has a range of nearly 70 designs for inside and out with many available in woodburning or gas versions and a choice of finishes and colours that makes customisation for individual projects easy. All models are bespoke and made to the architect's requirements.
Focus now has 18 gas models. All are equipped with a CE-certified gas burner that can operate with natural gas or propane and a state-of-the-art high performance combustion system. Closed gas fires are particularly efficient for heating and, with a remote control, are simple to adjust. In case of a power outage, Focus gas fires continue to operate and provide heat independently of an electric power source in contrast to other types of heating systems such as boilers or pellet stoves.
Clean combustion and high-performance Focus fires such as Boafocus and Lensfocus are installed in many low-energy buildings and Passivhaus projects. The Slimfocus is an Ecodesign Ready model ideal for urban areas where there are restrictions on woodburning fires and stoves. Its hearth can be suspended so it can pivot or it can be supported by a base and fixed in place. Its streamlined shape saves on space and there is also a compact wall-mounted version.
All Focus fires are handcrafted using a combination of traditional metalworking skills and state-of-the-art technology. Focus fireplaces are specified all over the world by leading architects, including Snøhetta, Foster + Partners, Marcio Kogan/Studio MK27, Chris Dyson Architects, Finkernagel Ross, Theis + Khan, Loyn + Co and many more.
For more information and technical support, visit focus-fireplaces.com
Contact:
00 +33 6 8918 7544
UK agent Xavier Lucas x.lucas@focus-creation.com
---